History of the Carmel Bach Festival
Founders "Dene (Denny) and Hazel (Watrous) succeeded in their work not by doing something 'to' the community, but by partnering with it," former Festival dramaturge David Gordon in his book, Carmel Impresarios. "Dene and Hazel envisioned something that they believed would bring joy to the community, they figured out a way to do it, and...they got people so excited about their vision that everyone worked together to help them make it a success."
More than 85 years later, that spirit of joy and collaboration thrives in Carmel-by-the-Sea. The Carmel Bach Festival is one of the oldest music festivals in the U.S., and is a living testament to the planning and artistic vision of its founders. It continues to deliver some of mankind's greatest creations to its Monterey Peninsula home each July.
The Festival began in 1935 as a four-day series of concerts at the Sunset School Auditorium and the Carmel Mission Basilica under the direction of Ernst Bacon. The Festival's inception coincided with Johann Sebastian Bach's 250th birthday, and the founders were guided by the premise that Carmel-by-the-Sea should become the epicenter of world-class music, art and cultural expression. Bach's birthday allowed the founders to use his name to give the new classical music festival a distinctive identity, and while Bach has figured heavily into each season's repertoire selections, the Festival has always sought to perform a wide range of music.
Denny and Watrous were musical producers and owners of the influential Denny-Watrous Gallery. They spearheaded the creation of the Carmel Music Society and its annual concert series in 1927, after booking a few of their own concerts and events in their home and studio on North Dolores Street and also in the original Golden Bough Theater on Ocean Avenue. With these early events, the two visionary women laid the path for a rich tradition of classical music in Carmel.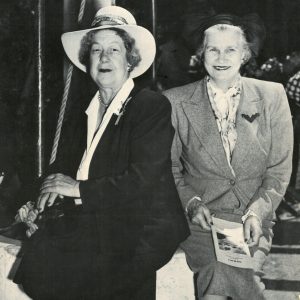 In 1938, Gastone Usigli was named music director, leading the Festival until his death in 1956. As his successor, Dene Denny chose Hungarian-born conductor Sandor Salgo. Under Salgo's 36-year leadership, the largely amateur Festival became fully professional and internationally recognized. Salgo's long tenure at Stanford University created a link between musical sponsorship and the emerging study of historical performance practices and a rediscovery of Baroque music.
When Salgo retired in 1991, Bruno Weil was named the artistic director. During his 19 years, Weil advanced the Festival's international reputation for artistic excellence and attracted exciting new artists. Weil was also a driving force behind the renovation of the Festival's home throughout its 80+ years, the Sunset Center. A 10-year planning and renovation process saw Weil open the "new" Sunset Center in July, 2003.
Paul Goodwin succeeded Maestro Weil in 2011. A former oboist and native of England, Maestro Goodwin introduced performance of Bach's great works at Baroque pitch using period instruments among the innovative and diverse programming he brought to the Festival.
Grete Pedersen was named the Festival's new artistic director, beginning with the 2023 season. Born in Sarpsborg, Norway, Pedersen was educated at the Norwegian Academy of Music. She is a professor in conducting at the Norwegian State Academy of Music. Since 1990, Grete has served as music director of The Norwegian Soloists' Choir, one of Europe's leading chamber choirs.
"Grete Pedersen is a phenomenal musician. Over the past three decades she's built a world-class ensemble," said Festival Associate Conductor Andrew Megill. "She is a deeply collaborative conductor, committed to exploring the human impulse behind any great work of art and to creating an atmosphere in which each artist is empowered to express themselves fully. Thus, she is an ideal Artistic Director for the Carmel Bach Festival. We look forward to sharing many exhilarating performances, guided by Grete's strong leadership and loving hand."
History of Festival Leadership

Top to bottom, then left to right: Ernst Bacon (1935), Sascha Jacobinoff (1936), Michel Penha (1937), Gastone Usigli (1938-1955), Sandor Salgo (1956-1991), Bruno Weil (1992-2010), Paul Goodwin (2011-2021), Grete Pedersen (2022-)