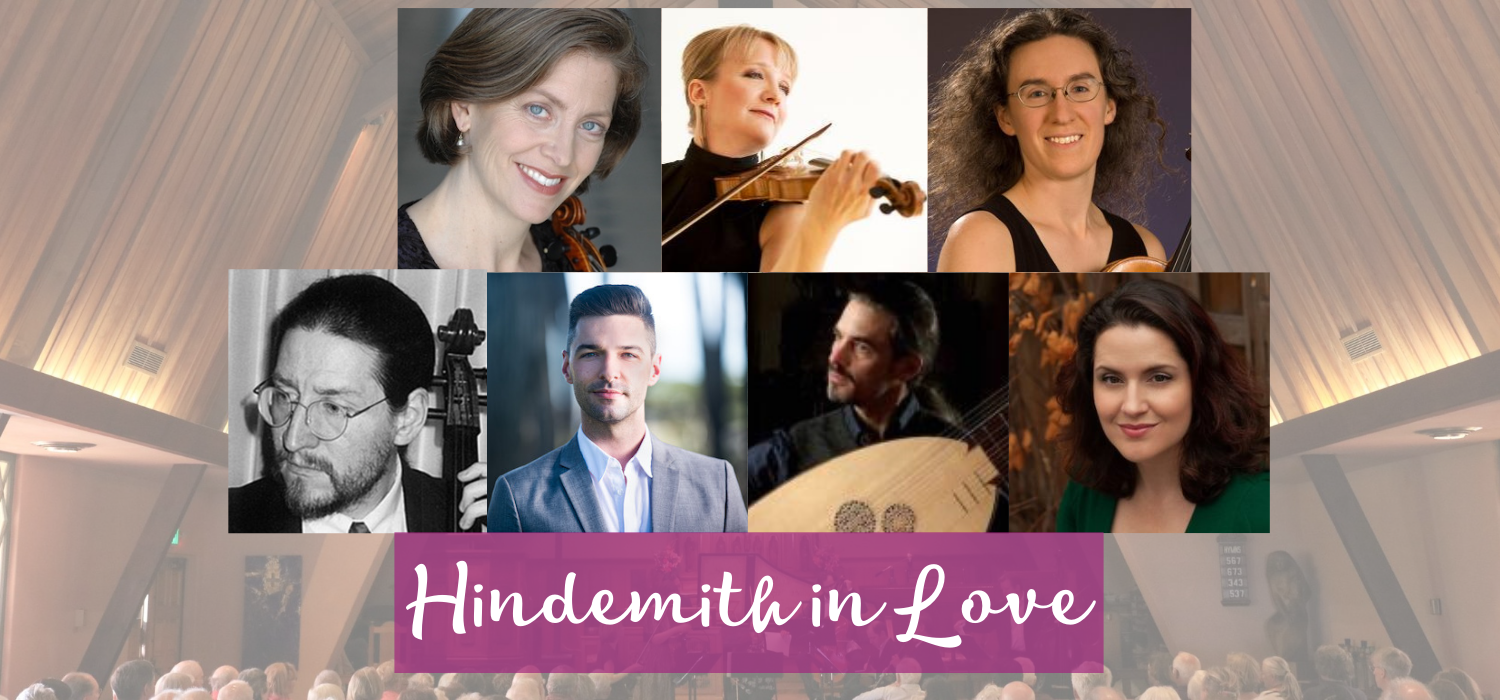 Hindemith in Love
Thursday, July 20, 3:00PM, All Saints' Episcopal Church
Carla Moore, violin; Patricia Ahern, violin; Sarah Darling, viola; Paul Rhodes, cello; Jesse Barrett, oboe; Daniel Swenberg, lute; Estelí Gomez, soprano
TELEMANN, Suite No. 10 in G major, "Don Quixote"
HINDEMITH, Duett for Viola and Cello
TELEMANN, Suite for two violins "Gulliver's Travels" TWV40:108
HINDEMITH, Die Serenaden
As a creative mind who was constantly inspired by the baroque era, Hindemith has a lot to tell us about how we can reach back in time while still remaining completely present in our own. I'm pairing the Hindemith works with two Telemann pieces, the wonderful Gulliver's Travels Suite for two violins, and the exquisitely funny and charming Don Quixote Suite." – Sarah Darling 
Featuring
Sarah Darling

Viola

Described as "a tireless force of musical curiosity, skill, and enthusiasm" and "the one to up the ante" (Boston Musical Intelligencer), Sarah Darling enjoys a varied musical career, holding a variety of leading roles in A Far Cry, Musicians of the Old Post Road, Boston Baroque, Les Bostonades, Gut Reaction, and Antico Moderno, also performing with the Boston Early Music Festival, Emmanuel Music, Newton Baroque, Sarasa, and the Boston Ballet Orchestra.

Sarah studied at Harvard, Juilliard, Amsterdam, Freiburg, and New England Conservatory, working with James Dunham, Karen Tuttle, Wolfram Christ, Nobuko Imai, and Kim Kashkashian. She has recorded old and new music for Linn, Paladino, Azica, MSR, and Centaur, plus a solo album on Naxos and two Grammy-nominated CDs on Crier Records.

Sarah is active as a teacher and coach, on the faculty of the Longy School and serving as co-director of the Harvard Baroque Chamber Orchestra. She regularly shares her thoughts on music at her blog, Listening Deliberately.

Daniel Swenberg

Theorbo/Archlute

Daniel plays a wide variety of lutes and guitars: baroque, renaissance, classical/romantic – small, medium, and large. Chief among these is the theorbo – the long lute that you are either wondering about or overhearing your neighbor discuss. While based in New York, Daniel schleps instruments throughout North America and Europe to play with a wide range of ensembles: ARTEK, REBEL, The Metropolitan Opera, Mr. Jones & the Engines of Destruction, Ensemble Viscera, New York City Opera, Opera Atelier/Tafelmusik, The New York Philharmonic, the Philadelphia Orchestra, Catacoustic Ensemble, the Four Nations Ensemble, Apollo's Fire, Handel & Hayden, The Green Mountain Project, Tenet, Skid Rococo, the Newberry Consort, with soprano Nell Snaidas, Lizzy & the Theorboys, Music of the Baroque, the Aspen Music festival opera, Staatstheatre Stuttgart, the Orchestra of St Lukes, and more. He has accompanied Renee Fleming and Kathleen Battle at Carnegie Hall. He is on faculty at Juilliard's Historical Performance program. Daniel received awards from the Belgian American Educational Foundation (2000) for a study of 18th century chamber music for the lute, and a Fulbright Scholarship (1997) to study in Bremen, Germany at the Hochschule für Künste (studying with Stephen Stubbs and Andrew Lawrence King). He studied previously with Pat O'Brien at Mannes College of Music, receiving a Masters degree in Historical Performance (Lute). Prior to this life's incarnation as a Lutenist, he studied classical guitar at the North Carolina School of the Arts, and musicology at Washington University (St. Louis). His programing integrates and emphasizes music with the history, sciences, economics, politics, and broader culture of its time.

Jesse Barrett

Associate Principal Oboe

Jesse Barrett is a San Francisco Bay Area native who grew up in Pleasant Hill, CA. He currently plays oboe and English horn for the Santa Rosa Symphony, Reno Chamber Orchestra, One Found Sound, Symphony Napa Valley, California Symphony, and has played as principal oboist for West Edge Opera, Opera Modesto, and Merced Symphony where he has been a soloist on multiple occasions since 2010. Mr. Barrett has played with San Francisco Opera, San Francisco Ballet, New Century Chamber Orchestra, most of the orchestras in Northern California and Nevada.

In 2016, he played in the inaugural season of the International Chamber Orchestra of Puerto Rico. As a soloist, Mr. Barrett has appeared with a number of Bay Area ensembles, performing a wide range of repertoire from Handel's G Minor concerto, to Copland's Quiet City, to the Costa Rican composer Benjamin Gutiérrez's Sketches for Oboe and Strings, to the recent commission by Sahba Aminikia, Shahmaran, where he also narrated.

Mr. Barrett is an avid chamber musician, new music enthusiast and teacher of students of all ages throughout Northern California. He has been on faculty at San José State University, California State University Stanislaus and Dominican University. He frequently gets involved in musical start-ups like San Francisco's conductor-less chamber orchestra One Found Sound, and is the developmental director of the Bay Area's premier wind octet Nomad Session. Mr. Barrett regularly enjoys teaching at music camps, recording new music, making school visits, and collaborating on solo and chamber concerts. He is also a passionate singer, often performing at his favorite piano bar, cabaret venues, and has hosted numerous events as an emcee, oboist, singer, and actor. He has shared the stage with a wide variety of performers, including but not limited to Dave Brubeck, Andrea Bocelli, Chicago and Third Eye Blind.

Mr. Barrett studied with Thomas Nugent at University of the Pacific where he was a member of Phi Mu Alpha Sinfonia and thereafter obtained a Master of Music from Boston University where he studied with Laura Ahlbeck and was inducted as a member of Pi Kappa Lambda. He currently teaches at University of the Pacific.

Patricia Ahern

Violin

Patricia Ahern was educated at Northwestern University, Indiana University, and the Schola Cantorum in Basel, Switzerland. She taught baroque violin at the Freiburg Conservatory in Germany and Oberlin's Baroque Performance Institute, and has given masterclasses at McGill, York University, Wilfrid Laurier, University of Windsor, Western University, University of Toronto, University of Wisconsin, Grand Valley State University, California State University Long Beach, Sookmyung Women's University (Seoul), and the Sydney Conservatorium (Australia). She is on the faculty of the Tafelmusik Summer Baroque Institute and Banff's Evolution Quartet Program. She has concertized throughout Canada, the US, Europe, Asia, Australia, and South America, and has performed with Milwaukee Baroque, Ars Antigua, Chicago Opera Theater, Toronto Consort, Aradia, I Furiosi, Newberry Consort, Musica Pacifica, and the Carmel Bach Festival. Tricia has been a core violinist with Tafelmusik since 2002, and has been recently appointed to the Eybler Quartet.

Paul Rhodes

Cello

Paul Rhodes, Cello, received the Bachelor of Arts in Music from Dominican College, where he studied with Margaret Rowell, and the Master of Music from the University of Texas at Austin after studies with Paul Olefsky. Paul is a member of the Oakland Symphony and, in the summer, the Carmel Bach Festival. Locally, he has worked with the symphonies of Berkeley, Marin, California, Sacramento and San Jose as well as with the New Century Chamber Orchestra, Santa Cruz Baroque Festival, and Earplay. Outside the area he has appeared with the San Antonio Symphony, Brandywine Baroque, Orchestra of Santa Fe, Reinische Philharmonie, and the Jugend im Musik festival in Vienna.

Carla Moore

Violin

Known for her strong leadership and compelling musicality, Carla Moore performs regularly as concertmaster and soloist with Portland Baroque Orchestra. She is a long-time member of Philharmonia Baroque Orchestra and co-founder and director of Archetti Baroque Strings. Carla has an extensive discography of orchestral and chamber music, including videos on YouTube with Voices of Music viewed by millions world-wide. She has performed at international festivals in Utrecht, Bruges and London as well as the Carmel and Oregon Bach Festivals. Carla delights in teaching her Baroque violin students at UC Berkeley and the San Francisco Conservatory of Music. She has led masterclasses at Northwestern University, University of Puget Sound, University of Utah and Utah State University and taught at the Amherst Early Music Festival. When not teaching or performing, Carla is an avid hiker and enjoys immersing herself in the mountains of California and the deserts of Utah.

Estelí Gomez

Soprano

Praised for her "clear, bright voice" (New York Times) and "artistry that belies her young years" (Kansas City Metropolis), soprano Estelí Gomez is quickly gaining recognition as a stylish interpreter of early and contemporary repertoires. In January 2014 she was awarded a Grammy with contemporary octet Roomful of Teeth, for best chamber music/small ensemble performance; in November 2011 she received first prize in the Canticum Gaudium International Early Music Vocal Competition in Poznan, Poland.
Estelí can be heard on the soundtrack of Lena Dunham's 2022 film Catherine, Called Birdy, Seattle Symphony's 2017 recording of Nielsen's Symphony No. 3, on the first track of Silkroad Ensemble's Grammy-winning 2016 album Sing Me Home, and on Roomful of Teeth's self-titled debut album, for which composer Caroline Shaw's Partita was awarded the 2013 Pulitzer Prize.

Highlights of the 2022-23 season include: performances with the NY Philharmonic and Roomful of Teeth in the new David Geffen Hall; recording a Spanish translation of Handel's Messiah with Bach Collegium San Diego; the world premiere of chamber opera Dreams Have No Borders in Ashland, OR; solo appearances with A Far Cry, Madison Bach Musicians, Westminster Choir College, Jacksonville Symphony Orchestra, and iSing Silicon Valley; teaching residencies at University of Oregon and Oregon Bach Festival; and concerts at Lincoln Center and the Baryshnikov Arts Center, with additional tours throughout Europe and Portugal, with Roomful of Teeth. Roomful's third studio album, Rough Magic, will be released in early 2023.

Originally from Watsonville, California, Estelí received her Bachelor of Arts with honors in music from Yale College, and Master of Music from McGill University, studying with Sanford Sylvan.

Estelí is thrilled to be teaching at Lawrence University as assistant professor of voice, in addition to continuing her work as a performer. She is also a proud member of Beyond Artists, a coalition of artists who donate a percentage of their concert fees to organizations they care about. She is currently donating to RAICES and the Texas Civil Rights Project.
Location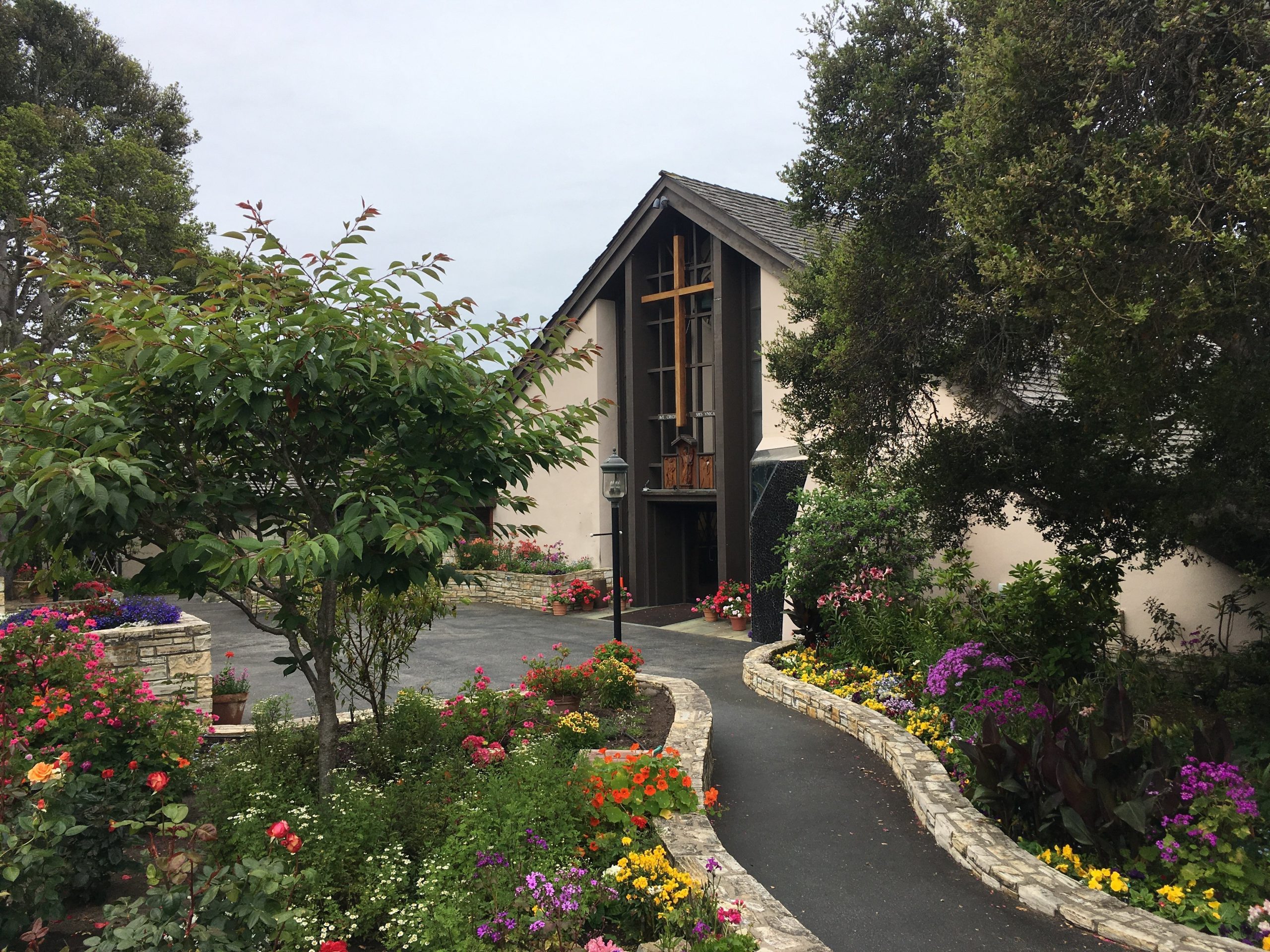 All Saints' Episcopal Church

Dolores St between 9th and 10th Ave, Carmel-by-the-Sea, CA 93921

Website

https://www.allsaintscarmel.org/