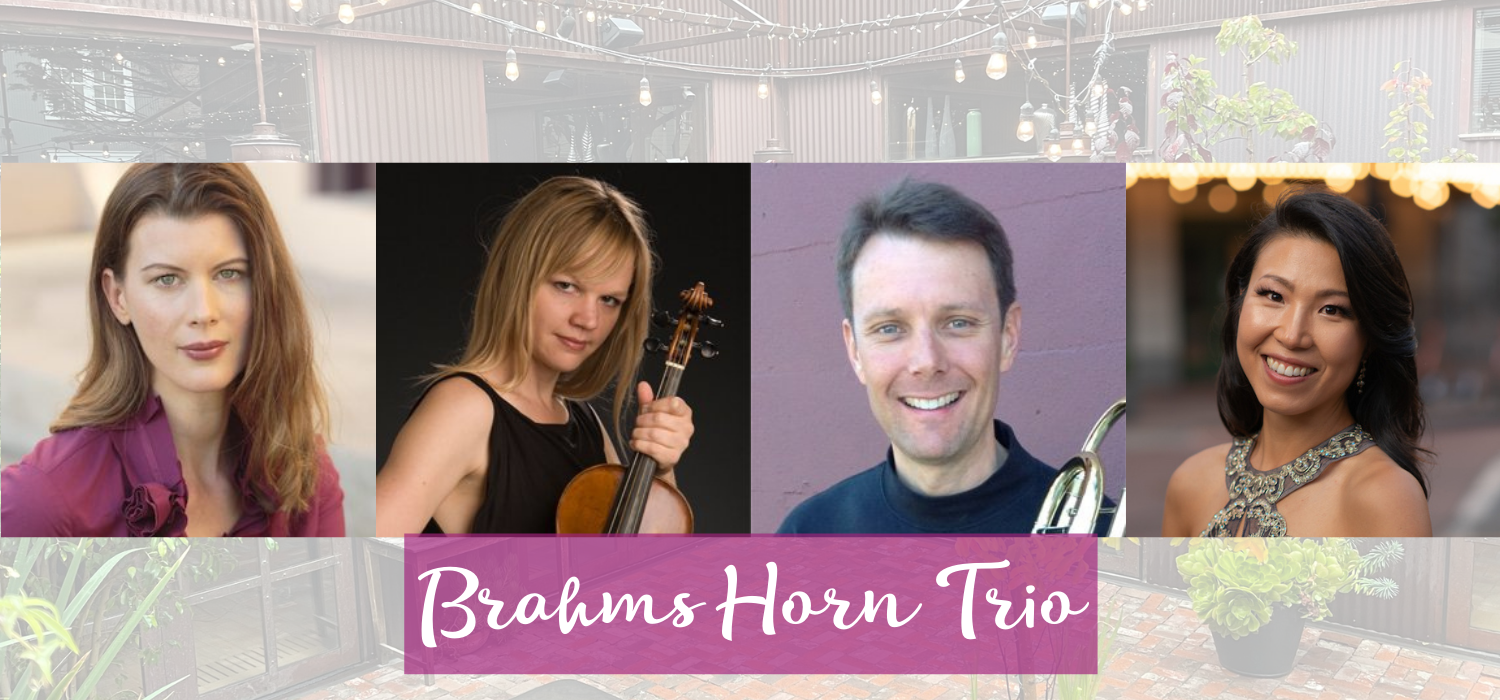 Brahms Horn Trio
Friday, July 14, 7:30PM, Wave Street Studios
Gabrielle Wunsch, violin; Meredith Brown, horn; Bruce Chrisp, trombone; Sora Park Shepard, piano 
BEACH, Romance for Violin and Piano, Op. 23
AUERBACH, The Lonely Suite "Ballet for a Lonely Violinist," Op. 70
SCHUMANN, Three Romances, Op. 94
BRAHMS, Trio for Horn, Violin, and Piano in E-Flat Major, Op. 40
"This program can be seen to musically evoke several stages of major events that are pretty universal in the course of a human life…because they are so profound and changing, are all beginnings: love, and the death of someone very close to you." – Gabrielle Wunsch 
Wave Street Studio Parking Instructions
Caution: Steep stairs to Venue
Best option to avoid stairs parking courtesy of First Awakenings – 300 David Avenue
Walk from parking lot onto David Avenue. Head towards Monterey Bay Aquarium.
At Lighthouse Avenue cross over to opposite side of street & continue to walk .2 mile to the Monterey Peninsula Recreational Trail.
Turn right and walk .2 mile to the Venue.
Total walk time: 5 minutes
Featuring
Meredith Brown

Principal Horn

Meredith Brown is well-known throughout Northern California, holding Principal Horn positions with the Napa Valley, Fremont, and Vallejo Symphonies as well as with Oakland Symphony, and serving as Acting Principal Horn of the Santa Rosa Symphony. She has performed with the San Francisco Symphony, the San Francisco Opera, and the San Francisco Ballet, as well as with Oakland Symphony, Marin Symphony, Fresno Philharmonic, and the California Symphony. In addition, she has extensive experience in musical theater, including the San Francisco appearances of White Christmas, La Bohème, Ragtime, Fiddler on the Roof, Titanic, Sound of Music, Miss Saigon, Phantom of the Opera, and Les Miserables. Educated at the Peabody Conservatory in Baltimore, with a master's degree from the San Francisco Conservatory, she lives in Oakland with her rescue kitties.

Gabrielle Wunsch

Violin

Carmel Bach Festival musician since 2004, Gabrielle enjoys a varied and active performance schedule here and in Europe. She has performed chamber and solo programs at the Utrecht, Barcelona, and Göttingen festivals, and was a prize winner in the 2010 Premio Bonporti International Baroque Violin Competition held in Rovereto, Italy. She plays regularly with Philharmonia Baroque Orchestra, which toured this spring through North America, playing at Carnegie's Zankel Hall, Place des Arts in Montreal, and the Walt Disney Hall, among others. She is a member of Voices of Music, and can be found on many of its videos online.

In Europe she continues to play with B'Rock and Nieuwe Philharmonie Utrecht, and has been a member of the Festival Orchestra at Göttingen Händel-Festspiele for ten years. On her modern violin she regularly performs with the Santa Rosa, Marin, Fresno, and Monterey Symphonies. Gabrielle holds performance degrees from Eastman School of Music (BM) and SUNY Stony Brook (MM), as well as in baroque violin from the Royal Conservatory of The Hague (BM and MM). Major teachers include Pamela Frank and Mitchell Stern for modern violin; Enrico Gatti, Lucy van Dael, Elizabeth Wallfisch, and Manfredo Kraemer for baroque violin.

Bruce Chrisp

Trombone

Bruce has been performing trombone professionally in the San Francisco Bay Area since 1989. He is principal trombone of the Santa Rosa Symphony, Marin Symphony, Vallejo Symphony, Oakland Symphony, Sacramento Philharmonic and Opera, Carmel Bach Festival, and Fresno Philharmonic orchestras, and is a member of the Opera San Jose orchestra.
Bruce also performs regularly with the San Francisco Symphony, San Francisco Ballet, San Francisco Opera, and San Diego Symphony. He is in demand as a recording artist and records frequently at Skywalker Ranch in Marin County. In addition to playing modern trombone, Bruce also enjoys performing renaissance and baroque works on a replica of an instrument made in Nuremberg in 1595. He is a graduate of the San Francisco Conservatory of Music (MM) and the University of Michigan (BME). Bruce has taught low brass at the University of the Pacific since the fall of 2022 and taught at UC Davis for 22 years previously.

Sora Park Shepard

Keyboards

Pianist, Sora Park Shepard is a collegiate educator, church keyboardist, and collaborative artist living in Champaign, IL. After graduating from Hanyang University in Seoul, South Korea, she moved to the United States to continue graduate studies, receiving a Master's degree from Western Illinois University and an Artist Diploma from the conservatory at the University of Missouri–Kansas City. While in the U.S., Shepard has found success as a soloist, performing several concertos with regional orchestras and additionally was awarded first place in both the American Prize competition and the Artist Presentation Society Competition in St. Louis. On demand as a collaborative artist, she has performed for several university and professional ensembles, and is a current member of Soom Soloist Ensemble in Atlanta, GA. When not playing and teaching piano, Sora enjoys running, weight lifting, tending her plants, and spending time with her cat, Mimsey, and her husband, Matthew.
Location
Wave Street Studios

774 Wave St, Monterey, CA 93940

Website

https://wavestreetstudios.com