Bach Cantatas
Friday, July 22 & 29, 3:00 PM
J.S. Bach, Cantata No. 70, "Wachet! betet! Seid bereit allezeit," BWV 70
I. Chorus: "Wachet! betet! betet! wachet!"
II. Recitative: "Erschrecket, ihr verstockten Sunder!"
III. Aria: "Wenn kommt der Tag"
IV. Auch gei dem himmlischen Verlangen"
V. Aria: "Lass'der Spotter Zungen schmahen"
VI. Recitative: "Jedoch! bei dem unartigen Geschlechte"
VII. Chorus: "Freu'dich sehr, o meine Seele"
VIII. Aria: "Hebt euer Haupt empor, und seid getrost"
IX. Recitative: "Ach, soll nicht dieser grosse Tag"
X. Aria: "Seligster erquickungs Tag"
XI. Chorus: "Nicht nach Welt, nach Himmel nicht"
J.S. Bach, Cantata No. 125, "Mit Fried und Freud ich fahr dahin," BWV 125
I. Chorus: "Mit Fried und Freud ich fahr dahin"
II. Aria: "Ich will auch mit gebroch'nen Augen"
III. Recit.: "O Wunder, dass ein Herz vor der dem Fleisch verhassten Gruft
IV. Aria (Duet): "Ein unbegreiflich Licht erfüllt den ganzen kreis"
V. Recit.: "O unerschöpfer Schatz der Güte"
VI. Chorus: "Er ist das heil und sel'ge Licht"
J.S. Bach, Motet No. 6, BWV 230, "Lobet den Herrn, alle Heiden"
Artists: Andrew Arthur, director and organ; Clara Rottsolk, soprano; Meg Bragle, mezzo-soprano; Thomas Cooley, tenor; Dashon Burton, bass-baritone; Cristina Zacharias and Marika Holmqvist, violin; Cynthia Keiko Black, viola; Keiran Campbell, cello; Bruce Moyer, bass; Stephen Schultz, flute; Stephen Bard, oboe; Georganne Banker, bassoon; Meredith Brown, horn; Robert Farley, trumpet; Michael Beattie, harpsichord
Program Notes
Cantata BWV 70
German composers did not invent cantatas and Italians did not devise chorales. The trumpet/ oboe call-and-response that opens BWV 70 — indeed, the entire cantata itself— was borrowed from Italian models, and Bach appropriated the form of his suites from the French.
Music as we know it is probably the most universally embraced of all ritual behaviors. Without repetition itself — citing just that one cyclic characteristic — it becomes incoherent and meaningless; with too much repetition it bores and quickly annoys. Much more than a language of the emotions, music also speaks to the intellect, the senses, the imagination, and to memory. It has been argued that because music engages the subjective and objective consciousness simultaneously, it both corroborates instinct and teaches critical thinking. Even where that can be said for the other arts, few of them arouse such intense reactions and deep emotions with equal immediacy.
The cantata BWV 70 "stars" the bass soloist in two dramatic recitatives and a three-part aria with a bravura center section. Scholarship tells us that the cantata was first heard at Weimar in 1716, and that all the recitatives and the final chorale were apparently added to this Leipzig version in 1723. The work's festive Advent theme anticipates Christmas.— Scott MacClelland
Cantata BWV 125
Bach's Cantata Mit Fried und Freud ich fahr dahin (or With Peace and Joy I go From Here) is a chorale cantata, based on a hymn by Martin Luther by the same title, and was composed to celebrate the feast of the Purification of the Blessed Virgin Mary, or Candlemas. Cantata 125 is written in six short movements musically illustrating the hope believers feel with the promise of salvation.
The opening Chorus is a slow dance in twelve- eight time with ascending flute melodies floating beneath the chorale as they sing about the comfort and peace of God's promise. In the first Aria, the mezzo-soprano soloist performs indulgent appoggiaturas above a flute and oboe d'amore duet; she voices a pleading prayer asking Jesus for protection from pain if her faith remains resilient. Tenor and bass soloists sing in canonic duet echoing the mention of a circular, enveloping light in the libretto. They sing with joyous gratitude, "Whoever believes will be blessed."
The final Chorale is both a declaration and call to service; a guarantee to all believers, and a reminder to "enlighten those who do not know."
—Jennifer Candiotti
Director
Andrew Arthur
Featuring
Robert Farley

Principal Trumpet

Robert studied at the Royal College of Music where he won several prizes including the Ernest Hall Memorial Prize. He is now a busy freelance trumpeter working with major orchestras including The Philharmonia Orchestra of London, The City of Birmingham Symphony Orchestra and Bournemouth Symphony Orchestra.

He is principal trumpet of The Orchestra of the Sixteen, Orpheus Britannicus, Hanover Band, Concerto Copenhagen, Carmel Bach Festival, California and is also regular guest principal with Stuttgart Baroque Orchestra and Oregon Bach Festival. With these groups he has appeared as principal trumpet on numerous critically acclaimed recordings including Bach B Minor Mass, Handel's Messiah, Coronation anthems, and Bach's Orchestral Suites. He has been guest principal and soloist with The Orchestra of the Age of Enlightenment, Academy of Ancient Music and Tafel Music, Canada.

Robert's solo work includes a solo CD A Courtly Garland for Baroque Trumpet, a recording of Bach's Brandenburg Concerto No. 2 with Concerto Copenhagen, recording's of Vivaldi Concerto for Two Trumpets, Queen of the Night aria from Magic Flute, Handel Arias with Emma Kirkby, and a recording of Bach's Cantata BWV 51.

He is Professor of Trumpet and Baroque Trumpet at both The Royal Academy of Music and Trinity Laban in London and has recently given international master classes at the Hong Kong Academy of Performing Arts; University of Ulsan, South Korea; and at The Early Music Festival of Curitiba, Brazil.

Michael Beattie

Keyboards, Organ, Harpsichord

Michael Beattie has received international attention as a conductor, keyboardist, and vocal coach specializing in the music of the Baroque period. Conducting engagements have included Purcell's Dido and Aeneas (Glimmerglass Opera); Handel's Rinaldo, Rodelinda, and Riccardo Primo (Pittsburgh Opera); and Handel's Teseo (Chicago Opera Theater). For Boston's Emmanuel Music, he has conducted Handel's Ariodante, the St. John Passion, the complete Bach Motets, and more than one hundred Bach cantatas.

A highly regarded keyboard player, Mr. Beattie has performed with the Boston Symphony Orchestra, BachFest Leipzig, the Saint Paul Chamber Orchestra, Boston Baroque, the Handel and Haydn Society, Les Violons du Roy, New World Symphony, and the Mark Morris Dance Group. He toured in the US and Europe with director Peter Sellars: as Assistant Conductor for the Mozart/Da Ponte cycle and as organist for staged Bach cantatas with Lorraine Hunt Lieberson.

Beattie is currently Artistic Administrator and Principal Keyboardist of Emmanuel Music. He has recorded for KOCH International Classics and Nonesuch records.

Cristina Zacharias

Associate Principal Second Violin

Canadian violinist Cristina Zacharias has been a core member of the Tafelmusik Baroque Orchestra since 2004. Frequently featured in solo and chamber music repertoire, she has performed extensively across North America, Europe, Asia and Australia. Cristina has been part of the Carmel Bach Festival since 2006, and can be heard on over 25 recordings for the ATMA, Analekta, CBC, BIS, Naxos and Tafelmusik Media labels. As an educator, Cristina is active in Tafelmusik's training institutes as well as at the University of Toronto.

Equally passionate about baroque, classical and modern repertoire, Cristina is a frequent collaborator, guest soloist and director with a diverse group of ensembles, including the Toronto Bach Festival, Theatre of Early Music, Manitoba Chamber Orchestra, Pacific Baroque Orchestra, the Brandon Chamber Players. Cristina holds a Master's degree in music from McGill University.

Stephen Schultz

Principal Baroque Flute

Stephen Schultz, called "among the most flawless artists on the Baroque flute" by San Jose Mercury News and "flute extraordinaire" by New Jersey Star-Ledger, plays solo and Principal flute with Philharmonia Baroque Orchestra, Musica Angelica, the Carmel Bach Festival, and Bach Collegium San Diego. He has also performed with other leading Early music groups such as Tafelmusik Baroque Orchestra, Apollo's Fire, Portland Baroque Orchestra, Wiener Akademie, Chatham Baroque, Cantata Collective, and at the Oregon Bach Festival.

Concert tours have taken him throughout Europe, North America, and South America with featured appearances at the Musikverein in Vienna, Walt Disney Concert Hall in Los Angeles, Royal Albert Hall in London, Concertgebouw in Amsterdam, Teatro Colón in Buenos Aires, Carnegie Hall, and the Library of Congress. A graduate of the Royal Conservatory of Music in Holland, Schultz also holds several degrees from the California Institute of the Arts and the California State University of San Francisco. Currently he teaches Music History at Carnegie Mellon University and is director of the Carnegie Mellon Baroque Ensemble.

Mr. Schultz has also been a featured faculty member of the Jeanne Baxtresser International Flute Master Class at Carnegie Mellon University and has taught at the Juilliard School and the International Baroque Institute at Longy School of Music. In 1986, Mr. Schultz founded the original instrument ensemble American Baroque. This unique group brings together some of America's most accomplished and exciting baroque instrumentalists, with the purpose of defining a new, modern genre for historical instruments. The group's adventurous programs combine 18th-century music with new works, composed for the group through collaborations and commissions from American composers. As a solo, chamber, and orchestral player, Schultz appears on over sixty recordings for such labels as Dorian, Naxos, Harmonia Mundi USA, Music and Arts, Centaur, NCA, and New Albion. Schultz has produced and edited forty CDs for his colleagues and has also performed and recorded with world music groups such as D'CuCKOO and Haunted By Waters, using his electronically processed Baroque flute to develop alternative sounds that are unique to his instrument.

He has been very active in commissioning new music written for his instrument and in 1998, Carolyn Yarnell wrote 10/18 for solo, processed Baroque Flute and dedicated it to Mr. Schultz. The Pittsburgh composer Nancy Galbraith wrote Traverso Mistico, which is scored for electric Baroque flute, solo cello, and chamber orchestra. It was given its world premiere at Carnegie Mellon University in April 2006 and this highly successful collaboration was followed in 2008 with Galbraith's Night Train, Other Sun in 2009, Effervescent Air in 2012, Dancing Through Time in 2016, Rustic Breezes 2018, and Transcendental Shifts in 2019. In March 2018, Stephen released a highly acclaimed CD of Bach Sonatas for Flute and Harpsichord with Jory Vinikour, on the Music and Arts label. Their new recording of Couperin's Concerts Royaux was just released in August 2021 and has made the best seller list of Classical music on Billboard.

Meredith Brown

Principal Horn

Meredith Brown is well-known throughout Northern California, holding Principal Horn positions with the Napa Valley, Fremont, and Vallejo Symphonies as well as with Oakland Symphony, and serving as Acting Principal Horn of the Santa Rosa Symphony. She has performed with the San Francisco Symphony, the San Francisco Opera, and the San Francisco Ballet, as well as with Oakland Symphony, Marin Symphony, Fresno Philharmonic, and the California Symphony. In addition, she has extensive experience in musical theater, including the San Francisco appearances of White Christmas, La Bohème, Ragtime, Fiddler on the Roof, Titanic, Sound of Music, Miss Saigon, Phantom of the Opera, and Les Miserables. Educated at the Peabody Conservatory in Baltimore, with a master's degree from the San Francisco Conservatory, she lives in Oakland with her rescue kitties.

Cynthia Keiko Black

Viola

Born in Dallas, Texas, Cynthia Keiko Black enjoys performing as a violinist and violist playing music from several centuries at home in the Bay Area and across the United States. She is a core member of INCANTARE, an ensemble of violins and sackbuts, and a founding member of the Costanoan Trio, a period instrument piano trio. She is looking forward to upcoming season appearances with the American Bach Soloists, the Carmel Bach Festival, Chatham Baroque, the Atlanta Baroque Orchestra, Ars Minerva, and the Washington Cathedral Baroque Orchestra.

She can be heard on recordings with Apollo's Fire, the American Bach Soloists, and the Queen's Rebels, and will be releasing an album of rarely heard duos for violin and viola from the late eighteenth century later this year.

Amidst an active performing career, Cynthia teaches a studio of young people at the Crowden School's Community Program in Berkeley. She holds modern viola degrees from the Cleveland Institute of Music and completed a doctorate in Historical Performance Practice from Case Western Reserve University.

In her free time, Cynthia enjoys cooking and baking, watercoloring, and growing vegetables. She is a proud resident of Richmond, California where she lives with her trumpet-playing and harpsichord-building husband, Dominic Favia.

Andrew Arthur

Principal Keyboard

A native of the UK, Andrew Arthur enjoys a fine reputation as a conductor, keyboard soloist, ensemble player, and teacher of exceptional versatility. He combines these disciplines within his principal position as Fellow and Director of Music at Trinity Hall, Cambridge where he is also an Affiliated Lecturer in the University's world-renowned Faculty of Music.

An acknowledged specialist in the music of the Baroque and Classical periods, Andrew is in great demand as a conductor, keyboard soloist, and consort player and has appeared at many prestigious international festivals. He currently holds the positions of Associate Director of The Hanover Band and Musical Director of his own period-instrument ensemble and vocal consort, Orpheus Britannicus. Andrew's solo and directorial recordings encompass repertory spanning over 400 years.

Alongside his busy concert schedule, he works throughout the year training the Organ Scholars and conducting the Chapel Choir at Trinity Hall with whom, in addition to their regular schedule of services in the College Chapel, he undertakes a number of concerts, recordings, and international tours.

Marika Holmqvist

Violin

During her quarter-century career as baroque violinist, Marika Holmqvist has appeared as a concertmaster for orchestras and opera companies on three continents, directed ensembles on both sides of the Atlantic, and served as artistic co-director for groups in the USA such as Sinfonia New York and the Boston-based ensemble, Cambridge Concentus. Currently her leadership positions include Zenith Ensemble (New England), Washington Bach Consort (DC) and Reykjavik International Baroque Orchestra (Iceland), among others.

Marika is also a dedicated and passionate educator. She has served as coach and guest leader for baroque operas at Cornell, Harvard and Rutgers Universities, and given master-classes and lectures at institutions across Europe. Alongside her master's degree in baroque violin performance from the Royal Conservatoire of The Hague in the Netherlands, she also graduated with a master's in baroque violin pedagogy—the first such degree ever granted in Europe.

Her 20-odd recordings include the Grammy-nominated Handel's Israel in Egypt with the Trinity Wall Street Choir and Baroque Orchestra. Marika has a Finn's love for the outdoors and when she is not performing or teaching, you will most likely find her cross country skiing, hiking, kayaking, or gravel or mountain biking.

Georgeanne Banker

Bassoon

Georgeanne Banker is a bassoonist who loves to explore the many iterations of this wondrous, reedy instrument. She is a co-founder and frequent artistic leader of the San Francisco-based orchestra One Found Sound, and appears this season with ensembles including Tafelmusik, Piffaro⁠—The Renaissance Band, Monterey Symphony, and Portland Baroque Orchestra.

She spends her time between the East and West Coasts and has enjoyed performances with groups such as Les Arts Florissants, Santa Rosa Symphony, La Speranza, and Mercury Chamber Orchestra. On hi-fi she can be heard on the albums of several indie bands and the soundtrack of the Oscar-nominated animated short The Dam Keeper.

Always eager to share the love of her craft, Georgeanne's pre-concert talks were hailed as "funny and engaging" by the San Francisco Classical Voice. Her writing has appeared in Playbill and she is a regular contributor of program notes for The Juilliard School. She enjoys teaching historical and modern bassoons and leading workshops that energize creative entrepreneurship. When she's not making reeds, she's happy to chat about running, veggie recipes, dogs, and video games. Georgeanne holds degrees from The Juilliard School, the San Francisco Conservatory of Music, and McGill University.
Location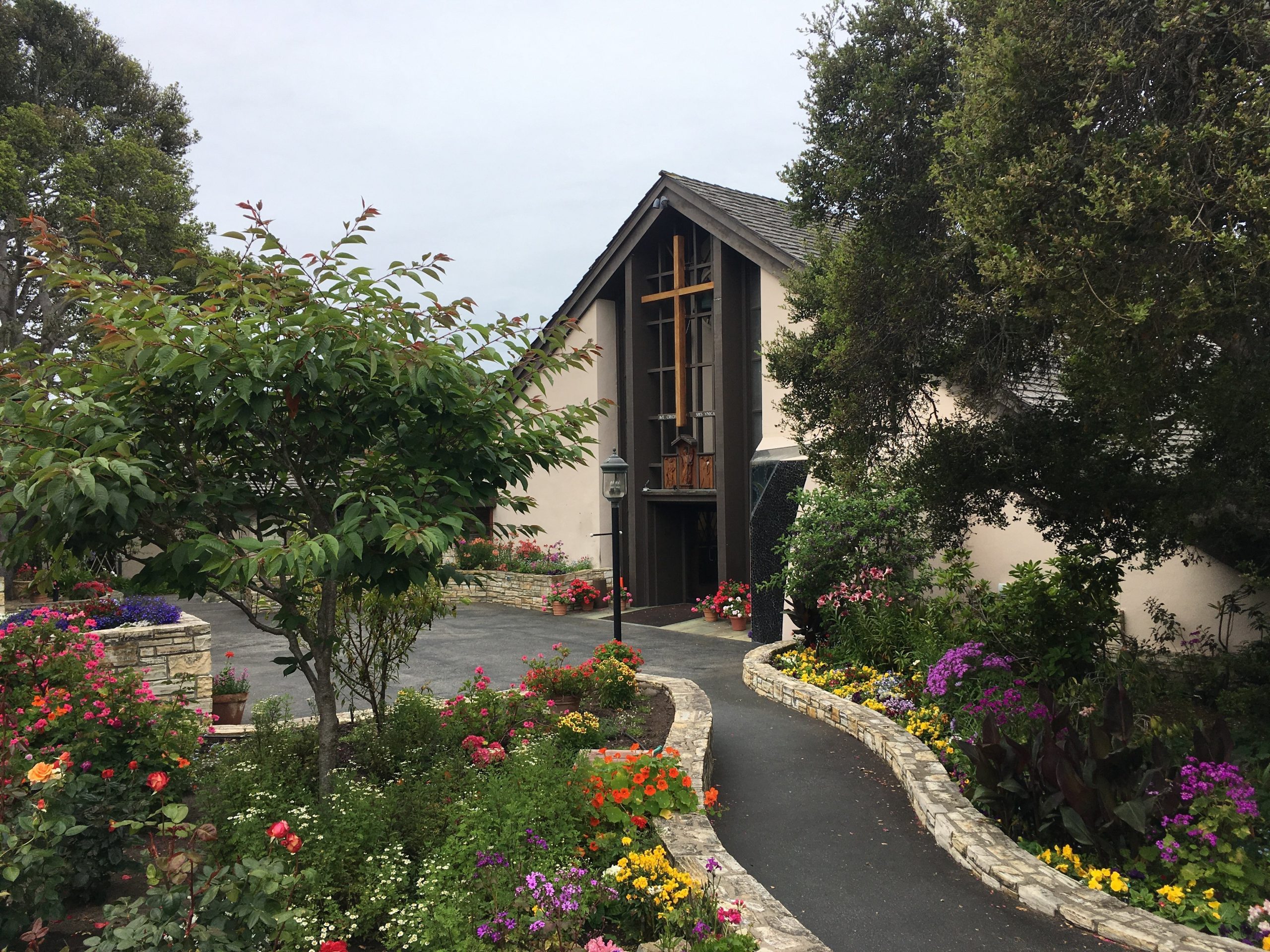 All Saints' Episcopal Church

Dolores St between 9th and 10th Ave, Carmel-by-the-Sea, CA 93921

Website

https://www.allsaintscarmel.org/