About the Baroque & Classical Academy
This Festival Baroque & Classical Academy provides training from internationally acclaimed Bach Festival musicians and learning opportunities at the Carmel Bach Festival. BCA musicians have a full rehearsal schedule, including guided sessions with mentors, in preparation for the Baroque & Classical Academy Quartet Showcase Concert. Throughout July, BCA musicians learn how to curate programs, create socially conscious programs, develop audiences, build donor relationships, and more. Musicians attend educational workshops with Festival musician mentors, film composers, board members, and others to learn skills to help them succeed as professional classical musicians.
The quartet also enriches the traditional Carmel Bach Festival community by offering free public masterclasses and performing a Showcase Concert featuring a program curated by the BCA musicians with guidance from Festival mentors. The Academy is directed by violinist Edwin Huizinga, who is a member of the Festival Artistic Leadership Team.
Here (in reverse chronological order) is a list of all participants in the Baroque & Classical Academy since it's inaugural season in 2022.
2022
Joseph Lorang, violin/viola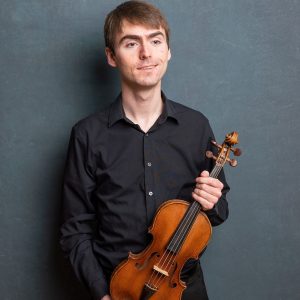 Joseph Lorang is a violinist and violist who is interested in both historical and modern string playing. He plays violin in the Glimmerglass Festival Orchestra in Cooperstown, NY, where he has also played viola with the Fenimore Quartet. Other memorable summer experiences have included the Pacific Music Festival in Japan in 2018 and the inaugural season of Carnegie Hall's National Youth Orchestra in 2013. He has degrees in violin performance from the University of Southern California (USC) and New England Conservatory, and recently graduated with a degree in historical performance from the Juilliard School, whichincluded the opportunity to participate in tours to France and Germany. He is passionate about community engagement and has been involved in programs such as USC's Thornton Outreach Program, the Gluck Fellows program, and Through the Staff (an educational nonprofit established during the pandemic to connect students to free remote music lessons). During his time at USC, he also got involved in conducting and served as Music Director of Concerto Chamber Orchestra (a student-run, campus-wide orchestra at USC). This fall, he will be pursuing a different interest and starting his JD degree at Columbia Law School. He hopes to continue to explore the subject of historical performance and to find new and creative ways to engage with the musical community.
Alyssa Campbell, violin/viola
Alyssa Campbell is a baroque violinist and violist from Detroit, Michigan. She is currently a graduate student at The Juilliard School where she is a member of the early music ensemble Juilliard415. Prior to moving to New York City, Alyssa studied violin performance at the University of Michigan School of Music, Theatre & Dance. Her primary instructors include Cynthia Roberts, Elizabeth Blumenstock, Aaron Berofsky, and Joseph Gascho.
She has performed at music festivals including the American Bach Soloists Academy, Chautauqua Music Festival, Oregon Bach Festival Berwick Academy, and the Tafelmusik Baroque Summer Institute. Additionally, in 2016 she co-founded the Detroit Chamber Orchestra, an ensemble dedicated to presenting free classical music performances in community-centered spaces. As a baroque violinist, Alyssa focusses on music spanning the 16th to 19th centuries and aims to expand the field of early music to include works by composers that are lesser known and performed.
When not playing music, Alyssa enjoys collecting vintage sheet music, eating spicy food, and kayaking.
William Drancsak III, violin/viola
William (Jimmy) Drancsak III, originally from Skaneateles, New York, is a violinist, violist, and music educator based in New York City. From an early age, Jimmy found a particular love for traditional fiddle playing that influenced his unique and creative outlook on classical music. This eventually led him to the discovery of historically informed performance. He combined his love for improvisation and orchestral playing and found the perfect mix of freedom and structure amongst 17-18th century music. Jimmy graduated from the State University of New York at Fredonia where he received a Bachelor's degree in Music Education and Violin Performance. After college, Jimmy was hired as an elementary and middle school orchestra director in Syracuse, New York. While teaching as a full-time music teacher, Jimmy continued performing in various genres including folk, jazz, and classical music. During the summer of 2021, Jimmy left his teaching position and gigs to begin a Master's degree in Historical Performance at The Juilliard School. He performs internationally with Juilliard 415, The Seven Hills Baroque Ensemble in Cincinnati, Ohio, The Arrow Quartet based in New York City, and the Rock Hill Symphony Orchestra in Rock Hill, South Carolina. Jimmy considers himself extremely blessed to have been able to pursue his love for music and will continue to share this passion with his students and audiences around the world.
Adrienne Hyde, cello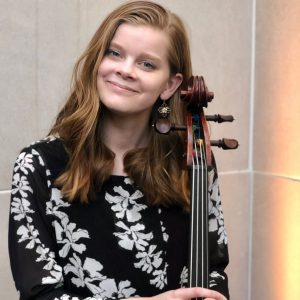 Passionate about honoring and understanding the traditions of all kinds of music, Adrienne Hyde graduated as a Pi Kappa Lambda Scholar from the Eastman School of Music, receiving a Bachelor's degree with High distinction in Cello Performance and a concentration in art history. During her time at Eastman, she was the recipient of the Glenn and Frances Harris Cello Prize and the school's first awarded Performance Practice Certificate for her extensive study of historical performance techniques.
Currently, she is pursuing a Master's degree on full scholarship as a historical performance student at the Juilliard School in NYC, where she double majors in Baroque Cello and Viola da Gamba. At Juilliard, Adrienne works in the community engagement department as a Morse Teaching Artist Fellow, teaching music theory and general music appreciation classes. She was also selected as the Music Advancement Program (MAP) Cello Fellow, through which she co-directed and founded the inaugural MAP Baroque Ensemble, and co-taught two courses in Baroque Performance Practice.
As a dedicated teacher, Adrienne maintains a small private studio of modern and baroque cello students, and tutors music theory and history. Recent research projects have culminated in guest teaching masterclasses in early improvisation, folk music, and historical cello performance. She performs frequently on many different instruments; the modern cello, the baroque cello, piccolo cello, bass violin, lirone, bass and treble viola da gamba, and the organ!
2020
In 2020, the BCA program was announced, but it's inaugural season was delayed due to the COVID-19 pandemic.