Thursday, July 18, 7:30 PM —1 PERFORMANCE ONLY
Sunset Center Theater
Edwin Huizinga, violin and William Coulter, guitar, known as Fire & Grace, return after sold-out concerts in 2017 and 2018. The duo is joined by reknown Swedish nyckelharpa virtuoso Olov Johansson, foremost performer on the traditional Swedish instrument called the NyckelHarpa.
Three Tunes
Bingsjö Långdans, Trad. Swedish
Heaven's Polska, Trad. Finnish
Lappa Skor,  Trad. Swedish
"Jag unnar dig ändå allt gott," Trad. Swedish
String Quartet (from the Danish String Quartet)
Polska from Dorotea – Traditional
AE Romeser – Traditional
Shine You No More – Rune Tonsgaard Sorensen
Stormyren, Eric Sahlström (1912–1986)
Olov Johansson, nyckelharpa
Largo from the Double Violin Concerto, JS Bach (1685-1750)
Konvulsionslåten, Anders Norudde (b.1960)
Tanya's Tune, Roger Talroth
Fire & Grace
Varvind, Antti Järvelä (Finland), Arr. by Karl-Johan Ankarblom
Violin Concerto in D minor, Johan Helmich Roman
Edwin Huizinga, violin
Bisonpolska, Olov Johansson (b.1966)
Polska Efter Pelle Pederson, Traditional Swedish
IPA-Gubben, Olov Johansson (b.1966)
Kylä vuotti uutta kuuta, Värttinä (Finland)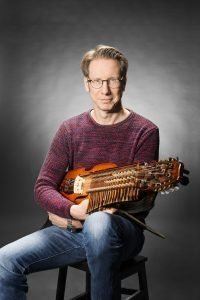 This nyckelharpa is a keyed fiddle, and produces a hauntingly beautiful sound, evocative of the Scandinavian countries.
This unique program will include traditional and contemporary Scandinavian folk music and songs, including arrangements of traditional Swedish dance tunes called the "polska," and contemporary compositions from the Swedish supergroup Väsen. The Baroque side of Scandinavian music will be represented by a performance of Johan Helmich Roman's Violin Concerto in D minor. Roman is known as the "Handel of Swedish Music." The concert will also feature "Bach dances the Polska," a blending of Baroque and Swedish dance tunes.
Edwin Huizinga, Johanna Novom, and Adriane Post, violin; Sarah Darling, viola; Paul Dwyer, cello; Jordan Frazier, bass; William Coulter, guitar; Dongsok Shin, harpsichord; Olov Johansson, nyckelharpa (pictured right)
Molly Quinn, Melanie Russell, soprano; Virginia Warnken Kelsey, mezzo-soprano; Owen McIntosh, tenor
Sponsored by
Carmel Insurance Agency
Monterey Private Wealth