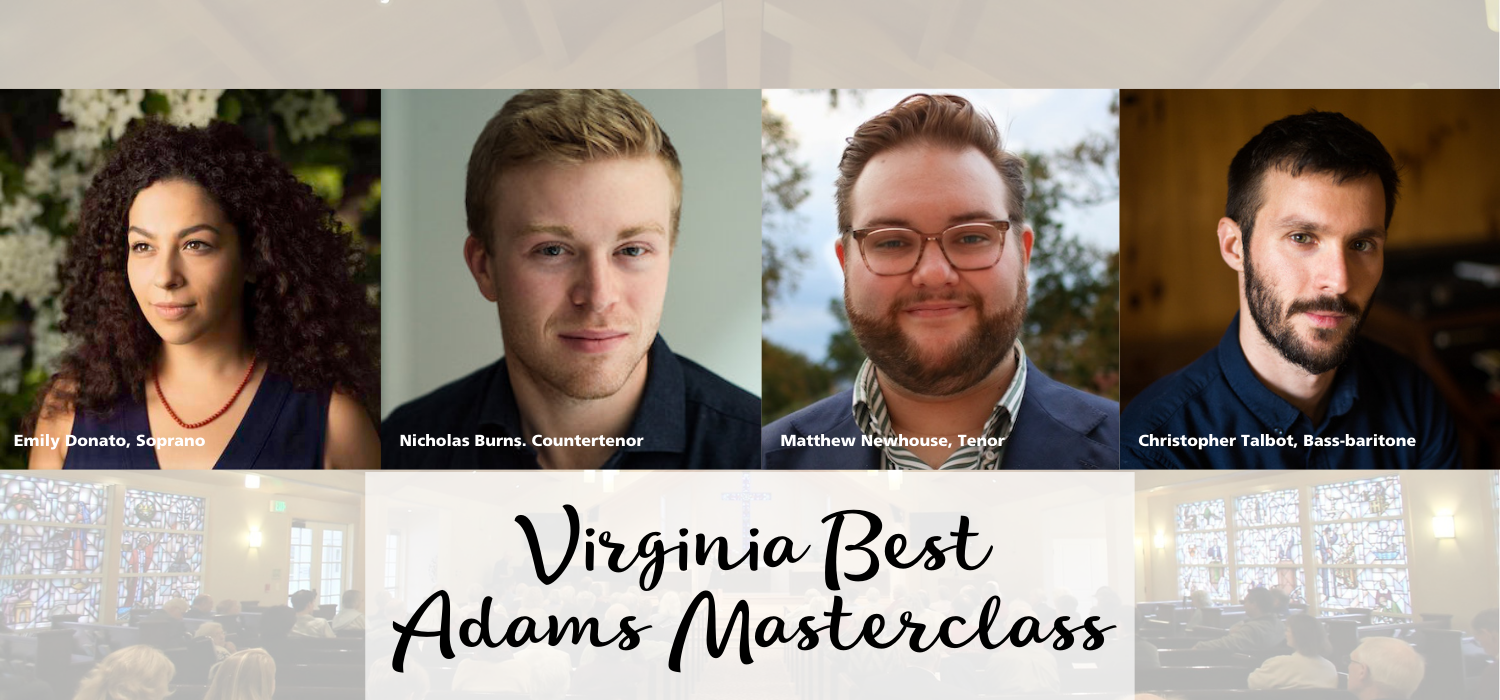 VBA Masterclass
Monday, July 13, 1:00 – 3:00 PM, Carmel Presbyterian Church
Virginia Best Adams Masterclasses are free and open to the public.
Each year the Festival selects four singers from hundreds of international applications. These emerging artists join the Festival and study with Festival principal artists. The busy schedule includes six working sessions which are open free to the general public, dozens of private coachings, and a special Showcase Concert. In the informal working sessions, the audience shares in the excitement as the coaches and young artists explore all aspects of performing Baroque vocal music, including vocal technique, musical style, foreign language skills, and artistic communication.
The Adams Masterclass is distinguished by the Festival's master teachers. Conductor and harpsichordist Michael Beattie is Masterclass Director. Sessions are also led by Festival Associate Conductor Andrew Megill (Director of Choral Activities at the Univ. of Illinois) and by Festival vocal soloists from the US and UK.
Director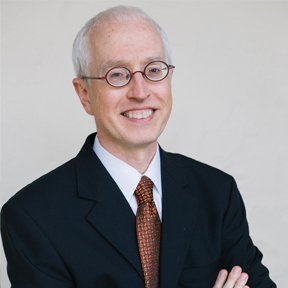 Michael Beattie
Featuring
Nicholas Burns

VBA Countertenor

From Vancouver, British Columbia, countertenor Nicholas Burns appeared at the Britten-Pears Young Artist Programme, performing Bach cantatas with Philippe Herreweghe. He has also appeared with appeared with the JSB Ensemble Stuttgart, American Bach Soloists, BachFest Leipzig, Tafelmusik, Arion Baroque Orchestra, Early Music Vancouver, Corona del Mar Baroque Music Festival, L'Harmonie des saisons, The Theatre of Early Music, and le Studio de musique ancienne de Montréal. On the opera stage, Nicholas has performed in numerous Handel operas including Cesare in Handel's Giulio Cesare, Bertarido in Rodelinda, Polinesso in Ariodante, and Lichas in Hercules. He also gave the world premiere of the opera L'Orangeraie by French composer Zad Moultaka. Nicholas frequently performs the vocal works of JS Bach, including over 50 of Bach's cantatas, as well as the St. Matthew Passion, St. John Passion, and B Minor Mass in a 'one-voice-per-part' setting. Upcoming performances include engagements with Tafelmusik, Arion Baroque Orchestra, Toronto Bach Festival, Symphony Nova Scotia, I Musici, and Early Music Vancouver. Aside from singing, Nicholas is an accomplished bagpiper, having won the World Pipe Band Championships in 2012.

Matthew Newhouse

VBA Tenor

Texas-born tenor, Matthew Newhouse brings power, tenderness and evocative story-telling to the concert stage. A rising name in concert, ensemble and historically informed performance, Matthew's expertise ranges from Medieval plain-chant to contemporary avant-garde vocal works. As a soloist, Matthew has recently made his Evangelist debut in J.S. Bach's Weihnachtsoratorium with Yale Schola Cantorum and has been heard performing Mozart's Requiem with the Ars Nova Chorale, Wer da gläubet und getauft wird BWV 37 with Emmanuel Music, Haydn's Die Schöpfungmesse with Juilliard 415, and premiering Aaron Jay Kernis' Edensongs with Yale Schola Cantorum. As a professional ensemble musician, Matthew's engagements have included collaborations with Apollo's Fire and the New York Philharmonic for their production of Handel's Messiah, The Thirteen, Fifth Avenue Presbyterian Church Choir and Emmanuel Music. Matthew's soloist collaborations have included performing with the Houston Masterworks Chorale, Norfolk Chamber Music Festival and The New Mexico Philharmonic. Matthew has had the privilege to sing for and work with such conductors as Masaaki Suzuki, David Hill, Richard Bado, Steven Stubbs, Craig Hella Johnson, and Jeanette Sorrel. Matthew gave his Carnegie Hall debut as winner of the 2019 Semper Pro Competition. He is also the proud first place winner of the 2019 TEXOMA NATS Vocal Competition. As a young artist, Matthew has appeared at the Norfolk Chamber Music Festival, Emmanuel Bach Institute, Illinois Bach Academy and as a member of the VOCES8 Scholar Programme. Matthew is an avid proponent of Icelandic vocal repertoire, and strives to incorporate Icelandic works into the classical music canon. Matthew holds a Bachelor of Music in Vocal Performance from Baylor University and a Master of Music in Voice: Early Music, Oratorio and Chamber Ensemble from Yale's Institute of Sacred Music. When not performing, you can find Matthew in the kitchen crafting fresh pasta, bubbling curries or baking fresh bread.

Christopher Talbot

VBA Bass-Baritone

Bass-Baritone Christopher Talbot is a versatile performer at home with a wide variety of repertoire, from the medieval to the present day. Praised for his "voice of warmth and strength" (Classical Review), he has performed with major ensembles across the U.S. including Seraphic Fire, The Thirteen, Apollo's Fire, Bachakademie Charlotte, and True Concord. Having a particular affinity for Baroque music, Chris has been fortunate to study with some of the world's foremost Baroque vocalists, including James Taylor and Bernarda Fink while earning his master's degree at Yale's Institute of Sacred Music, and Peter Harvey and Emma Kirkby while at the Internationale Bachakademie masterclass in Stuttgart, Germany. Highlights of 2023 include Bach's Christmas Oratorio with Choral Arts Philadelphia, appearances at the Staunton Music Festival in Virginia, a program of Italian madrigals with Parthenia Viol Consort in New York City, and John Luther Adams' Blessed Earth with The Crossing and the Philadelphia Orchestra. Chris is also involved with New Muses Project, a non-profit organization founded at Yale dedicated to the discovery and performance of works by under-represented composers. A lifelong choral singer, Chris got his start as an 8-year old treble in the All Saints Choirs of Worcester, MA. Outside of singing, he is passionate about music technology – he served as a teaching assistant for a code-based computer music course at Yale, and maintains an active freelance career as an audio/video engineer and web designer. When not singing, he can be found writing and recording original music, cooking, and cycling the bike paths around his home in Philadelphia.

Emily Donato

VBA Soprano

Soprano Emily Donato, born and based in Brooklyn, NY, most recently appeared as the soprano soloist in Bach's B Minor Mass at Carnegie Hall with the Oratorio Society of New York led by Maestro Kent Tritle, and with Voices of Ascension led by Maestro Dennis Keene. In 2021, she was awarded first prize in the Lyndon-Woodside Oratorio Competition held at the Riverside Church in NYC. Ms. Donato has performed as a soloist with Maestro Masaaki Suzuki, Nicholas McGegan, Simon Carrington, David Hill, and Leon Botstein. Emily is an alumni of the Grammy award winning Brooklyn Youth Chorus, holds her Bachelor of Arts in Music from Bard College, and her Master of Music from the Yale School of Music where she studied with tenor James Taylor as a member of the Yale Voxtet.
Location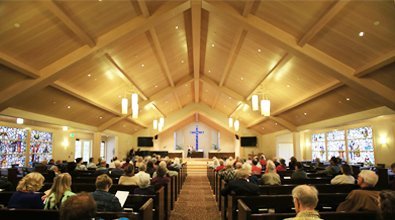 Carmel Presbyterian Church

Junipero St &, Ocean Ave, Carmel-By-The-Sea, CA 93921

Website

https://www.carmelpres.org/