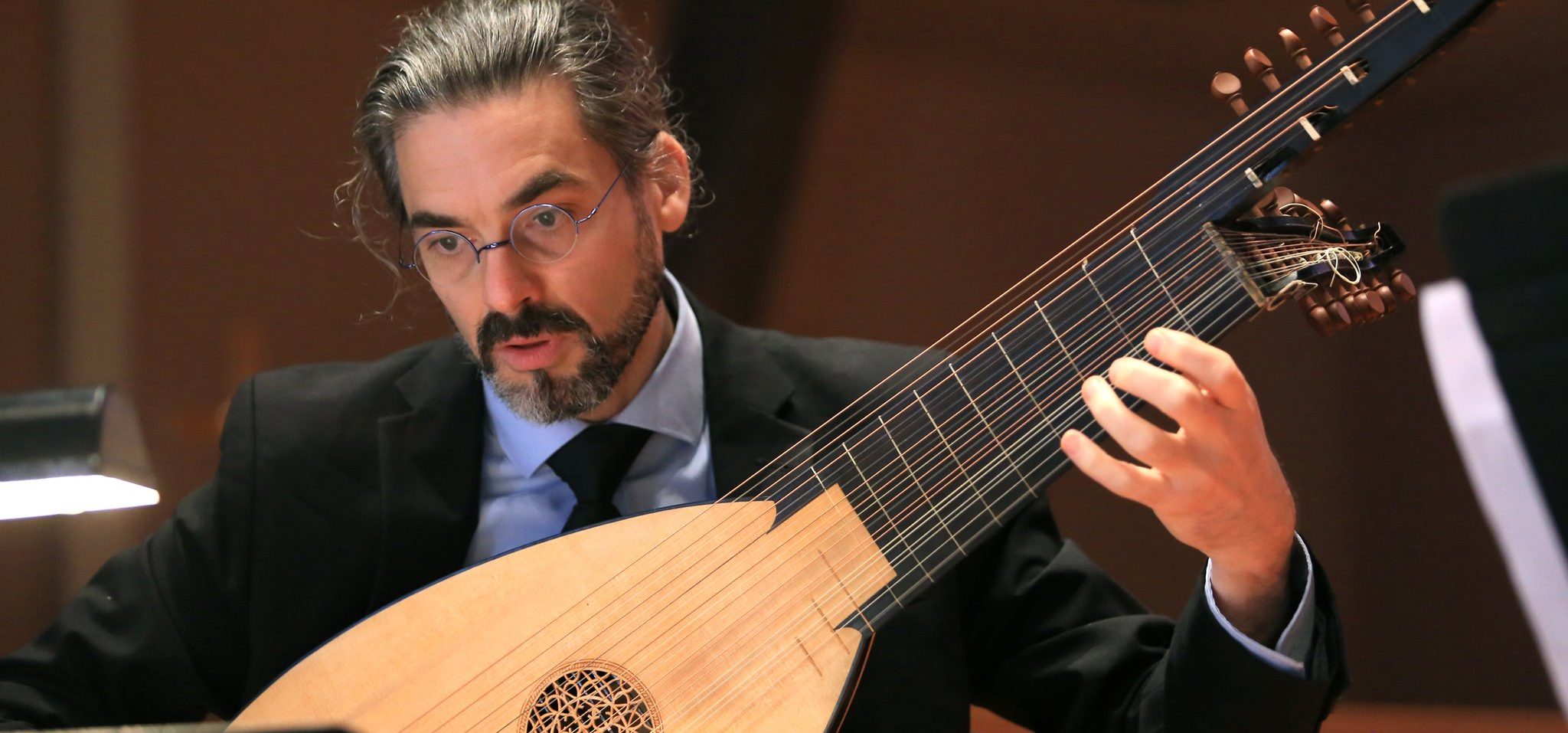 Solo Lute
Thursdays, July 21 & 28, 1:30 PM
Daniel Swenberg, lute
Extraordinary Tunings- Les Accords Nouveaux:
Transitional French Lute Music from 1631-1638
Transitional Tuning
Frère Frappart
NICOLAS BOUVIER (fl.1631–1638)
Branles
PIERRE GAULTIER (1599–after 1638)
French Flatt Tuning or Ton Ravissant
Suite of Allemande & Airs in Ton Ravissant
FRANÇOIS DUFAULT (c.1604–c.1672)
Allemande, Frère Frappart, Point d'Orgue, c'est ou je vous attends, Tu es
enrûmé compere
R. MESANGEAU
Branle de Mets
Suite in G Minor
PIERRE GAULTIER
Allemande, Courantes, Sarabande
Nouveau Accord Ordinaire or D Minor Baroque Lute Tuning 
Suite in D Minor
NICOLAS BOUVIER
Allemande, Courante, Canaries
Tombeau de Mezangeau
ENNEMOND "VIEUX" GAULTIER (1575–1651)
Program Notes 
Early in the 17th century, lutenists began experimenting with tuning. It was an exploration of sonority and what would become the revolutionary transition from Renaissance to Baroque. Les Accords Nouveaux — new and extraordinary tunings — is how we know the period of 1620-1650. The old renaissance tuning is left behind. By 1650, the many transitional tunings would settle into a new standard Baroque lute tuning — Nouveau Accord Ordinaire: the so-called d minor tuning. Both music history and today's performances gloss over this period. It certainly was a historical dead-end. Too impractical, changing 19 strings…Better to begin with the d minor tuning. Two distinct worlds and lutes: Renaissance and Baroque.
Without the Covid lockdown I may have never discovered this repertoire. I learned how wrong I was. I had time on my hands. I changed 19 strings, and then more. I tried to wrap my head around how these tunings worked. Here are some of the fruits of some well-spent hours in pandemic solitude.
Marin Mersenne stated in 1636 that the new tunings used the Renaissance tunings as their foundation. There were something like 22 of these tunings. In truth, they can be classified into a few: the sharp (Gaultier's tuning) and flat tunings (Ton Ravissant), and some hybrids:
While there are hundreds of collections of Accords Nouveaux in manuscripts, the most important surviving of this repertoire come from 3 publications: Pierre Ballard's offerings of 1631 and 1638 and Pierre Gaultier's 1638 book, printed in Rome. The Ballard collections feature a variety of composers. Nearly half of the works are by two of the outstanding composers of this period: René Mesangeau and François Dufault. Mesangeau achieved a celebrated position as the first of this new generation of lutenists. His music is experimental, sonorous. It takes great advantage of the new tunings. He exploits the full range of the instrument. Mesangeau's death was commemorated in several tributes by later composers. Dufault would go on to be one of the most influential composers of the Baroque lute, with its standard d minor tuning.
Pierre Gaultier's 1638 publication features his music alone. His writing features a number of techniques that are not typical of any other French lutenist — techniques common to the Italian theorbo and guitar players: Campanella (playing scales over many strings, open and fingered high on the fingerboard, creating a bell-like tone), extended slurred passages, and acciaccature (dissonant chord clusters).
All of these collections feature the new dances that would form the basis of the Baroque dance suite. However, the suites would be assembled/ selected by the player: many Allemandes were followed by a variety of Courantes, and Sarabandes. Gigues were not added to the suite until c. 1650. Thus a suite would progress from slow to fast — the sarabande of this time was a fast dance resembling the Canary more than the dirges of the later Baroque.
I hope you enjoy this glimpse into a largely unknown repertoire. It is intimate, sensual, sometimes grave, sometimes frivolous and fun. The lute was the noblest of instruments. The French were its most famous cultivators. It is a connoisseur's music, but it remains fresh — somehow "new" and "extraordinary"
— Daniel Swenberg