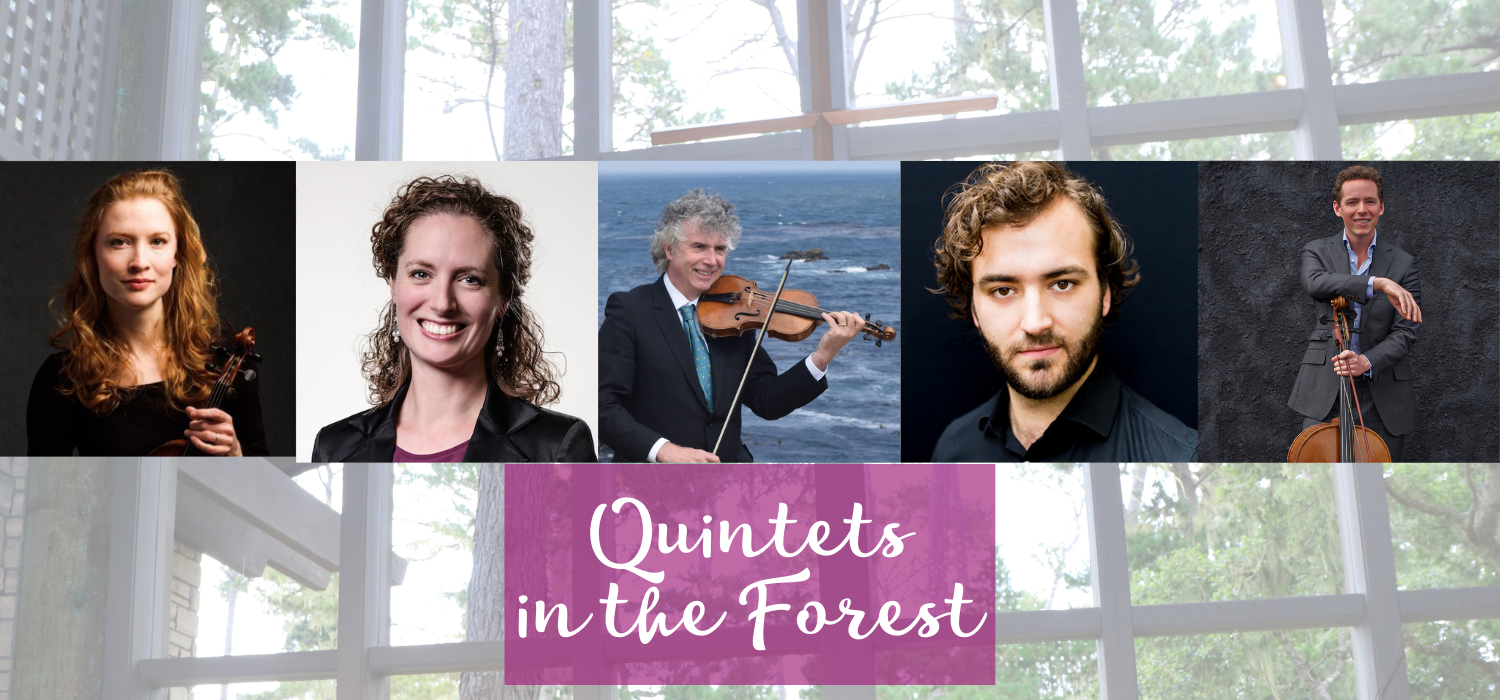 Quintets in the Forest
Wednesday, July 19, 5:00PM, Church in the Forest
Concertmaster Peter Hanson, violin and director; Adriane R. Post, violin; Karina Schmitz, viola; Paul Dwyer, cello; Keiran Campbell, cello
FRANZ SCHUBERT, Trio for violin, viola, and cello in B-flat major, D. 471 
FRANZ SCHUBERT, String Quintet in C major, D. 956, Opus 163 
Featuring
Adriane R. Post

Violin

Adriane Post's baroque violin playing has been described as "exquisite" by The New York Times. A founding member of ACRONYM Ensemble and Diderot String Quartet, she is sought after as leader, collaborator, and soloist across the United States. Concertmaster of the Washington National Cathedral Orchestra, co-concertmaster of Apollo's Fire, soloist and collaborator with Four Nations Ensemble, Post appears as guest leader with groups such as Seraphic Fire and the Thirteen. A tenured member of Handel + Haydn Society, she performs with Trinity Wall Street Baroque Orchestra.

This season has brought guest teaching engagements at Cincinnati Conservatory and the Smithsonian Institute, projects with The English Concert, Green Mountain Project, Les Délices and with Harry Bicket in collaboration with Diderot Quartet and festival debuts at the Utrecht and Boston Early Music Festivals.

Post first fell in love with the baroque violin at Oberlin Conservatory, where she completed her Bachelor of Music. She received her Master of Music degree as a member or the first class of Juilliard's Historical Performance program. Based in New York and Chicago, she was born and raised in northern Vermont.

Peter Hanson

Concertmaster and Director of Monday Main Concert

Peter has been Concertmaster of Sir John Eliot Gardiner's Orchestre Revolutionnaire et Romantique since 1992, when they recorded their first complete set of Beethoven symphonies. He appeared as its Concertmaster soloist for European and U.S. tours of Beethoven's Missa Solemnis, a 2017 BBC Proms performance of Berlioz's Damnation of Faust, and in 2018, major European and U.S. tours of Berlioz. In 2020, they performed all the Beethoven symphonies in Barcelona and U.S. including sold-out concerts at the Carnegie Hall, New York.

Peter formed The Eroica Quartet in 1993 with colleagues from the world of period instrument performance. The group immediately attracted attention with their vision of a revived Romantic approach to the string quartet literature, from Beethoven to Debussy. Their performance style was so unusual at the time that it struck listeners as radical. In 1997 they began their first Beethoven cycle, appearing at the City of London Festival and in the same year appeared at the Aix-les-Bains Nuits Romantiques Festival in France.

The Eroica quickly became established, and toured extensively in the United Kingdom as well as making visits to France and the U.S. Their American debut was in Washington, D.C. and the New York debut was in February 2001, at the Frick Collection. For Harmonia Mundi USA they recorded the Mendelssohn and Schumann quartets and Beethoven quartets Op. 74, 95 and 135. For Resonus Classics, they recorded the original 1825 version of Mendelssohn's Octet, Op. 20 and, more recently, the quartets by Debussy and Ravel. Released to coincide with the 150th anniversary of Debussy's birth, this album represents the first modern recording of the works to feature performances on gut strings and with aspects of period performance.

Peter is a concertmaster of the Carmel Bach Festival in California. His role includes chamber music performances, directing the string orchestra and appearing as Concertmaster for most of the Festival Orchestra concerts. The CBF orchestra is very flexible with regard to period and modern instruments and style; he recently gave performances of Vivaldi's Four Seasons on baroque instruments at Hz415 followed by the Piazzola 4 seasons on modern (Hz440) in the second half of the same concert.

Peter also appears as Director elsewhere; recent engagements include projects with the Singapore Symphony Orchestra, Kymi Sinfonia from Finland and Orquesta da Camera in Spain. He was recently Guest Concertmaster with the Luxembourg Philharmonic, the Stockholm Radio Symphony Orchestra, and in 2017 was Guest Concertmaster for a Beethoven and Gade project with Concerto Copenhagen in 2019. He returned to Singapore for a new project in 2021.

Kerian Campbell

Cello

Keiran Campbell was drawn to the cello after he stumbled across one in his grandmother's basement and was baffled by its size. Once he turned 8, he began taking lessons- on a much smaller cello- in his native Greensboro, North Carolina. After studying extensively with Leonid Zilper, former solo cellist of the Bolshoi Ballet, he received his Bachelors and Masters at the Juilliard School, working with Darrett Adkins, Timothy Eddy, and Phoebe Carrai. Keiran also spent several springs in Cornwall, England, studying with Steven Isserlis and Ralph Kirshbaum at Prussia Cove.

Keiran has performed with ensembles including The English Concert, NYBI, Philharmonia Baroque, The Boston Early Music Festival Orchestra, Four Nations Ensemble, and Les Violons du Roy. He recently performed with Le Concert Des Nations under Jordi Savall, touring Europe performing Beethoven Symphonies before recording them on Savall's new Beethoven CD. During his summers, Keiran has performed with Teatro Nuovo, Lakes Area Music Festival, and The Carmel Bach Festival. He is also on faculty at the recently formed, UC Berkeley-based, Chamber Music Collective, which focuses primarily on post-1750 performance practice. Keiran now lives in Toronto with his wife, violinist Chloe Fedor, where he is a core member of Tafelmusik Baroque Orchestra.

Keiran is also fascinated by instrument making, which he studies with the maker of his cello, Timothy Johnson.

Paul Dwyer

Cello

German-American cellist Paul Dwyer is Assistant Principal Cellist of Lyric Opera of Chicago and founding member of the Diderot String Quartet and ACRONYM. He has also served as Principal Cellist of Music of the Baroque and as Adjunct Professor of Cello at Notre Dame University.

Paul grew up in Vienna, where he decided to play the double bass but was told he's too small. At age eight his family moved to Munich, where Paul spent most of his time playing soccer, running subversive school newspapers and transcribing Metallica songs for a heavy metal cello quartet he formed with his best friends. In 12th grade, he made his opera debut singing the role of Polyphemus in Handel's Acis and Galatea.

Paul has degrees in cello performance from Oberlin Conservatory, University of Michigan and Juilliard. He was the recipient of a Jacob Javits Fellowship for doctoral studies and a Fulbright Fellowship for studies of contemporary music and historical performance in the Netherlands, where he studied with Anner Bylsma and Frances-Marie-Uitti. This spring, he completed a Master of Business Administration from the University of Chicago Booth School of Business.

Karina Schmitz

Principal Viola

Violist, Karina Schmitz, recently settled in Sydney and is thrilled to find herself immersed in the rich and vibrant musical scene in Australia. She is principal violist of the Australian Haydn Ensemble, Pinchgut Opera/Orchestra of the Antipodes, nineteenth-century period trio Notturno, and has performed with the Australian Chamber Orchestra, the Australian Romantic and Classical Orchestra, Van Diemen's Band, Salut! Baroque, and Ensemble Galante. In the United States, Karina was principal violist of Handel & Haydn Society in Boston, Apollo's Fire in Cleveland, the Carmel Bach Festival in California, and founding violinist/violist with New York based 17th century ensemble ACRONYM.
Karina holds viola performance degrees from New England Conservatory of Music (Boston) and the Cleveland Institute of Music. Her early music studies began as an undergraduate at Oberlin Conservatory with Marilyn McDonald, David Breitman, and Miho Hashizume, and she continued her training in the Apollo's Fire Apprentice Program. A dedicated practitioner of Historically Informed Performance Practice, Karina finds a way to geek out over the expressive possibilities in every period of music she plays, and she is exceedingly grateful for the opportunities in which HIPP has greatly influenced and shaped her career.

Karina plays on a Hiroshi Iizuka viola made in 1984.
Location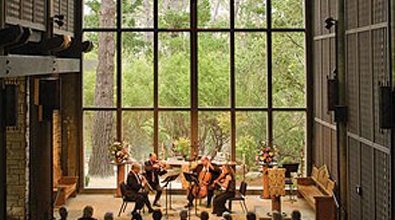 Church in the Forest

3152 Forest Lake Rd, Pebble Beach, CA 93953

Website

https://churchintheforest.org/