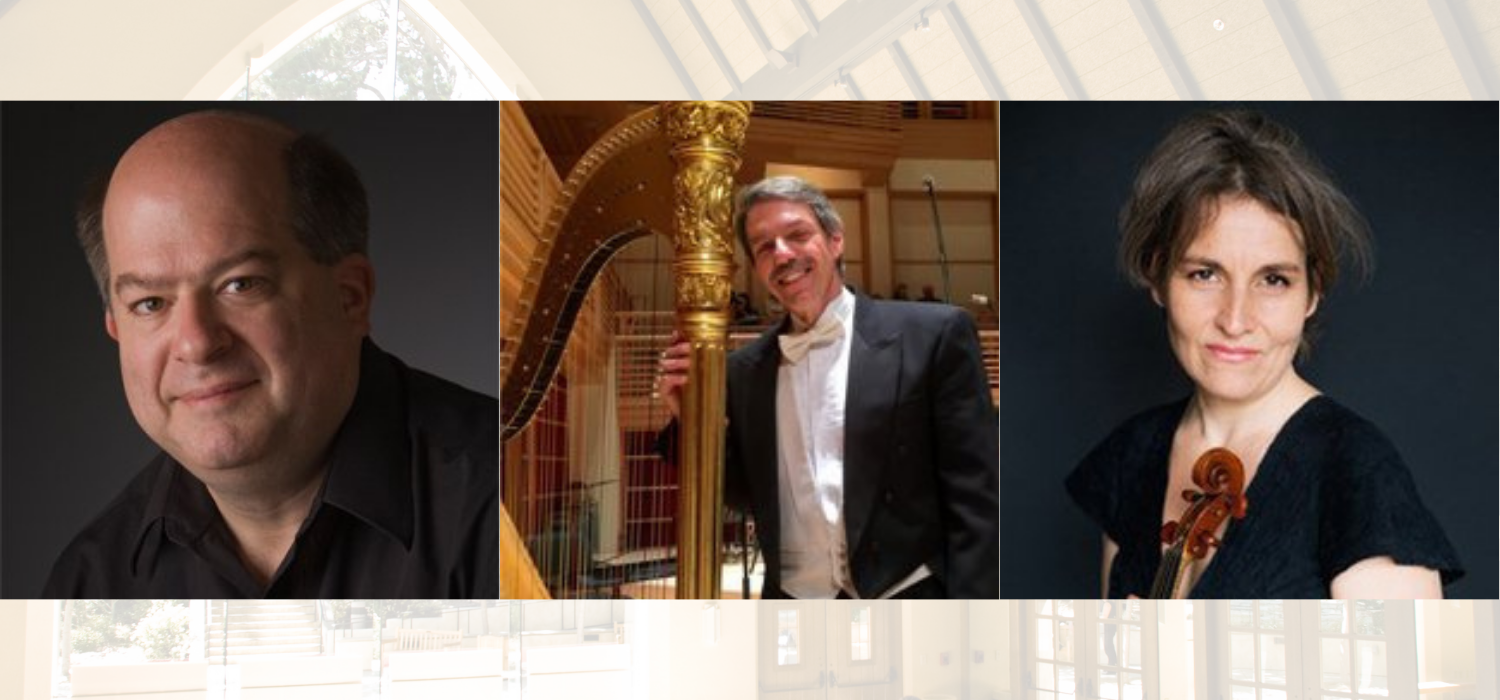 Harp, Violin, and Cello
Tuesdays, July 19 & 26, 1:30 PM
Dan Levitan, harp; Timothy Roberts, cello;  Theresa Salomon, violin
JOHANN DUSSEK

Trio for Violin, Cello, Harp, Op. 34, No. 1

(1760–1812)

Rondo allegretto moderato

CAMILLE SAINT-SAËNS 

Fantasie for Violin and Harp, Op. 124

(1835–1921)

Vivo e grazioso; largamente; vivo e grazioso (a tempo)

MAX BRUCH 

Kol Nidrei for Cello and Harp, Op. 47

(1838–1920)
JACQUES IBERT 

Trio for Violin, Cello, Harp, Op. 10

(1890–1962)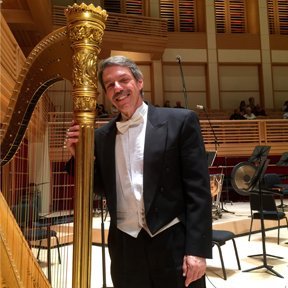 Director
Dan Levitan
Featuring
Dan Levitan

Principal Harp

Dan Levitan holds contracts as the Principal Harpist with three professional orchestras: Santa Rosa Symphony, Marin Symphony, and Symphony Silicon Valley.

He is the "first call" harpist with the San Francisco Opera. He regularly performs for the San Jose Chamber, Mission Chamber, UC Berkeley Symphony orchestras and is sought after as a soloist by numerous other orchestras, choirs, and ensembles throughout northern California.

Mr. Levitan's concerto performances by Bach (Johann Christian), Boieldieu, Debussy, Ginastera, Glière, Mozart, Ravel, Reinecke, and Saint-Saëns with orchestras throughout the San Francisco Bay Area have been highly praised by local critics, who write of his "impeccable virtuosity" (San José Metro), "virtual perfection" (Marin Independent Journal) and "precision and élan" (Mercury News). Internationally, Mr. Levitan was invited to perform two works for harp and string quartet at the Seventh World Harp Congress in Prague, Czech Republic, and was a semi-finalist in the prestigious 10th International Harp Competition in Israel.
As a teacher and coach, he coaches for California Youth Symphony, CYS, as well as El Camino Youth Orchestra, ECYS, (mid-peninsula and south bay), in addition to teaching privately.

Born and educated in Philadelphia, Mr. Levitan received Bachelor of Arts degrees in Music Performance and in Music Education from Temple University —both magna cum laude—and was named "Most Promising Musician" on graduation. He studied with Margarita Montanaro, (retired) Co-Principal Harpist with the Philadelphia Orchestra and internationally acclaimed harpists Susann McDonald and Susanna Mildonian, as well as the well-known late Bay Area Harpists Anne Adams, Marcella DeCray, and Phyllis Schlomovitz.

Timothy Roberts

Cello

Timothy was founder, artistic director, and cellist of the Art of Music Chamber Players in Boston for 10 years. He was also a founding member and is a current performer in the South Coast Chamber Music society for the last 13 years. He recently purchased Copley Chamber Players Inc which is a performing organization as well as a company that provides musical ensembles for functions, events and weddings.

​

His freelance work includes work with the Boston Symphony Orchestra, the Boston Pops Esplanade Orchestra, the Opera Company of Boston, Boston Ballet, Pro Arte Chamber Orchestra, Boston Classical Orchestra, the Florida Orchestra (Tampa) as well as just about every other type of freelance work available in Boston. He has also taught for many years in various towns and music schools since 1984, teaching both private cello and as a chamber music coach, and in his private studio in Needham.

Mr. Roberts holds degrees in Performance from New England Conservatory, and Northwestern University, and he pursued a doctorate at the Cleveland Institute of Music. He performs on a Gabriello cello made in Florence, Italy in 1751.

Theresa Salomon

Violin

Violinist Theresa Salomon has had her interpretations praised by The New York Times as "sizzling," The Washington Post as "virtuosic,"and The Frankfurter Allgemeine as "on the highest level." She has performed with many of the finest early music ensembles and orchestras, as well as numerous festivals in North America. She has appeared with Ensemble Repast, Four Nations, Artek, Rebel, Trinity Wall Street, American Classical Orchestra, Opera Lafayette, Clarion, National Cathedral, Carmel Bach Festival, Connecticut Early Music Festival, Boston Early Music Festival, among others.

Studying violin in The Netherlands in the early nineteen nineties, at the time a hot bed of early music and historic performance practice, Theresa was swayed by the earthy sound of gut strings. During and after studies in her native Germany, The Netherlands, and Austria, she traveled extensively and performed concerts in Norway, Brazil, Japan, Togo, Malawi, and South Africa. She is also an enthusiast of contemporary music and has premiered numerous works, including a violin concerto on live radio with the Janáček Philharmonic in Ostrava. She has performed at the Gulbenkian Festival in Lisbon, the Prague Spring Festival, and the Ostrava Days for New Music in the Czech Republic.

Theresa has recorded music from Rosenmueller to Xenakis, as well as sound tracks to movies. Theresa is a member of the Orchestra of St Luke's, curates and programs for the chamber music series Friends of Mozart, and lives is New York City.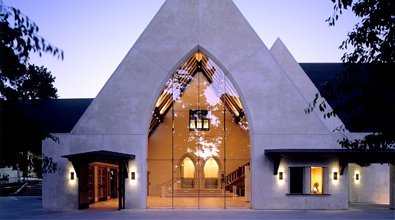 Location
Sunset Center Foyer

San Carlos St between 8th and 10th Ave, Carmel-By-The-Sea, CA 93923

Website

https://www.sunsetcenter.org/