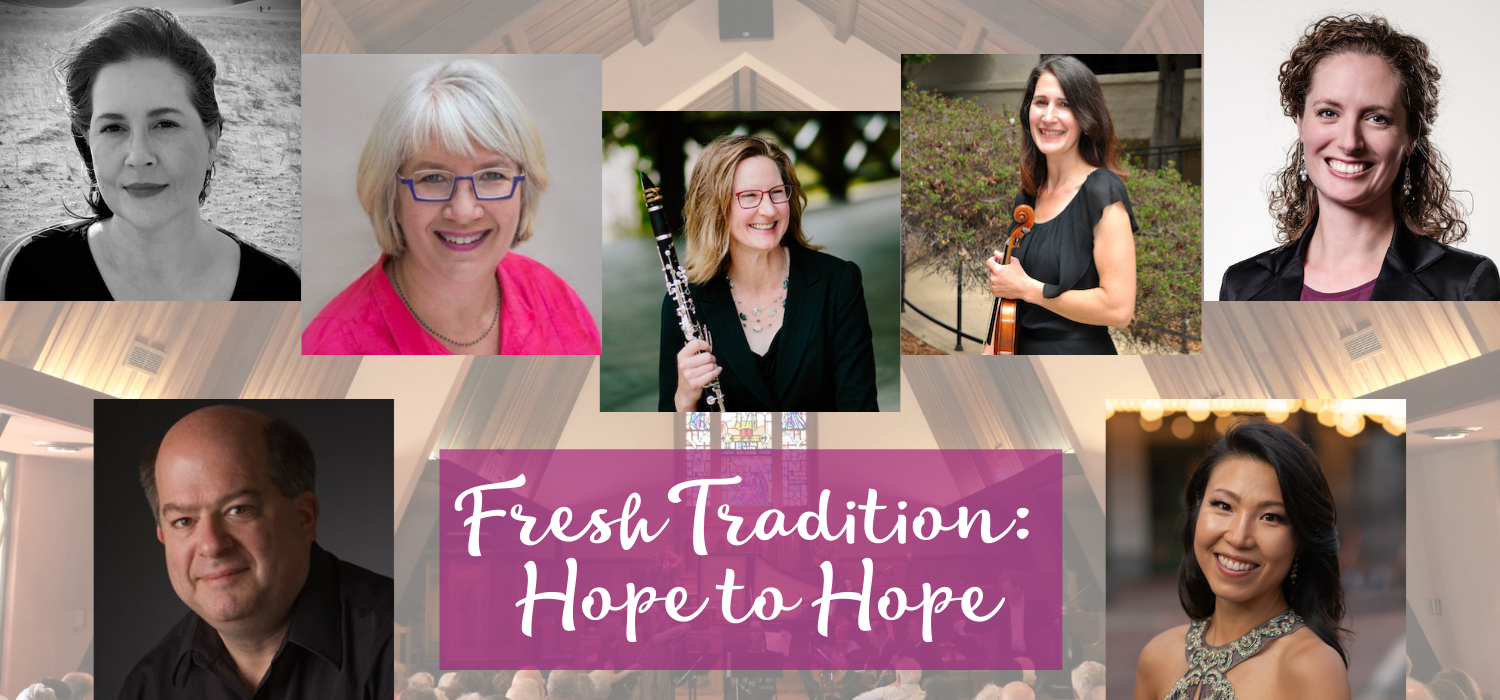 FreshTradition: Hope to Hope
Monday, July 17, 3:00PM, All Saints' Episcopal Church
Ginger Kroft, clarinet; Linda Lee Jones, soprano; Ann Kaefer Duggan, violin; Elizabeth Stoppels Girko, violin; Karina Schmitz, viola; Timothy Roberts, cello; Sora Park Shepard, piano 
CLARKE, Prelude and Allegro for viola and clarinet
SPOHR, Sechs Deutsche Lieder, "Sehnsucht" and "Wach auf", Op. 103
GOLIJOV, Tenebrae (Mvt I)
DEBUSSY, Quartet for Strings in G minor, Opus 10 (II & IV)
Take a journey through 'hidden gem' repertoire with a program inspired by Samuel Johnson's thought: "The natural flights of the human mind are not from pleasure to pleasure, but from hope to hope."
FreshTradition is a series that explores the intersection of human emotions, connections, and thoughts. 2023's program features all instrument families…strings, voice, keyboard, and winds. Hear new and familiar composers: Clarke, Spohr, Golijov, and Debussy.
Join us and experience FreshTraditions!
Featuring
Timothy Roberts

Cello

Timothy was founder, artistic director, and cellist of the Art of Music Chamber Players in Boston for 10 years. He was also a founding member and is a current performer in the South Coast Chamber Music society for the last 13 years. He recently purchased Copley Chamber Players Inc which is a performing organization as well as a company that provides musical ensembles for functions, events and weddings.

​

His freelance work includes work with the Boston Symphony Orchestra, the Boston Pops Esplanade Orchestra, the Opera Company of Boston, Boston Ballet, Pro Arte Chamber Orchestra, Boston Classical Orchestra, the Florida Orchestra (Tampa) as well as just about every other type of freelance work available in Boston. He has also taught for many years in various towns and music schools since 1984, teaching both private cello and as a chamber music coach, and in his private studio in Needham.

Mr. Roberts holds degrees in Performance from New England Conservatory, and Northwestern University, and he pursued a doctorate at the Cleveland Institute of Music. He performs on a Gabriello cello made in Florence, Italy in 1751.

Ginger Kroft

Principal Clarinet

Ginger Kroft is a faculty member at San Francisco Conservatory of Music and Santa Clara University. She is Principal Clarinet of Sacramento Philharmonic and the Carmel Bach Festival, and is a member of the Oakland Symphony. Ms. Kroft regularly performed with the San Francisco Ballet Orchestra for many seasons. In the chamber world, Ms. Kroft was in-residence with Left Coast Chamber Ensemble at the Wunsch New Music Festival.

She is a Vandoren International Artist and performs on M15 mouthpieces and Traditional reeds. An education advocate, Ms. Kroft maintains a private teaching studio, ClarinetStudio.org, and is a frequent adjudicator of solo competitions. Ms. Kroft holds degrees from the San Francisco Conservatory of Music and Northwestern University.

Sora Park Shepard

Keyboards

Pianist, Sora Park Shepard is a collegiate educator, church keyboardist, and collaborative artist living in Champaign, IL. After graduating from Hanyang University in Seoul, South Korea, she moved to the United States to continue graduate studies, receiving a Master's degree from Western Illinois University and an Artist Diploma from the conservatory at the University of Missouri–Kansas City. While in the U.S., Shepard has found success as a soloist, performing several concertos with regional orchestras and additionally was awarded first place in both the American Prize competition and the Artist Presentation Society Competition in St. Louis. On demand as a collaborative artist, she has performed for several university and professional ensembles, and is a current member of Soom Soloist Ensemble in Atlanta, GA. When not playing and teaching piano, Sora enjoys running, weight lifting, tending her plants, and spending time with her cat, Mimsey, and her husband, Matthew.

Linda Lee Jones

Soprano

Soprano Linda Lee Jones performs and records with a variety of vocal ensembles in New York and CA, including the choir of the Cathedral of St. John the Divine, Clarion Music Society, Musica Sacra, New York Choral Artists with the NY Philharmonic, Voices of Ascension, Antioch, Essential Voices, and the Carmel Bach Festival Chorale. As a member of the vocal sextet The Western Wind, Miss Jones performs an eclectic variety of music, enjoys coaching small ensembles at Summer workshops for amateur singers, and recently co-curated their Holiday concert. Recent solo appearances include the role of Belinda in Dido and Aeneas and a recital appearance at the Carmel Bach Festival in 2021. Recordings include: Clarion Music Society's Grammy nominated trio of CDs- Maximillian Steinberg's Passion Week, Kastalsky's Memory Eternal and Kastalsky's Requiem with the Orchestra of St. Luke's and Leonard Slatkin; the newly released Robert Kyr: In Praise of Music, by the Antioch Chamber Ensemble; Western Wind's We are Still Here: The Holocaust Through Music and Memory, Julia Wolf's Anthracite Fields recorded with Bang on a Can All Stars and the choir of Trinity Wall Street. Miss Jones earned a Bachelor of Music degree from Loyola University (New Orleans), and a Master of Music degree from Westminster Choir College, where she studied voice performance and choral conducting.

Elizabeth Stoppels Girko

Violin

Elizabeth has been a participant of the Carmel Bach Festival since 1992. During the year, she performs with the San Antonio Symphony and the Austin Symphony. Elizabeth is originally from Grand Rapids, MI, and received degrees from the Oberlin Conservatory (BM) and the Eastman School of music (MM). Elizabeth's major teachers were Marilyn McDonald and Peter Salaff.

In addition to her orchestral work, Elizabeth is on the faculty at Our Lady of the Lake University in San Antonio. Elizabeth also maintains a private violin studio at her home. She enjoys collecting art and pets. Currently, Elizabeth has five miniature dachshunds and two cats.

Ann Kaefer Duggen

Violin

A graduate of Roosevelt University and The University of Michigan, Ann performs with the Haymarket Opera Company, Carmel Bach Festival, Bella Voce, Music of the Baroque, Callipygian Players, and Third Coast Baroque. She teaches violin and viola at Trinity International University as well as a private studio. Ann has been a past member of Joffrey Ballet Orchestra, Da Corneto Opera, Sarasota Opera, Key West Symphony, and Spoleto Opera Festival as well as 10 years of teaching at the Music Institute of Chicago.

Karina Schmitz

Principal Viola

Violist, Karina Schmitz, recently settled in Sydney and is thrilled to find herself immersed in the rich and vibrant musical scene in Australia. She is principal violist of the Australian Haydn Ensemble, Pinchgut Opera/Orchestra of the Antipodes, nineteenth-century period trio Notturno, and has performed with the Australian Chamber Orchestra, the Australian Romantic and Classical Orchestra, Van Diemen's Band, Salut! Baroque, and Ensemble Galante. In the United States, Karina was principal violist of Handel & Haydn Society in Boston, Apollo's Fire in Cleveland, the Carmel Bach Festival in California, and founding violinist/violist with New York based 17th century ensemble ACRONYM.
Karina holds viola performance degrees from New England Conservatory of Music (Boston) and the Cleveland Institute of Music. Her early music studies began as an undergraduate at Oberlin Conservatory with Marilyn McDonald, David Breitman, and Miho Hashizume, and she continued her training in the Apollo's Fire Apprentice Program. A dedicated practitioner of Historically Informed Performance Practice, Karina finds a way to geek out over the expressive possibilities in every period of music she plays, and she is exceedingly grateful for the opportunities in which HIPP has greatly influenced and shaped her career.

Karina plays on a Hiroshi Iizuka viola made in 1984.
Location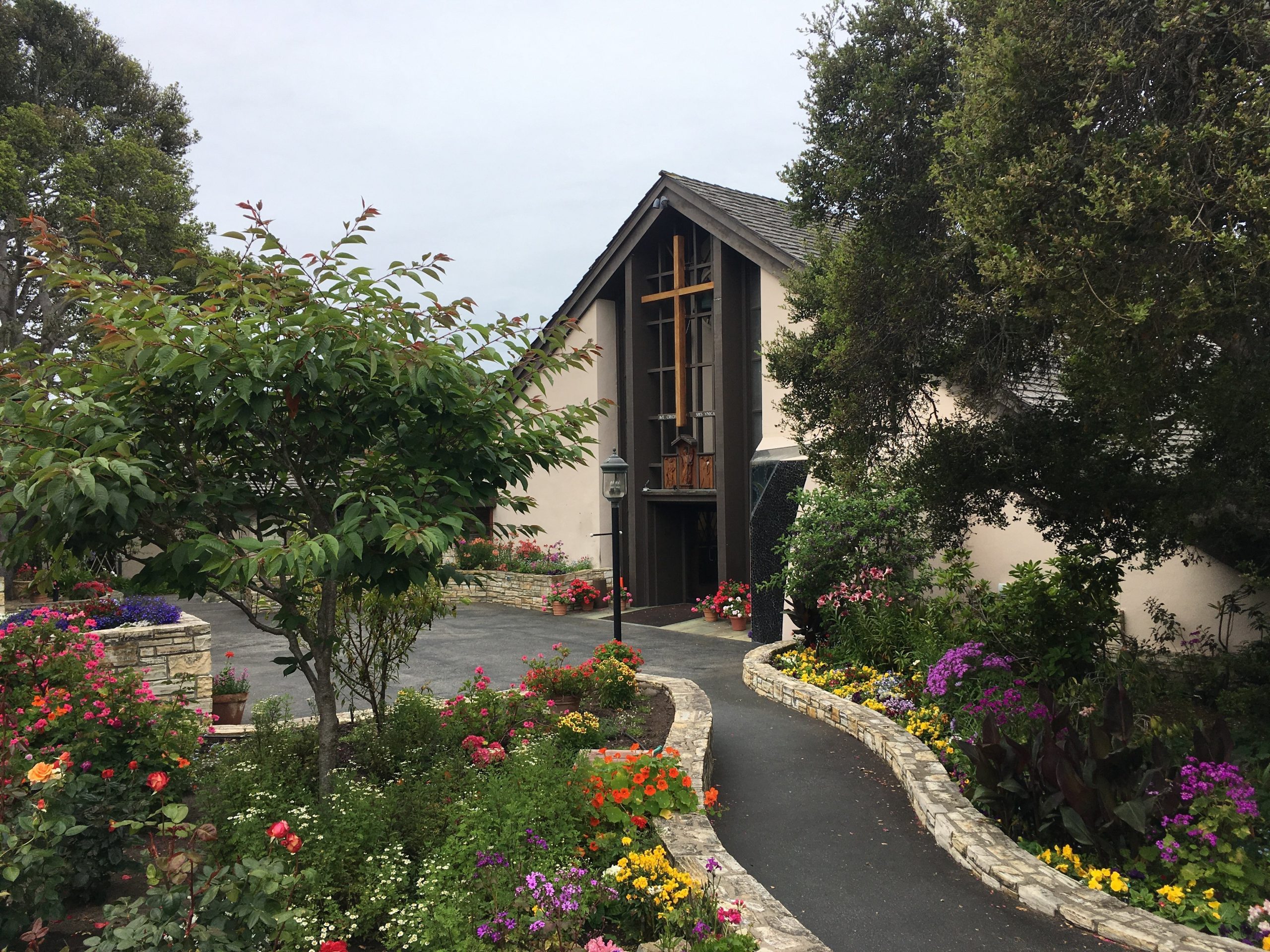 All Saints' Episcopal Church

Dolores St between 9th and 10th Ave, Carmel-by-the-Sea, CA 93921

Website

https://www.allsaintscarmel.org/