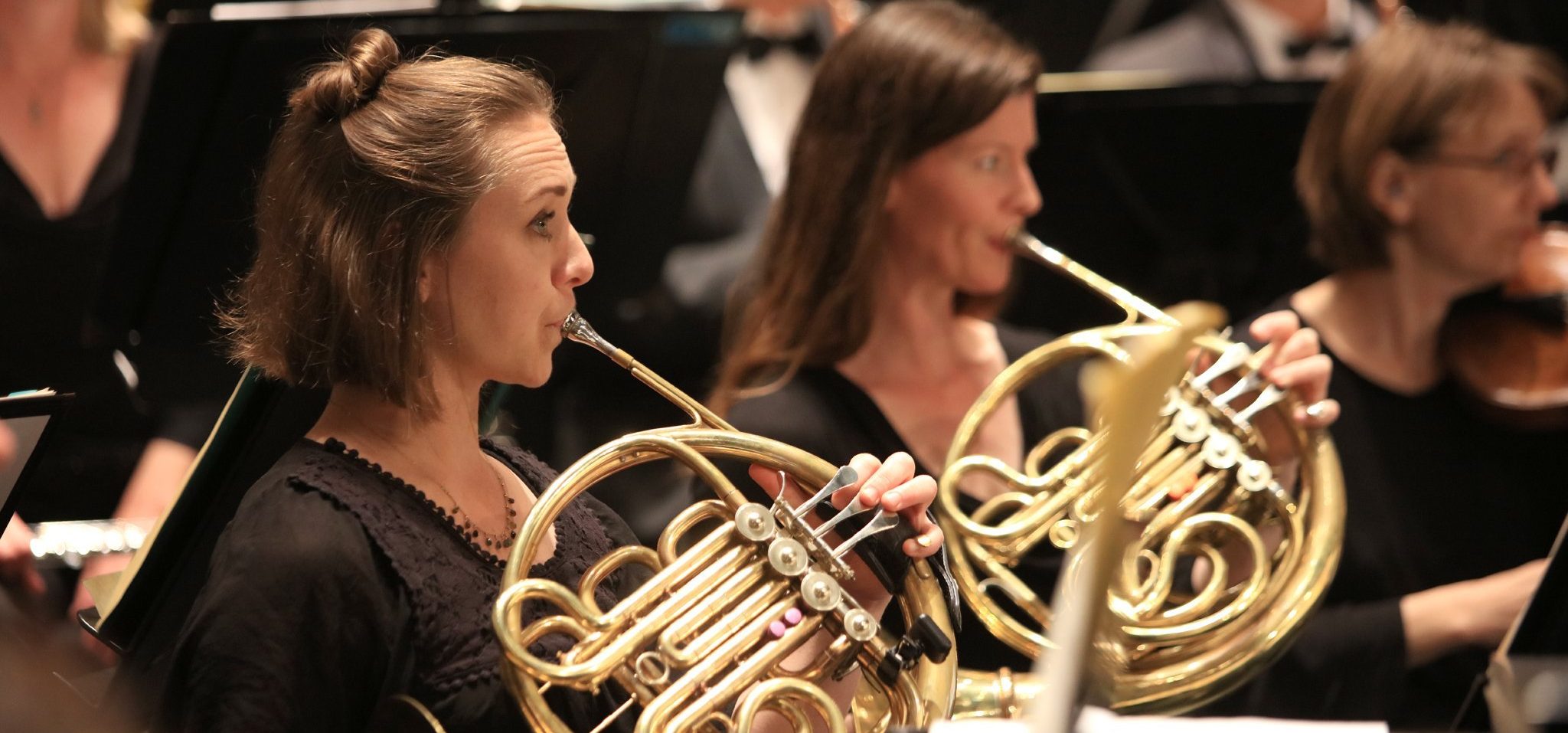 Wind Octet Concert/Panel Discussion
Saturdays, July 23 & July 30, 4:30 PM
Gounod, Petite Symphonie for Wind Instruments
III. Scherzo
Prokofiev, Romeo & Juliet Suite for Wind Octet
I. The Street Wakens
II. Madrigal
III.Montagues and Capulets
Mozart, Serenade for Winds in C minor, K. 388
I. Allegro
II. Andante
III. Menuetto (in canone)
IV. Allegro

00

days

00

hours

00

minutes

00

seconds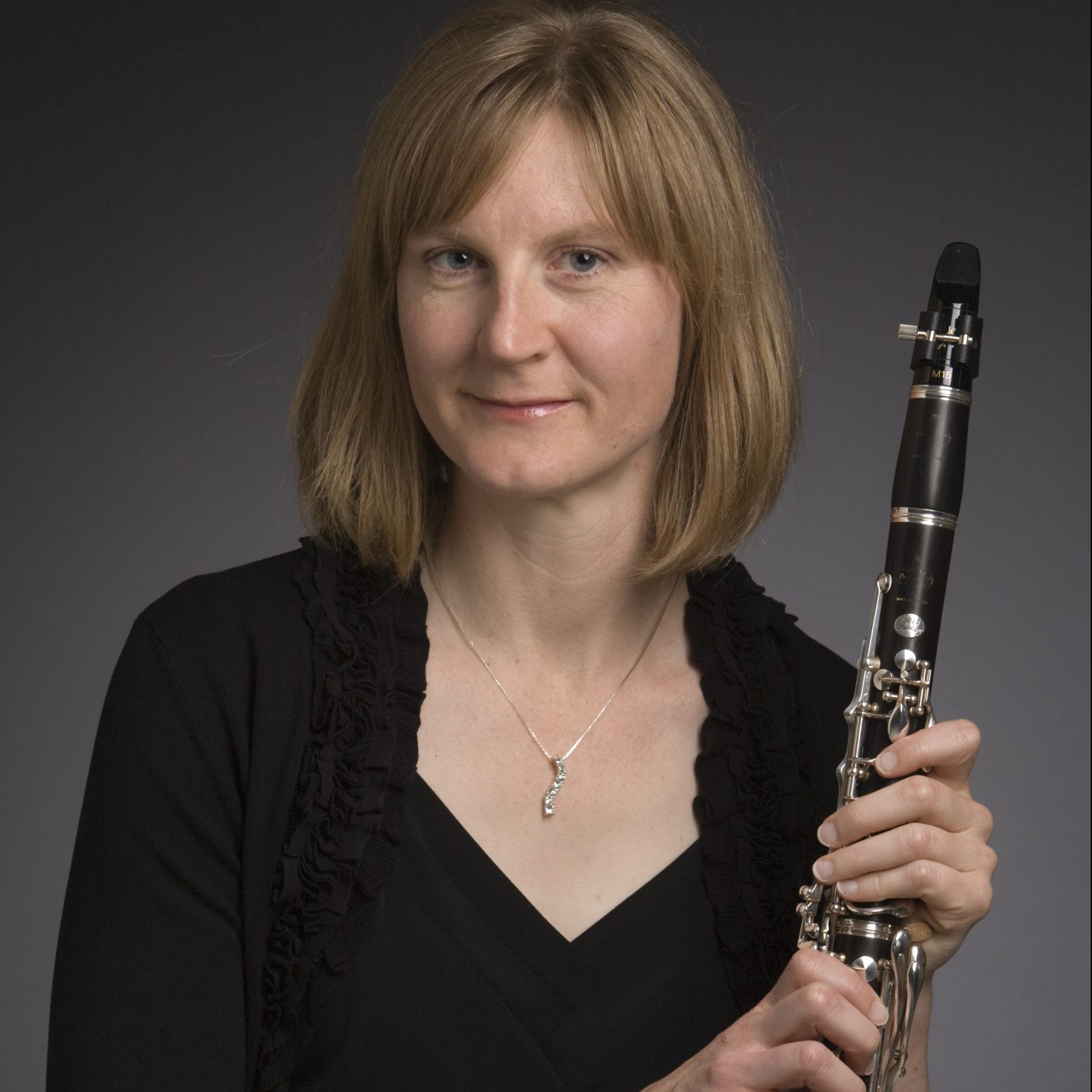 Presenter
Ginger Kroft
Soloists
Alicia Mastromonaco

Horn

Born in San Francisco, California, Alicia Mastromonaco began playing the piano at age seven, and the horn at age twelve. Alicia earned BM degrees in horn performance and musicology at Boston University where she studied with Eric Ruske, Daniel Katzen, Jean Rife, and Jason Snyder, then moved to Berlin to study at the Universität der Künste Berlin under the tutelage of Christian-Friedrich Dallmann. From Berlin, Alicia returned to California where she earned a MM at UCLA studying with Chris Cooper. She also earned an MA in musicology from UC Santa Barbara, where she is currently writing a dissertation for her musicology PhD.

Alicia is an avid orchestral hornist and has holds positions with the Marin Symphony and Monterey Symphony. She performs with several California orchestras, including the San Francisco Symphony, San Diego Symphony, Pacific Symphony, Santa Rosa Symphony, California Symphony, Fresno Philharmonic, Symphony Silicon Valley, Opera San José, Oakland Symphony, and Modesto Symphony, and performs in chamber groups.

In addition to her work as a performing musician, Alicia is also passionate about music history and education. Alicia is the education coordinator for the Monterey Symphony, where she writes program notes, gives pre-concert lectures, visits thousands of students around Monterey County each year, and emcees the Symphony's Youth Concerts. Her dissertation research centers around regional orchestras in northern California during labor disputes and bankruptcies. In addition to her research, she also enjoys teaching privately at her home studio, and in college classroom settings, having taught undergraduates at UCLA and UCSB.

David Wells

Bassoon/Contrabassoon

David A. Wells plays period and modern bassoons in a wide variety of ensembles and styles. On baroque bassoon, he has performed recently with the American Bach Soloists, Capella Antiqua, Pacific Baroque Orchestra, the Sacramento Baroque Soloists, Sinfonia Spirituosa, and at the Oregon and Carmel Bach Festivals. On modern bassoon, he freelances with orchestras throughout Northern California, collaborates with colleagues in chamber groups, and plays with the swing sextet Hot Club Faux Gitane.

He is also active as a music scholar, having presented papers at the conferences of the American Musicological Society, the Society for American Music, and the International Double Reed Society. Wells is on faculty at California State University, Sacramento, where he teaches bassoon and music history.

He holds both a D.M.A. in bassoon performance and an M.A. in musicology from the University of Wisconsin-Madison, and previously studied at Florida State University and Arizona State University. His principal teachers include Jeffrey Lyman, Jeff Keesecker, and Marc Vallon. When not playing or teaching, he can be found swimming, taking photographs, collecting records, and trying to keep up with his super-librarian/yogi wife, Veronica.

Dominic Teresi

Principal Bassoon

A native of California, Dominic Teresi is principal bassoon of Tafelmusik Orchestra, Boston Early Music Festival Orchestra, and Carmel Bach Festival, as well as a member of Quicksilver and Juilliard Baroque. Dr. Teresi teaches historical bassoon and chamber music at The Juilliard School. He has also enjoyed performances with Le Concert d'Astrée, Orchestre Révolutionnaire et Romantique, Philharmonia Baroque, Ensemble Caprice, Smithsonian Chamber Players, and others.

In demand on dulcian, baroque, classical, and modern bassoon, Teresi has appeared as a concerto soloist throughout Europe, North America and Australia and was a featured artist on CBC Radio, performing a nationally broadcast concert of bassoon concertos and sonatas.

His recordings with Boston Early Music Festival Chamber Ensemble and Tafelmusik have been nominated for Grammy and Juno awards. Dr. Teresi was recently an invited lecturer at the Musikinstrumentenbau Symposium in Saxony-Anhalt.

Ellen Sherman

Oboe

Ellen has appeared with the Carmel Bach Festival since 1998.​

Ellen is principal oboe of the Grand Rapids Symphony. She was formerly principal cor anglais with the New Zealand Symphony Orchestra and principal oboe of the Memphis and Virginia symphonies. She was a past participant at the Santa Fe Chamber Music, Schleswig-Holstein and served on the faculty at The Apple Hill Center for Chamber Music and The Round Top Festival Institute. Ellen toured Europe with the Utah Symphony in April 2005 and was a guest in 2014. She holds degrees from The Juilliard School (MM) and the New England Conservatory of Music (BM), and has recorded for the Koch, New World, Sterophile and Naxos labels.

Erin Finkelstein

Clarinet

Clarinetist Erin Finkelstein is in demand as an orchestral and chamber musician. She performs frequently with The Phoenix Symphony and Arizona Opera, and has been featured on the Phoenix Downtown Chamber Series. In the summer, Erin performs with the world-class Carmel Bach Festival. Prior to moving to Arizona, Erin performed regularly with most of the professional orchestras and opera companies in Northern California. She has participated in summer festivals at the National Orchestral Institute, Domaine Forget Festival, and the Bear Valley Festival.

As an advocate for chamber music, Erin has been involved in building local chamber ensembles wherever she has resided. As a member of Urban Nocturnes, she enjoys celebrating the repertoire combination provided with the unique instrumentation. Erin has performed with the Mill Ave Chamber Players where she performed on two CD's, and the 50 year-old Pacific Arts Woodwind Quintet.

As a passionate educator, Erin is currently an adjunct music lecturer and Feldenkrais Practitioner® at Phoenix College and runs a pre-college studio in clarinet and piano. She has held teaching positions at the University of the Pacific and California State University. Erin holds a Bachelor's and Master's degrees from the University of the Pacific and Arizona State University and continued studies at Mannes College of Music in New York City.

In addition to her musical live, Erin Finkelstein is a guild certified Feldenkrais Practitioner with 15 years' experience in helping people to move, sense, feel, and think with more ease and grace. Her in-person Feldenkrais practice at Sound Movement Services LLC encompasses helping and educating a wide range of people; from children with Cerebral Palsy, to professional Musicians, the aging population, and everyone in-between. With her online practice, you can find access to classes and a learning library with over 120 Awareness Through Movement lessons on her website, or find her collaborations with MIGSE, the Musicians' International Group for Somatic Education.

Ginger Kroft

Principal Clarinet

Ginger Kroft is a faculty member at San Francisco Conservatory of Music and Santa Clara University. She is Principal Clarinet of Sacramento Philharmonic and the Carmel Bach Festival, and is a member of the Oakland Symphony. Ms. Kroft regularly performed with the San Francisco Ballet Orchestra for many seasons. In the chamber world, Ms. Kroft was in-residence with Left Coast Chamber Ensemble at the Wunsch New Music Festival.

She is a Vandoren International Artist and performs on M15 mouthpieces and Traditional reeds. An education advocate, Ms. Kroft maintains a private teaching studio, ClarinetStudio.org, and is a frequent adjudicator of solo competitions. Ms. Kroft holds degrees from the San Francisco Conservatory of Music and Northwestern University.

Jesse Barrett

Associate Principal Oboe

Jesse Barrett is a San Francisco Bay Area native who grew up in Pleasant Hill, CA. He currently plays oboe and English horn for the Santa Rosa Symphony, Reno Chamber Orchestra, One Found Sound, Symphony Napa Valley, California Symphony, and has played as principal oboist for West Edge Opera, Opera Modesto, and Merced Symphony where he has been a soloist on multiple occasions since 2010. Mr. Barrett has played with San Francisco Opera, San Francisco Ballet, New Century Chamber Orchestra, most of the orchestras in Northern California and Nevada.

In 2016, he played in the inaugural season of the International Chamber Orchestra of Puerto Rico. As a soloist, Mr. Barrett has appeared with a number of Bay Area ensembles, performing a wide range of repertoire from Handel's G Minor concerto, to Copland's Quiet City, to the Costa Rican composer Benjamin Gutiérrez's Sketches for Oboe and Strings, to the recent commission by Sahba Aminikia, Shahmaran, where he also narrated.

Mr. Barrett is an avid chamber musician, new music enthusiast and teacher of students of all ages throughout Northern California. He has been on faculty at San José State University, California State University Stanislaus and Dominican University. He frequently gets involved in musical start-ups like San Francisco's conductor-less chamber orchestra One Found Sound, and is the developmental director of the Bay Area's premier wind octet Nomad Session. Mr. Barrett regularly enjoys teaching at music camps, recording new music, making school visits, and collaborating on solo and chamber concerts. He is also a passionate singer, often performing at his favorite piano bar, cabaret venues, and has hosted numerous events as an emcee, oboist, singer, and actor. He has shared the stage with a wide variety of performers, including but not limited to Dave Brubeck, Andrea Bocelli, Chicago and Third Eye Blind.

Mr. Barrett studied with Thomas Nugent at University of the Pacific where he was a member of Phi Mu Alpha Sinfonia and thereafter obtained a Master of Music from Boston University where he studied with Laura Ahlbeck and was inducted as a member of Pi Kappa Lambda. He currently teaches at University of the Pacific.

Meredith Brown

Principal Horn

Meredith Brown is well-known throughout Northern California, holding Principal Horn positions with the Napa Valley, Fremont, and Vallejo Symphonies as well as with Oakland Symphony, and serving as Acting Principal Horn of the Santa Rosa Symphony. She has performed with the San Francisco Symphony, the San Francisco Opera, and the San Francisco Ballet, as well as with Oakland Symphony, Marin Symphony, Fresno Philharmonic, and the California Symphony. In addition, she has extensive experience in musical theater, including the San Francisco appearances of White Christmas, La Bohème, Ragtime, Fiddler on the Roof, Titanic, Sound of Music, Miss Saigon, Phantom of the Opera, and Les Miserables. Educated at the Peabody Conservatory in Baltimore, with a master's degree from the San Francisco Conservatory, she lives in Oakland with her rescue kitties.

Robin Carlson Peery

Principal Flute

Robin has appeared on stage at the Carmel Bach Festival since 1992. Robin performs regularly in the Seattle area with the Seattle Symphony, Seattle Opera, Pacific Northwest Ballet, Paramount Theater, and also frequently records with numerous Seattle ensembles for movies and television. Robin earned her Bachelor's and Master's degrees in music from The Juilliard School, where she was a student of Julius Baker.,

Throughout her career, Robin has been a featured soloist with many orchestras, including the Carmel Bach Festival, Memphis Symphony, the Evansville Philharmonic and Philharmonia Northwest. She has been invited to appear with the Vancouver Symphony as guest principal flute along with several guest appearances with the Detroit Symphony. Recent season highlights include recital appearances with Music Northwest.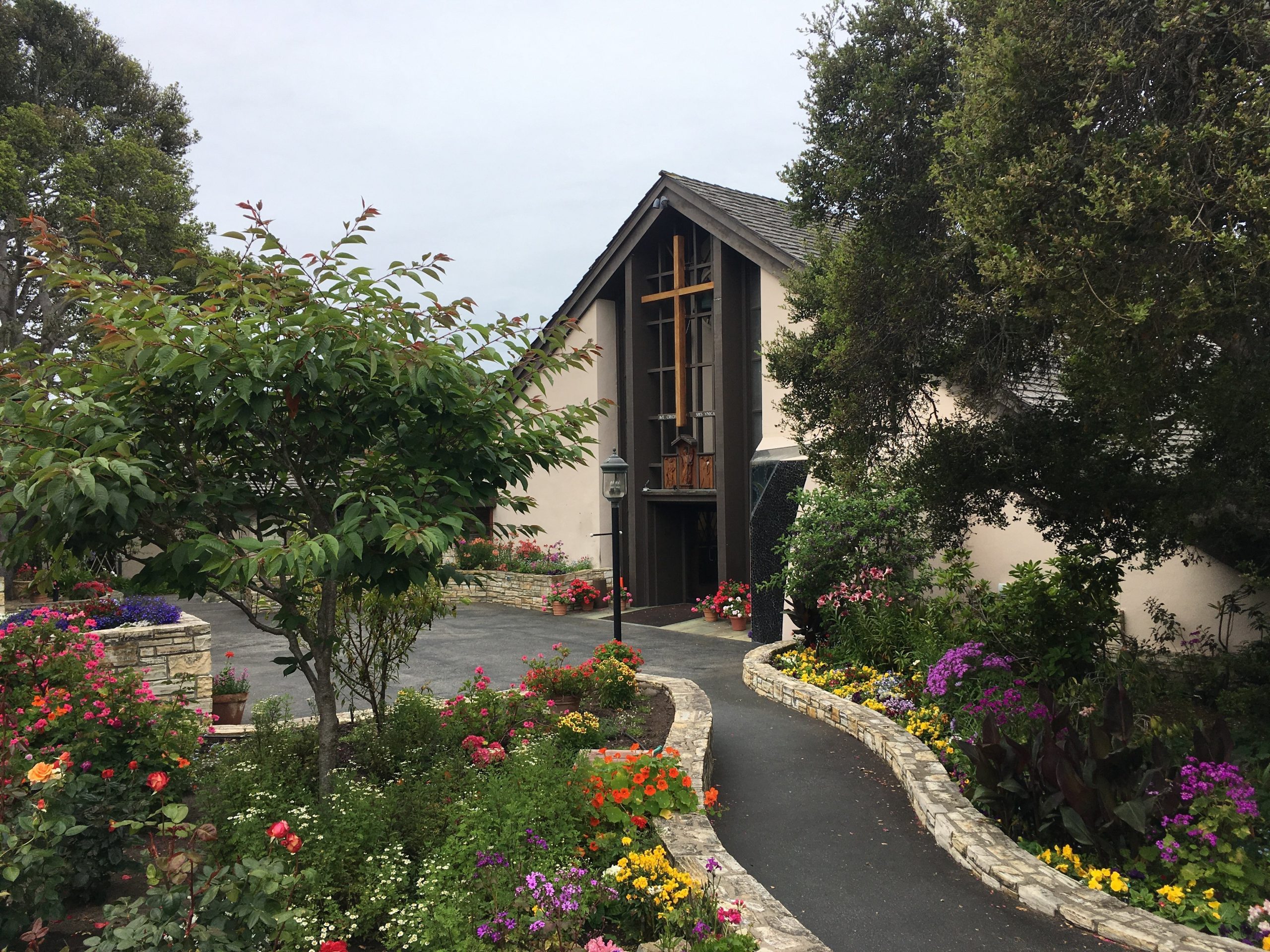 Location
All Saints' Episcopal Church

Dolores St between 9th and 10th Ave, Carmel-by-the-Sea, CA 93921