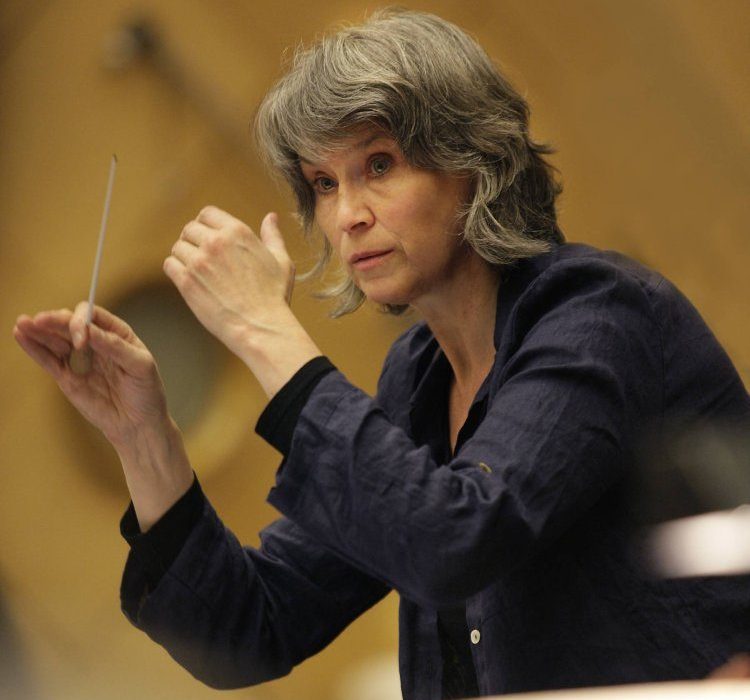 Beethoven Seven
Thursday, July 21, 7:30 PM
Orchestra conducted by Grete Pedersen
Luciano Berio/Franz Schubert, Rendering – 1. Allegro, 2. Andante
Heinrich Biber, Excerpts from Battalia in D Major
Charles Ives, The Unanswered Question
Ludwig van Beethoven, Symphony No. 7 in A Major, Op. 92
Beethoven's tuneful Seventh Symphony was called "the apotheosis of the dance" by Richard Wagner. The work's dance-like elements, energy, and sense of joy are conveyed through rhythm.
After a slow introduction, the first movement is ignited by a dancing, dotted 6/8 rhythm that propels the entire Vivace.
The symphony's second movement departs briefly from the other rhythmically charged movements. Perhaps the work's best-known movement, the melody is dramatic and memorable for its simplicity. The composer Robert Schumann likened the movement to a "rustic wedding."
The third movement, perhaps the most overtly dance-like movement, has a middle section in which one pitch is sustained with little variation, first in the violins then the trumpets. It is rhythm that drives this movement, contributing to its joyful spirit.
The finale is full of energy and exuberance, charging toward a triumphant and fulfilling conclusion at a breakneck pace. British musicologist Donald Tovey called the movement a "triumph of Bacchic fury." The magic of this work is incessant and captivating rhythmic drive.
Charles Ives' music imagines a powerful link between nature and the human spirit, and the journey that creates depth and adds substance to human life. The Unanswered Question, which opens this program, has been described as a piece of philosophy expressed in music. Ives writes in the score's forward about how the composition considers humanity's "perennial question of existence." Three distinct groups – a solo trumpet (in many performances played offstage), four flutes, and strings express a probing and meditative quest for the answer.
Additional works on the program include excerpts from Biber's Battalia, an evocative set for string orchestra in the tradition of vocal descriptions of a battle. Innovative techniques are called for, especially for the work's time (1673), including col legno, in which the players use the wood of their bows to beat the strings of their instruments or a percussive pizzicato to imitate cannon shots.
Grete Pedersen is a renowned conductor on the international scene.  She has been music director of the Norwegian Soloists' Choir since 1990. She is considered a pioneer for her work bringing folk music to new settings. She has led oratorios and choral symphonic works by J.S. Bach, Haydn, Bruckner, Bernstein, and Berio with leading Norwegian orchestras, Mahler Chamber Orchestra, Slovenian Philharmonic, Gulbenkian Orchestra & Choir, Yale Camerata, Oslo Sinfonietta, and Ensemble Allegria. Forthcoming projects include engagements with Croatian Radio Symphony & Choir, Orquesta y Coro de la Comunidad de Madrid, Eric Ericson Chamber Choir, Cappella Amsterdam, Netherlands Chamber Choir, Netherlands Bachvereniging, and Chamber Choir Ireland among others.
In 2019, Pedersen was appointed Knight 1st Class of the Royal Norwegian St. Olav's Order for her merit and outstanding achievements in the arts and was awarded the distinguished Lindeman Prize to honor her significant contribution to the musical life of Norway. She has taught conducting at the Norwegian State Academy of Music since 1996.