Twilight in the Cathedral
Thursday, July 27, 5:00PM, San Carlos Cathedral
Evan Few, violin; Joseph Tan, violin; Patrick Jordan, viola; Keiran Campbell, cello; Derek Weller, double bass; Stephen Schultz, flute; Robert Farley, trumpet; Andrew Arthur, harpsichord
J.S. BACH, Concerto for Harpsichord, Strings & Continuo in A major, BWV 1055
TELEMANN, Suite in D for Trumpet, Strings & Continuo, TWV 55: D8
J.S. BACH, Brandenburg Concerto No. 5 in D Major, BWV 1050
Returning for the first time since 2019, this series at the San Carlos Cathedral is a beloved tradition at the Festival. Featuring Principal Keyboardist Andrew Arthur, this program includes works for harpsichord highlighted by virtuosic flute (Stephen Schultz) and trumpet (Robert Farley) solos written by two of the most prolific composers of the Baroque Era, J.S. Bach and Georg Philipp Telemann.
Featuring
Evan Few

Violin

Atlanta native Evan Few is a freelancer living in Philadelphia. An assertive, collaborative instrumentalist, he is equally adept as music director, orchestral musician, and chamber soloist and has performed on stages across the globe with some of its most esteemed early music ensembles, including Anima Eterna Brugge, Bach Collegium Japan, and the Taverner Consort.

Evan is a core member of Apollo's Fire; Artistic Administrator and co-concertmaster of the Atlanta Baroque Orchestra; frequent guest artist with Chatham Baroque and Four Nations Ensemble; and, most recently, co-founder of Filament.

He holds Master's degrees from Oberlin and Koninklijk Conservatorium Den Haag, and is a devoted cook and yogi.

Joseph Tan

Violin

Based since 1997 in Amsterdam, the Netherlands, Joseph maintains an active performing and recording schedule as a member of ensembles such as the Amsterdam Baroque Orchestra, Anima Eterna Brugge, Les Musiciens du Prince-Monaco, Holland Baroque, and the Australian Classical and Romantic Orchestra (ARCO), working regularly with pioneers in the field of historical performance such as Ton Koopman, Jos van Immerseel, and Reinhard Goebel.

After receiving a Bachelor of Music degree in modern violin from the University of Texas at Austin, Joseph studied Baroque violin with Marilyn McDonald at the Oberlin Conservatory of Music, where he earned a M.M. degree in 1997. From 1997-2001, he studied with Monica Huggett and Elizabeth Wallfisch at the Royal Conservatory, The Hague.

Andrew Arthur

Principal Keyboard

A native of the UK, Andrew Arthur enjoys a fine reputation as a conductor, keyboard soloist, ensemble player, and teacher of exceptional versatility. He combines these disciplines within his principal position as Fellow and Director of Music at Trinity Hall, Cambridge where he is also an Affiliated Lecturer in the University's world-renowned Faculty of Music.

An acknowledged specialist in the music of the Baroque and Classical periods, Andrew is in great demand as a conductor, keyboard soloist, and consort player and has appeared at many prestigious international festivals. He currently holds the positions of Associate Director of The Hanover Band and Musical Director of his own period-instrument ensemble and vocal consort, Orpheus Britannicus. Andrew's solo and directorial recordings encompass repertory spanning over 400 years.

Alongside his busy concert schedule, he works throughout the year training the Organ Scholars and conducting the Chapel Choir at Trinity Hall with whom, in addition to their regular schedule of services in the College Chapel, he undertakes a number of concerts, recordings, and international tours.

Robert Farley

Principal Trumpet

Robert studied at the Royal College of Music where he won several prizes including the Ernest Hall Memorial Prize. He is now a busy freelance trumpeter working with major orchestras including The Philharmonia Orchestra of London, The City of Birmingham Symphony Orchestra and Bournemouth Symphony Orchestra.

He is principal trumpet of The Orchestra of the Sixteen, Orpheus Britannicus, Hanover Band, Concerto Copenhagen, Carmel Bach Festival, California and is also regular guest principal with Stuttgart Baroque Orchestra and Oregon Bach Festival. With these groups he has appeared as principal trumpet on numerous critically acclaimed recordings including Bach B Minor Mass, Handel's Messiah, Coronation anthems, and Bach's Orchestral Suites. He has been guest principal and soloist with The Orchestra of the Age of Enlightenment, Academy of Ancient Music and Tafel Music, Canada.

Robert's solo work includes a solo CD A Courtly Garland for Baroque Trumpet, a recording of Bach's Brandenburg Concerto No. 2 with Concerto Copenhagen, recording's of Vivaldi Concerto for Two Trumpets, Queen of the Night aria from Magic Flute, Handel Arias with Emma Kirkby, and a recording of Bach's Cantata BWV 51.

He is Professor of Trumpet and Baroque Trumpet at both The Royal Academy of Music and Trinity Laban in London and has recently given international master classes at the Hong Kong Academy of Performing Arts; University of Ulsan, South Korea; and at The Early Music Festival of Curitiba, Brazil.

Patrick Jordan

Viola

Patrick Jordan was lucky enough to grow up in Lubbock, TX when Susan Schoenfeld taught viola there. She ignited his passion for the instrument and gave him a life-long addiction to playing chamber music. Saying "What you need to learn next, you won't learn in Texas!" Susan packed him off to Boston. After earning degrees at the New England Conservatory and the Longy School (during which time he also developed a somewhat suspect interest in little-known composers), he played pretty much anything that came along until his journeyman's training came to an abrupt and extremely fortuitous end in 1993 when he began playing, touring and recording regularly with Tafelmusik.

Both his chamber music addiction and fixation with obscure music are currently fed by the Eybler Quartet, which has released seven CDs, including world premieres of Joseph Leopold Edler von Eybler, Johann Baptist Vanhal, Johann Georg Heinrich Backofen and Franz Asplmayr as well as better known works such as Joseph Haydn's op. 33, Mozart's Basset clarinet Quintet and Beethoven's op. 18 quartets. Richard Bratby of Gramophone wrote of the Beethoven, "The Trio of Op 18 No 1's Scherzo is just straight-up hilarious. This set might infuriate you or it might delight you: either way, I suspect, Beethoven would have been more than happy." The Eyblers are one of three quartets on the faculty of the Banff Centre's summer program Evolution:Quartet.

When not busy with the viola, digging through music that nobody has thought about for 200 years or teaching at the University of Toronto or Glenn Gould School, Patrick is an enthusiastic gardener, cook and student of the culture of food. The Toronto Blue Jays also demand a fair amount of his attention.

Stephen Schultz

Principal Baroque Flute

Stephen Schultz, called "among the most flawless artists on the Baroque flute" by San Jose Mercury News and "flute extraordinaire" by New Jersey Star-Ledger, plays solo and Principal flute with Philharmonia Baroque Orchestra, Musica Angelica, the Carmel Bach Festival, and Bach Collegium San Diego. He has also performed with other leading Early music groups such as Tafelmusik Baroque Orchestra, Apollo's Fire, Portland Baroque Orchestra, Wiener Akademie, Chatham Baroque, Cantata Collective, and at the Oregon Bach Festival.

Concert tours have taken him throughout Europe, North America, and South America with featured appearances at the Musikverein in Vienna, Walt Disney Concert Hall in Los Angeles, Royal Albert Hall in London, Concertgebouw in Amsterdam, Teatro Colón in Buenos Aires, Carnegie Hall, and the Library of Congress. A graduate of the Royal Conservatory of Music in Holland, Schultz also holds several degrees from the California Institute of the Arts and the California State University of San Francisco. Currently he teaches Music History at Carnegie Mellon University and is director of the Carnegie Mellon Baroque Ensemble.

Mr. Schultz has also been a featured faculty member of the Jeanne Baxtresser International Flute Master Class at Carnegie Mellon University and has taught at the Juilliard School and the International Baroque Institute at Longy School of Music. In 1986, Mr. Schultz founded the original instrument ensemble American Baroque. This unique group brings together some of America's most accomplished and exciting baroque instrumentalists, with the purpose of defining a new, modern genre for historical instruments. The group's adventurous programs combine 18th-century music with new works, composed for the group through collaborations and commissions from American composers. As a solo, chamber, and orchestral player, Schultz appears on over sixty recordings for such labels as Dorian, Naxos, Harmonia Mundi USA, Music and Arts, Centaur, NCA, and New Albion. Schultz has produced and edited forty CDs for his colleagues and has also performed and recorded with world music groups such as D'CuCKOO and Haunted By Waters, using his electronically processed Baroque flute to develop alternative sounds that are unique to his instrument.

He has been very active in commissioning new music written for his instrument and in 1998, Carolyn Yarnell wrote 10/18 for solo, processed Baroque Flute and dedicated it to Mr. Schultz. The Pittsburgh composer Nancy Galbraith wrote Traverso Mistico, which is scored for electric Baroque flute, solo cello, and chamber orchestra. It was given its world premiere at Carnegie Mellon University in April 2006 and this highly successful collaboration was followed in 2008 with Galbraith's Night Train, Other Sun in 2009, Effervescent Air in 2012, Dancing Through Time in 2016, Rustic Breezes 2018, and Transcendental Shifts in 2019. In March 2018, Stephen released a highly acclaimed CD of Bach Sonatas for Flute and Harpsichord with Jory Vinikour, on the Music and Arts label. Their new recording of Couperin's Concerts Royaux was just released in August 2021 and has made the best seller list of Classical music on Billboard.

Keiran Campbell

Cello

Keiran Campbell was drawn to the cello after he stumbled across one in his grandmother's basement and was baffled by its size. Once he turned 8, he began taking lessons—on a much smaller cello—in his native Greensboro, North Carolina. After studying extensively with Leonid Zilper, former solo cellist of the Bolshoi Ballet, he received his Bachelors and Masters at the Juilliard School, working with Darrett Adkins, Timothy Eddy, and Phoebe Carrai. Keiran also spent several springs in Cornwall, England, studying with Steven Isserlis and Ralph Kirshbaum at Prussia Cove. He is now based in Toronto, Ontario, and is principal cello in Tafelmusik Baroque Orchestra.

Keiran has performed with orchestras including The English Concert, NYBI, Philharmonia Baroque, The Boston Early Music Festival Orchestra, Mercury Baroque, and Le Concert des Nations. During the summer, Keiran plays in NYC with Teatro Nuovo, an opera company dedicated to performing bel canto opera on period instruments, and he also performs at Lakes Area Music Festival in Minnesota. Keiran has given lectures and masterclasses at UNC Chapel Hill, RNCM Manchester, Western University, and the National Academy Orchestra of Canada. Performances this season include concerto appearances with Tafelmusik and Philharmonia Baroque Orchestra, a concert of Monteverdi Madrigals with Jordi Savall and Le Concert des Nations in Carnegie Hall, and performances at the BBC Proms and Edinburgh Festival with The English Concert. He can be heard on the newly released recording of Beethoven Symphonies by Le Concert des Nations and Jordi Savall.

Keiran is also fascinated by instrument making, which he studies with the maker of his cello, Timothy Johnson.

Derek Weller

Associate Principal Bass

Derek received degrees (MM,BM) from the University of Michigan and is a graduate of the Interlochen Arts Academy. He was a lecturer at the University of Michigan and the University of Toledo, and is currently on the faculty of Eastern Michigan University and Interlochen Arts Academy. In addition to playing in the Michigan Opera Theatre Orchestra, Derek is a member of the Toledo Symphony Orchestra and substitutes frequently with the Detroit Symphony Orchestra.

Derek was also a member of a select international committee organized to rewrite the Suzuki bass method and is an active clinician at Suzuki Institutes nationwide. He owns four basses: a 300-year-old Italian bass, a 200-year-old French bass, and two modern instruments. He frequently plays recitals with his wife, Anna Bittar Weller, a violinist, both in Italy and the U.S.
Location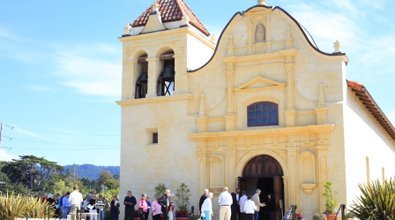 San Carlos Cathedral

500 Church St, Monterey, CA 93940

Website

https://sancarloscathedral.org/