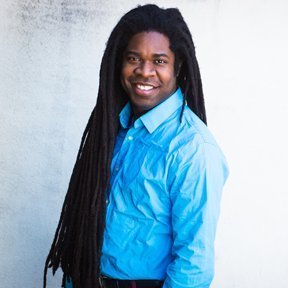 Dashon Burton
Baritone
Praised for his "nobility and rich tone," (The New York Times) and his "enormous, thrilling voice seemingly capable … [of] raising the dead;" (Wall Street Journal), bass-baritone Dashon Burton has established a world-wide career in opera, recital, and in many works with orchestra. In key elements of his repertoire — Bach's St. John and St. Matthew Passions and the B minor Mass, Mendelssohn's Elijah, Beethoven 9, the Brahms Requiem, Handel's Messiah, and Mozart's Requiem – Dashon is a frequent guest with ensembles such as Philharmonia Baroque, the Handel and Haydn Society, and Boston Baroque; the Carmel and Bethlehem Bach Choir Festivals, and the symphony orchestras of Baltimore, Cincinnati, Cleveland, Indianapolis, Kansas City, New Jersey, Oregon, the Royal Stockholm Philharmonic, and the St. Paul Chamber Orchestra. He is a regular guest with the Cleveland orchestra and Franz Welser-Möst, appearing there in the Brahms and Mozart Requiems, the groundbreaking animated production of Janacek's Cunning Little Vixen and, most recently, at home and on tour in Europe and Japan in Beethoven's Symphony No. 9. In June, he opened the Grant Park Music Festival in Chicago's Millenium Park singing Walton's Belshazzar's Feast.
Forays into more varied repertoire have included his performances of Michael Tippet's A Child of our Time at Harvard, Barber's Dover Beach and Hans Eisler's Ernste Gesaenge with A Far Cry chamber orchestra in Boston, Copland's Old American Songs with the Kansas City Symphony, Schubert's Die Winterreise with string quartet, and performances and recording of Craig Hella Johnson's Considering Matthew Shepard with the vocal group Conspirare. Last season, he premiered Paul Moravec's new oratorio, Sanctuary Road,at Carnegie Hall and performed David Lang's The Little Match Girl Passion at the Metropolitan Museum of Art in New York.
Dashon's 2018/19 season begins with his debut at the Salzburg Festival in Salomé. He sings Beethoven 9 with the National Arts Centre Orchestra in Ottawa and with the Cincinnati Symphony, Dvoark's Stabat Mater with the Houston Symphony, Mozart's "Coronation Mass" et al. with Philharmonia Baroque, the c minor Mass with the Grand Rapids Symphony, and the Requiem with the Bethlehem Bach Festival and Los Angeles Chamber Orchestra. He sings also Haydn's "Creation" and the role of Zebul in Handel's Jeptha", the Verdi Requiem, Moussorgsky's "Songs and Dances of Death," and returns to the Cleveland Orchestra for a subscription week of Schubert's Mass in E flat Major in May. December finds him performing with the contemporary vocal ensemble Roomful of Teeth, of which Dashon is an original member, at Paris'Théatre de la Ville in Peter Sellars' production of Claude Vivier's Kopernikus, un ritual de mort.
•Burton returns to Trinity Wall St. for a Baroque recital this season. For his other recitals in Boston and San Francisco, the program is based on his recording Songs of Struggle and Redemption: We Shall Overcome, singled out by the New York Times as "profoundly moving…a beautiful and lovable disc" in its May 2016 Classical Play list.
Burton's opera engagements include singing Sarastro in Die Zauberflöte in Dijon and Paris, and the role of Jupiter in Rameau's Castor and Pollux with Christoph Rousset and Les Talens Lyriques. He has toured Europe in the St. John Passion with Christoph Prégardien's Le Concert Lorraine, and in Italy with Maasaki Suzuki and the Yale Schola Cantorum in the St. Matthew Passion, a work he also sang on tour in the Netherlands with the NNSO.
Dashon has won prizes from the ARD international Music Competition and the International Vocal Competition in 's-Hertogenbosch, and from the Oratorio Society of New York and the Bach Choir of Bethlehem's Competition for Young American Singers. He graduated from the Oberlin College Conservatory of Music, and received his Master of Music degree from Yale University's Institute of Sacred Music.