Thursdays, October 28 and November 4, 7:30 PM
Sunset Center Theater
Edwin Huizinga, violin and William Coulter, guitar, known as Fire & Grace, return after a three-year run of wildly popular, sold-out concerts.  The duo is joined by dancer Fanny Ara, and CBF Orchestra and Chorale Musicians.
Fire & Grace is an eclectic collaboration between guitarist William Coulter and violinist Edwin Huizinga. This unique duo explores the connective musical elements of classical, folk, and contemporary traditions from around the world. Fire & Grace's repertoire is vast, ranging from Bach to Vivaldi, tango to Celtic tunes, traditional Bulgarian to American fiddle tunes and waltzes, all played with a sense of discovery and commitment to the elements of passion and virtuosity — fire and grace — found in these diverse traditions. The group's debut album combines melodies from Argentina, Bulgaria, and Western Europe with dance elements from Baroque and folk musical traditions
Henri du Bailly                                               Yo Soy La Locura
(1587-1637)
Isaac Albeniz                                                  Asturias
(1860 – 1909)
Pablo de Sarasate                                          Zigeunerweisen
(1844 – 1908)
Alessandro Scarlatti                                     Concerto Grosso in F minor
(1660-1725)
Suite Español
Johann Sebastian Bach                                               Prelude
Traditional Basque                                                       Mendiokerra
Johann Sebastian Bach                                               Allemande
Traditional Spanish                                                     Ay Linda Amiga
Johann Sebastian Bach                                               Courante
Traditional Spanish (Manuel De Falla)                   Nana
Johann Sebastian Bach                                               Sarabande
Traditional Spanish                                                     Malagueña
Johann Sebastian Bach                                               Menuet 1 and 2
Traditional Galician                                                     Muñeira de Chantada
Johann Sebastian Bach                                               Gigue
Anxos Pintos                                                                  Cancro Cru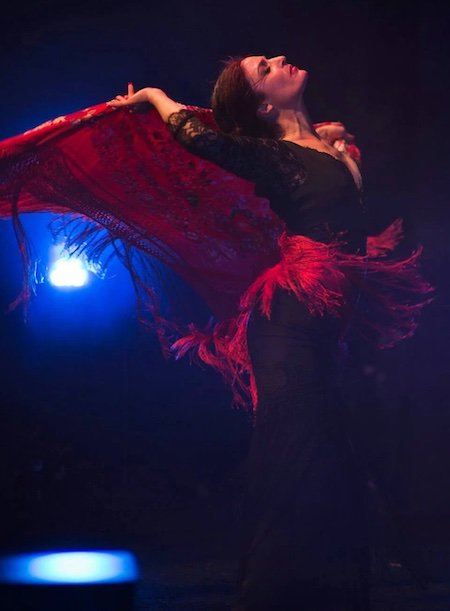 Fanny Ara began her dance studies at age three, studying ballet and Contemporary dance at the Irene Popard School in St. Jean de Luz in the French Basque country.  After earning a BA in Literature with a specialty in Music from The Bayonne School of Art, she relocated to Spain. A two-year intensive in flamenco studies in both Sevilla and Madrid followed with Juana Amaya, El Torombo, Manolo Soler, and Hiniesta Cortes. In Madrid, Fanny was soon featured in flamenco tablaos and was accepted into the prestigious Academy of Mario Maya.
Over the past decade, Fanny has earned the role of one of the most important performers in the country, and is recognized and celebrated by flamenco enthusiasts around the world. Now residing in the Bay Area, she is a company member of Caminos Flamencos, sharing the theater stage with artists such as Antonio de la Malena, Manuel de la Malena, Juan Ogalla, Domingo Ortega, David Paniagua and Juñares. She has been a regularly featured artist in Flamenco Festivals including Lluvia Flamenca, Tucson Flamenco Festival, and Dallas Flamenco Festival. She has also been an invited artist in international festivals including the Australia Festival de Guitarra and has toured extensively in Canada, Central and South America, the Middle East, Africa , and throughout Europe. Some of her most notable performances include work with the Eva Longoria Foundation, performance at the George V in Paris with the grand pianist Diego Amador and at the Nokia Theater in Los Angeles with the world-renown Antonio Carmona in 2013. In April 2014, one of Fanny's dreams came true when she danced accompanied by the incredible pianists Marielle and Katia Labeque at the Davis Symphony Hall, performing one of the most famous West Side Story songs: "America." Most recently, Fanny was the principal dancer at the Washington Opera's season of Carmen.
Fanny continues to be an internationally sought-after choreographer and instructor of flamenco, with students and fans across the globe. Her most dedicated worldwide students especially credit her as one of the driving forces of flamenco today: an artist excelling in the full spectrum of flamenco, from the most traditional to the avant-garde.