Saturdays, October 23 & 30, 7:30 PM
Sunset Center Theater
Orchestra, Chorale, Chorus and Soloists conducted by Paul Goodwin
J.S. Bach, Der Geist hilft unser Schwachheit auf (The sprit gives aid to our weakness), BWV 226
George Frideric Handel, Ode for St. Cecilia's Day, HWV 76
Clara Rottsolk, soprano, and Thomas Cooley, tenor
"Arise! Arise! ……And music's power obey!"
A joyous reunion of our Festival family of patrons and musicians is eagerly anticipated. The perfect text to open the Festival occurs in Handel's Ode for St. Cecilia's Day, a cantata dedicated to the patron saint of musicians.  This opening concert offers the Baroque's two great masters in a powerful celebration of music in Carmel-by-the-Sea.
Handel's work is a series of short movements with the solo arias portraying legendary musicians and their instruments, and the impact they make on the audience. The choruses are festive with the first chorus continuing the theme of celebrating music and reunion stating:
"From harmony, from heavenly harmony,
This universal frame began."
Bach composed his eight-voice (double choir) motet Der Geist hilft unser Schwachheit auf in 1729 for the funeral service of Johann Heinrich Ernesti, rector of the Thomas School. The title translates to "The Spirit gives aid to our weakness," and the motet is testament to the strength of faith in resilience. While the work's inspiration was a funeral, the work is the lightest and most affable of Bach's motets
Bach has chosen two verses from Paul's Epistle to the Romans 8: 26, 27 and the third stanza of the chorale by Martin Luther, setting the text in two very different movements.
"Who else but the great Bach and Handel could represent our love of music as we renew the Carmel Bach Festival in 2021?" asked Artistic Director Paul Goodwin. "There are two pieces that you are unlikely to have heard before, but whose lively and varied styles, in combination with their poignant texts, should warm your hearts to live music once again."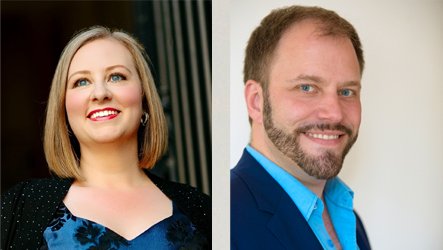 Festival fans will be delighted to hear soprano Clara Rottsolk. Her "clear, appealing voice and expressive conviction" (New York Times) and "opulent tone [with which] every phrase has such a communicative emotional presence" (Philadelphia Inquirer). Tenor Thomas Cooley is known for his versatility, expressiveness, and virtuosity. Thomas is Minnesota-born and studied at DePauw University, the University of Minnesota and the Richard Strauss Conservatory. He is an Artist in Residence with Chicago's Music of the Baroque. This season marks Thomas' tenth in Carmel.