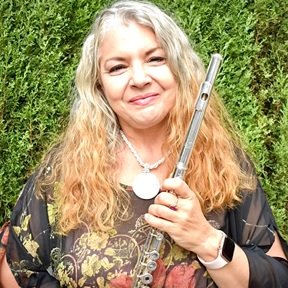 Teresa Orozco
Flute
Teresa Orozco, professor of flute at West Valley College, is actively involved in the music scene as soloist, orchestral player and ensemble coach, recording artist, and studio musician. She has performed with the Monterey Symphony since 1987 and Carmel Bach Festival Orchestra since 2007. Teresa has toured with the San Francisco Merola Western Opera Company and the Rome Festival Orchestra in Italy and has appeared as soloist with The Alemeda Orchestra, Palo Alto Chamber Orchestra, Ovation Chamber Orchestra, and the Bay Shore Lyric Chamber Orchestra.

Her performance of La Vida Es Arte in 2013, a world premiere concerto written for her, by local composer Kerry Lewis with the San Jose Chamber Orchestra earned her great reviews. The San Francisco Classical Voice said: Teresa Orozco darted in and out among the other instruments, with a great deal of pinpoint virtuosity and was intriguing to listen to" and "... the performance was excellent… a fantastic flute soloist with a beautiful sound and technique to burn [Teresa] is a fully engaging soloist and presents the piece with complete conviction and aplomb."

Teresa Orozco not only specializes in classical music but also performs Latin-jazz, Afro-Cuban music. She has a flute and guitar duo Kumbambe, with life partner Orlando Castro playing Romantic Latin, salsa, rhumba and Afro-Cuban music.

A quintessential communicator and educator, Teresa has mentored hundreds of young musicians in her many teaching positions during the last two and a half decades including the San Jose Youth Symphony, San Jose Youth Chamber Orchestra flute ensembles, migrant-student educator in Salinas, Valley Christian Elementary Junior Conservatory, coach and clinician for several youth orchestras in the San Francisco Bay Area and "in schools" demonstration coordinator for the Monterey Symphony Orchestra Woodwind section. She has moved so many with her passion, love and enthusiasm for music and is inspiring a whole new generation of students to be excellent in both musical skill and temperament.