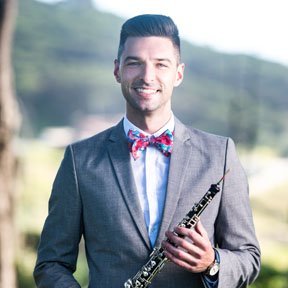 Jesse Barrett
Associate Principal Oboe
Jesse Barrett is a San Francisco Bay Area native who grew up in Pleasant Hill, CA. He currently plays oboe and English horn for the Santa Rosa Symphony, Reno Chamber Orchestra, One Found Sound, Symphony Napa Valley, California Symphony, and has played as principal oboist for West Edge Opera, Opera Modesto, and Merced Symphony where he has been a soloist on multiple occasions since 2010. Mr. Barrett has played with San Francisco Opera, San Francisco Ballet, New Century Chamber Orchestra, most of the orchestras in Northern California and Nevada.
In 2016, he played in the inaugural season of the International Chamber Orchestra of Puerto Rico. As a soloist, Mr. Barrett has appeared with a number of Bay Area ensembles, performing a wide range of repertoire from Handel's G Minor concerto, to Copland's Quiet City, to the Costa Rican composer Benjamin Gutiérrez's Sketches for Oboe and Strings, to the recent commission by Sahba Aminikia, Shahmaran, where he also narrated.
Mr. Barrett is an avid chamber musician, new music enthusiast and teacher of students of all ages throughout Northern California. He has been on faculty at San José State University, California State University Stanislaus and Dominican University. He frequently gets involved in musical start-ups like San Francisco's conductor-less chamber orchestra One Found Sound, and is the developmental director of the Bay Area's premier wind octet Nomad Session. Mr. Barrett regularly enjoys teaching at music camps, recording new music, making school visits, and collaborating on solo and chamber concerts. He is also a passionate singer, often performing at his favorite piano bar, cabaret venues, and has hosted numerous events as an emcee, oboist, singer, and actor. He has shared the stage with a wide variety of performers, including but not limited to Dave Brubeck, Andrea Bocelli, Chicago and Third Eye Blind.
Mr. Barrett studied with Thomas Nugent at University of the Pacific where he was a member of Phi Mu Alpha Sinfonia and thereafter obtained a Master of Music from Boston University where he studied with Laura Ahlbeck and was inducted as a member of Pi Kappa Lambda. He currently teaches at University of the Pacific.