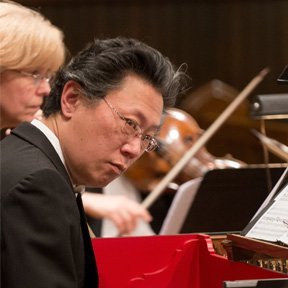 Dongsok Shin
Keyboards
Dongsok Shin was born in Boston and studied modern piano with his mother, Chonghyo Shin, and with Nadia Reisenberg at the Mannes College of Music. He converted exclusively to early keyboard instruments in the early 1980s. He received international recognition as music director of baroque opera productions with the Mannes Camerata and has been a member of the internationally acclaimed baroque ensemble REBEL since 1997.

He has appeared with early music groups all over the United States, including the American Classical Orchestra, ARTEK, Concert Royal, Early Music New York, and the Carmel Bach Festival, has toured throughout the Americas and Europe, and has been heard on numerous radio broadcasts. In addition to his performing career, he is also an engineer, producer, and editor of early music recordings for numerous labels.

He tunes and maintains the early keyboard instruments of the Flintwoods Collection in Delaware, and for the Metropolitan Opera and the Metropolitan Museum in New York City. His YouTube videos produced by the Met Museum, demonstrating their earliest known Bartolomeo Cristofori fortepiano, have garnered over 1.6 million views.