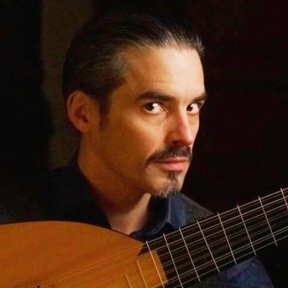 Daniel Swenberg
Theorbo/Archulte
Daniel plays a wide variety of lutes and guitars: baroque, renaissance, classical/romantic – small, medium, and large. Chief among these is the theorbo - the long lute that you are either wondering about or overhearing your neighbor discuss.
While based in New York, Daniel schleps instruments throughout North America and Europe to play with a wide range of ensembles: ARTEK, REBEL, The Metropolitan Opera, Mr. Jones & the Engines of Destruction, Ensemble Viscera, New York City Opera, Opera Atelier/Tafelmusik, The New York Philharmonic, the Philadelphia Orchestra, Catacoustic Ensemble, the Four Nations Ensemble, Apollo's Fire, Handel & Hayden, The Green Mountain Project, Tenet, Skid Rococo, the Newberry Consort, with soprano Nell Snaidas, Lizzy & the Theorboys, Music of the Baroque, the Aspen Music festival opera, Staatstheatre Stuttgart, the Orchestra of St Lukes, and more. He has accompanied Renee Fleming and Kathleen Battle at Carnegie Hall. He is on faculty at Juilliard's Historical Performance program.
Daniel received awards from the Belgian American Educational Foundation (2000) for a study of 18th century chamber music for the lute, and a Fulbright Scholarship (1997) to study in Bremen, Germany at the Hochschule für Künste (studying with Stephen Stubbs and Andrew Lawrence King). He studied previously with Pat O'Brien at Mannes College of Music, receiving a Masters degree in Historical Performance (Lute).
Prior to this life's incarnation as a Lutenist, he studied classical guitar at the North Carolina School of the Arts, and musicology at Washington University (St. Louis). His programing integrates and emphasizes music with the history, sciences, economics, politics, and broader culture of its time.