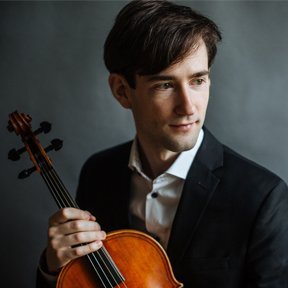 Kyle Miller
Viola
Violist Kyle Miller made his concerto debut in 2005 with the Reading (Pennsylvania) Symphony Orchestra as 'the dog' in P.D.Q. Bach's Canine Cantata, Wachet Arf! Since that day, Kyle has gone on to study at the New England Conservatory, the Eastman School of Music, and The Juilliard School, the last at which he earned master's degrees in both viola performance and historical performance.
A member of ACRONYM, Diderot String Quartet, and Four Nations Ensemble, Kyle also has appeared onstage with A Far Cry, Apollo's Fire, the English Concert, the Knights, New York Baroque Incorporated, Opera Lafayette, Quodlibet Ensemble, the Sebastians, Tafelmusik Baroque Orchestra, Trinity Baroque Orchestra, and the Washington National Cathedral's resident orchestra. Kyle has performed regularly at the Carmel Bach Festival, the Portland Bach Experience, and the Staunton Music Festival; and as a member of Diderot String Quartet, he has served as a guest artist and coach at Oberlin College's Baroque Performance Institute.
In 2015, Kyle was selected to be an English Concert American Fellow. In 2017 and 2018, Kyle wore a wig and frock coat on Broadway, where he performed in a run of Claire van Kampen's play 'Farinelli and the King'.