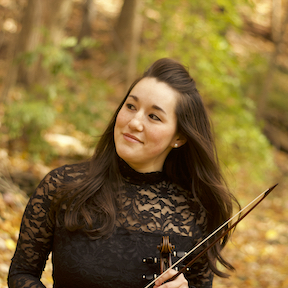 Cynthia Keiko Black
Viola
Born in Dallas, Texas, Cynthia Keiko Black enjoys performing as a violinist and violist playing music from several centuries at home in the Bay Area and across the United States. She is a core member of INCANTARE, an ensemble of violins and sackbuts, and a founding member of the Costanoan Trio, a period instrument piano trio. She is looking forward to upcoming season appearances with the American Bach Soloists, the Carmel Bach Festival, Chatham Baroque, the Atlanta Baroque Orchestra, Ars Minerva, and the Washington Cathedral Baroque Orchestra.

She can be heard on recordings with Apollo's Fire, the American Bach Soloists, and the Queen's Rebels, and will be releasing an album of rarely heard duos for violin and viola from the late eighteenth century later this year.

Amidst an active performing career, Cynthia teaches a studio of young people at the Crowden School's Community Program in Berkeley. She holds modern viola degrees from the Cleveland Institute of Music and completed a doctorate in Historical Performance Practice from Case Western Reserve University.

In her free time, Cynthia enjoys cooking and baking, watercoloring, and growing vegetables. She is a proud resident of Richmond, California where she lives with her trumpet-playing and harpsichord-building husband, Dominic Favia.