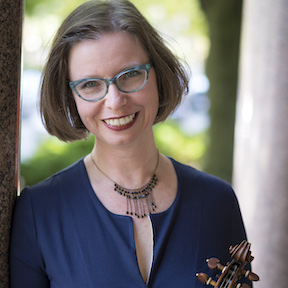 Marika Holmqvist
Violin
During her quarter-century career as baroque violinist, Marika Holmqvist has appeared as a concertmaster for orchestras and opera companies on three continents, directed ensembles on both sides of the Atlantic, and served as artistic co-director for groups in the USA such as Sinfonia New York and the Boston-based ensemble, Cambridge Concentus. Currently her leadership positions include Zenith Ensemble (New England), Washington Bach Consort (DC) and Reykjavik International Baroque Orchestra (Iceland), among others.

Marika is also a dedicated and passionate educator. She has served as coach and guest leader for baroque operas at Cornell, Harvard and Rutgers Universities, and given master-classes and lectures at institutions across Europe. Alongside her master's degree in baroque violin performance from the Royal Conservatoire of The Hague in the Netherlands, she also graduated with a master's in baroque violin pedagogy—the first such degree ever granted in Europe.

Her 20-odd recordings include the Grammy-nominated Handel's Israel in Egypt with the Trinity Wall Street Choir and Baroque Orchestra. Marika has a Finn's love for the outdoors and when she is not performing or teaching, you will most likely find her cross country skiing, hiking, kayaking, or gravel or mountain biking.