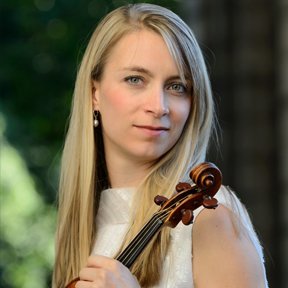 Tatiana Daubek
Violin
Tatiana Daubek plays regularly with period instrument ensembles and orchestras throughout the country and abroad including Bach Vespers Holy Trinity, the Handel and Haydn Society, Musica Angelica/Wiener Akademie, New York Baroque Inc., and Trinity Baroque Orchestra. Ms. Daubek is a founding member of House of Time, a chamber ensemble dedicated to performing music on period instruments. They are currently in their second season as ensemble in residence at Holy Trinity Lutheran Church in Manhattan and have been presented by The Czech Center New York as well as the Berkeley Early Music Festival and Early Music Festival: NYC.

Ms. Daubek has taken part in multiple tours across North and South America with Musica Angelica/Wiener Akademie of The Infernal Comedy and The Giacomo Variations starring John Malkovich. She will be featured in the new film, The Casanova Variations, starring John Malkovich. Daubek holds a Bachelor of Music from the University of North Texas, a Master of Music from Boston University as well as a Master of Music in Historical Performance from The Juilliard School, where she was awarded a full scholarship to study under the direction of the distinguished faculty, Monica Huggett and Cynthia Roberts.

Ms. Daubek is currently pursuing a career as a period violinist because she feels there is an endless amount of variety and color within the style and choice of tools to use when performing. Ms. Daubek is involved with the Festival Jarmily Novotne, a festival commemorating the life of star soprano Jarmila Novotna, in the Czech Republic and gave several inaugural performances last September in Liten, Czech Republic. She has collaborated abroad with the Czech group, Musica Florea for the Festival Jarmily Novotne and was a featured soloist broadcast live on the Czech Radio. Aside from music, Tatiana is also a photographer specializing in portraiture.