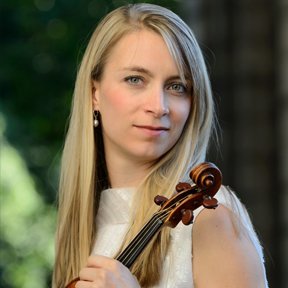 Tatiana Daubek
Violin
Tatiana Daubek is known for her "sleekly elegant" playing (Gazettes Long Beach) and "soloistic precision (Early Music America). In a recent performance of Bach's famous Chaccone, Daubek's "flawlessly lyrical rendering filled the cavernous, gold-leaf cathedral with splendor and gave the music the fluidity it wants" (Bachtrack). She is concertmaster for New York's oldest Bach cantata series, Bach Vespers Holy Trinity. In addition, she performs with the American Classical Orchestra, Carmel Bach Festival, Handel and Haydn Society, Musica Angelica/Wiener Akademie, and Trinity Baroque Orchestra. Ms. Daubek is a founding member of House of Time, a chamber ensemble with a thriving series in NYC.
An active member of her Czech heritage, Ms. Daubek helped start the Festival Jarmily Novotne, commemorating star soprano and grandmother, Jarmila Novotna. She has collaborated abroad with the Czech ensemble, Musica Florea and was a featured soloist broadcast live on Czech Radio.
Daubek holds degrees from the University of North Texas, Boston University and The Juilliard School. Aside from music, Tatiana is also a photographer specializing in portraiture and street photography. She is a new mother to her daughter Sofia.