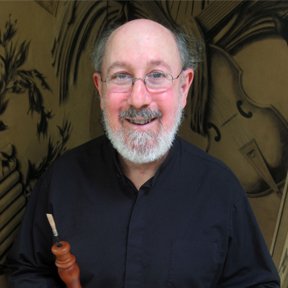 Marc Schachman
Baroque Oboe
Marc Schachman was born in Berkeley, California, and attended Stanford University and the Juilliard School, where he was awarded the B.S, M.S., and the D.M.A. degrees. One of the world's leading performers on early oboes, Mr. Schachman is a founding member of some of America's foremost period instrument chamber groups--The Aulos Ensemble (1973), The Amadeus Winds (1983), and The Helicon Winds (1994).
He has performed as principal oboist and soloist with virtually all of this country's "original instrument" orchestras, including Philharmonia Baroque (San Francisco), Handel and Haydn Society and Boston Baroque (Boston), The American Classical Orchestra (New York), the Smithsonian Chamber Orchestra (Washington, D.C.). His numerous recordings cover a wide variety of styles and genres, and include "Venetian Oboe Concerti" with ACO (Centaur), the Mozart Oboe Quartet and Bach Cantatas (Harmonia Mundi), the Mozart Oboe Concerto (Musicmasters), Concerti and Chamber Music of Bach, Couperin, Handel, Rameau, Telemann, and Vivaldi with the Aulos Ensemble (Centaur and MHS/Musicmasters), Bach's Brandenburg Concerti, Orchestral Suites, and B Minor Mass (Telarc), Wind music of Mozart and Beethoven (L'Oiseau Lyre-Decca, Sony), and the Schumann Romances for oboe and piano (Helicon), which the New York Times described as "pure magic".
Mr. Schachman has served on the faculties of Vassar College, the Baroque Performance Institute at Oberlin College and the Historical Performance Division at Boston University. He has given workshops and master classes at The Juilliard School, the Curtis Institute of Music, the San Francisco Conservatory, and at colleges and universities throughout the U.S. He has performed at festivals worldwide, including Spoleto, Edinburgh, Goettingen, Perth, Tanglewood, Ravinia, and Mostly Mozart.
A resident of New York for over 30 years, Marc and his wife and long-time colleague, the violinist Linda Quan, recently moved back to the Bay Area, where he has co-founded the Cantata Collective, a group dedicated to performing all the cantatas of JS Bach.