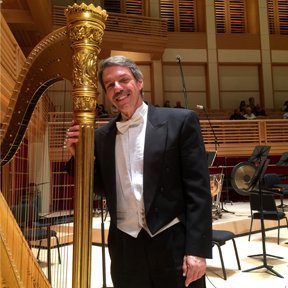 Dan Levitan
Harp
Dan Levitan holds contracts as the Principal Harpist with three professional orchestras: Santa Rosa Symphony, Marin Symphony, and Symphony San Jose.

He is the "first call" harpist with the San Francisco Opera. He regularly performs for the San Jose Chamber, Mission Chamber, UC Berkeley Symphony orchestras and is sought after as a soloist by numerous other orchestras, choirs, and ensembles throughout northern California.

Mr. Levitan's concerto performances by Bach (Johann Christian), Boieldieu, Debussy, Ginastera, Glière, Mozart, Ravel, Reinecke, and Saint-Saëns with orchestras throughout the San Francisco Bay Area have been highly praised by local critics, who write of his "impeccable virtuosity" (San José Metro), "virtual perfection" (Marin Independent Journal) and "precision and élan" (Mercury News). Internationally, Mr. Levitan was invited to perform two works for harp and string quartet at the Seventh World Harp Congress in Prague, Czech Republic, and was a semi-finalist in the prestigious 10th International Harp Competition in Israel.

As a teacher and coach, he coaches for California Youth Symphony, CYS, as well as Golden State Youth Orchestra, GSYS, (mid-peninsula and south bay), in addition to teaching privately.

Born and educated in Philadelphia, Mr. Levitan received Bachelor of Arts degrees in Music Performance and in Music Education from Temple University —both magna cum laude—and was named "Most Promising Musician" at graduation. He studied with Margarita Montanaro, (retired) Co-Principal Harpist with the Philadelphia Orchestra and internationally acclaimed harpists Susann McDonald and Susanna Mildonian, as well as the late, well-known Bay Area Harpists Anne Adams, Marcella DeCray, and Phyllis Schlomovitz.