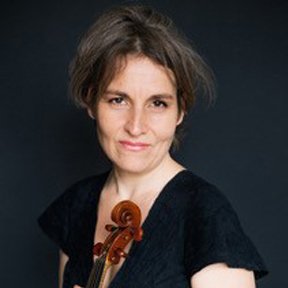 Theresa Salomon
Violin
Violinist Theresa Salomon has had her interpretations praised by The New York Times as "sizzling," The Washington Post as "virtuosic,"and The Frankfurter Allgemeine as "on the highest level." She has performed with many of the finest early music ensembles and orchestras, as well as numerous festivals in North America. She has appeared with Ensemble Repast, Four Nations, Artek, Rebel, Trinity Wall Street, American Classical Orchestra, Opera Lafayette, Clarion, National Cathedral, Carmel Bach Festival, Connecticut Early Music Festival, Boston Early Music Festival, among others.

Studying violin in The Netherlands in the early nineteen nineties, at the time a hot bed of early music and historic performance practice, Theresa was swayed by the earthy sound of gut strings. During and after studies in her native Germany, The Netherlands, and Austria, she traveled extensively and performed concerts in Norway, Brazil, Japan, Togo, Malawi, and South Africa. She is also an enthusiast of contemporary music and has premiered numerous works, including a violin concerto on live radio with the Janáček Philharmonic in Ostrava. She has performed at the Gulbenkian Festival in Lisbon, the Prague Spring Festival, and the Ostrava Days for New Music in the Czech Republic.

Theresa has recorded music from Rosenmueller to Xenakis, as well as sound tracks to movies. Theresa is a member of the Orchestra of St Luke's, curates and programs for the chamber music series Friends of Mozart, and lives is New York City.