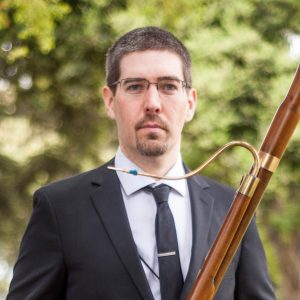 David Wells
Bassoon and Contrabassoon
David A. Wells plays period and modern bassoons in a wide variety of ensembles and styles. On baroque bassoon, he has performed recently with the American Bach Soloists, Capella Antiqua, Pacific Baroque Orchestra, the Sacramento Baroque Soloists, Sinfonia Spirituosa, and at the Oregon Bach Festival. On modern bassoon, he freelances with orchestras throughout Northern California, collaborates with colleagues in chamber groups, and plays with the swing sextet Hot Club Faux Gitane.
He is also active as a music scholar, having presented papers at the conferences of the American Musicological Society, the Society for American Music, and the International Double Reed Society. Wells is on faculty at California State University, Sacramento, where he teaches bassoon and music history.
He holds both a D.M.A. in bassoon performance and an M.A. in musicology from the University of Wisconsin-Madison, and previously studied at Florida State University and Arizona State University. His principal teachers include Jeffrey Lyman, Jeff Keesecker, and Marc Vallon. When not playing or teaching, he can be found swimming, taking photographs, collecting records, and trying to keep up with his super-librarian/yogi wife, Veronica.