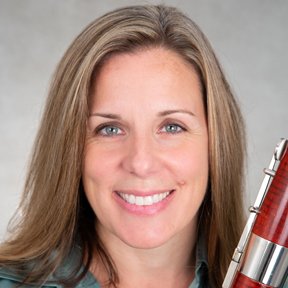 Laura Koepke
Bassoon
Laura Koepke is Professor of Bassoon at the State University of New York at Fredonia, where she began teaching in 2007. In addition to her teaching role, she is the principal bassoonist of the Erie Philharmonic, and joined CityMusic Cleveland Chamber Orchestra as principal bassoonist in 2011. Prior to Fredonia, Laura lived in New York City where she enjoyed an active freelance career. She performed numerous concerts with the Orpheus Chamber Orchestra, on European and US tours, and at home in Carnegie Hall and Avery Fisher Hall. She has also performed with the Orchestra of St. Luke's, American Composers Orchestra, New York Pops, American Symphony Orchestra, Brooklyn Philharmonic, New York City Opera, and the Westchester Philharmonic.
From 1998 to 2009, Laura was a member of the internationally acclaimed woodwind quintet, Quintet of the Americas. Three recordings with the quintet include Dancing in Columbia (MSR Classics,) Karel Husa-Recollections (New World Records,) and Sounds of Brazil (MSR Classics.) Laura has performed as a guest artist with Zephyros Winds, North Country Chamber Players, Sequitur, and the Chamber Music Society of Lincoln Center. She has performed at many summer festivals, including the Bard Festival, Bang on a Can, Festival of the Hamptons, Lincoln Center Festival, Bar Harbor Music Festival, Maverick Concerts, and Chautauqua.
Previous teaching positions include New York University, Manhattan School of Music Pre-college, Aaron Copland School of music at Queens College, and Western Connecticut State University. She graduated from Baldwin-Wallace College and holds a Masters Degree and Artist Diploma from Yale University School of Music, where she studied with Stephen Maxym and Frank Morelli.