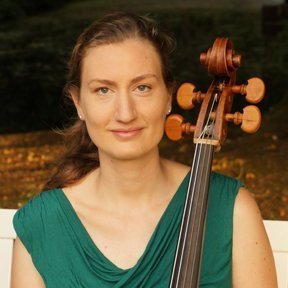 Eva Lymenstull
Cello
Eva Lymenstull enjoys a diverse career that has taken her across North America and Europe as a soloist, chamber musician, continuo player and orchestral musician playing baroque cello, modern cello and viola da gamba. She has performed recently as concerto soloist and principal cellist with the Lyra Baroque Orchestra, guest principal cellist of the Atlanta Baroque Orchestra, Apollo's Fire, and Musica Angelica, and has also appeared with Tafelmusik Baroque Orchestra, Tesserae, the Orchestra of the Age of Enlightenment, and Holland Baroque Society.
With chamber ensembles she has performed at the Utrecht, Boston, and Berkeley Early Music Fringe Festivals, and on New York's Gotham Early Music series and the Academy of Early Music series. As winner of the 2017 Voices of Music Bach Competition, Ms. Lymenstull recorded Bach's D minor cello suite for their online video archive. Her performance and research interests range from the early Renaissance to the twentieth century, and she particularly enjoys performing Classical and Romantic chamber music with her historical piano trio, the Arborea Trio.
Ms. Lymenstull holds degrees from the Royal Conservatory of The Hague (Jaap ter Linden), Rice University (Desmond Hoebig) and University of Michigan (Richard Aaron), and is currently finishing a DMA in historical performance practice at Case Western Reserve University. In addition to performing, she teaches baroque cello and viola da gamba as a regular guest artist at the University of Michigan. This is her second season at the Carmel Bach Festival.