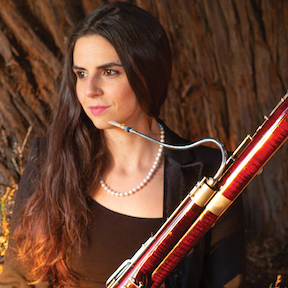 Georgeanne Banker
Bassoon
Georgeanne Banker is a bassoonist who loves to explore the many iterations of this wondrous, reedy instrument. She is a co-founder and frequent artistic leader of the San Francisco-based orchestra One Found Sound, and appears this season with ensembles including Tafelmusik, Piffaro⁠—The Renaissance Band, Monterey Symphony, and Portland Baroque Orchestra.

She spends her time between the East and West Coasts and has enjoyed performances with groups such as Les Arts Florissants, Santa Rosa Symphony, La Speranza, and Mercury Chamber Orchestra. On hi-fi she can be heard on the albums of several indie bands and the soundtrack of the Oscar-nominated animated short The Dam Keeper.

Always eager to share the love of her craft, Georgeanne's pre-concert talks were hailed as "funny and engaging" by the San Francisco Classical Voice. Her writing has appeared in Playbill and she is a regular contributor of program notes for The Juilliard School. She enjoys teaching historical and modern bassoons and leading workshops that energize creative entrepreneurship. When she's not making reeds, she's happy to chat about running, veggie recipes, dogs, and video games. Georgeanne holds degrees from The Juilliard School, the San Francisco Conservatory of Music, and McGill University.