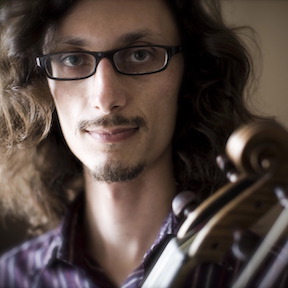 Aaron Westman
Viola
GRAMMY® nominated violinist and violist Aaron Westman was a "metal-head" growing up in Santa Rosa. He now plays the electric guitar of the 17th-century. Described as "expressive and virtuosic" (San Francisco Classical Voice) and a "brilliant virtuoso violinist" (Early Music America Magazine), he has performed since 2005 as a chamber, principal player, or soloist with all of the major gut string ensembles in California, and toured extensively throughout the world. As a principal player, Aaron works with American Bach Soloists, Ars Minerva, Bach Collegium San Diego, California Bach Society, El Mundo, Hawaii Performing Arts Festival, Los Angeles Master Chorale, Musica Angelica, New Hampshire Music Festival, Navarro Trio, and Philharmonia Baroque Orchestra (since 2006), and he has toured extensively with Orchester Wiener Akademie, including for four seasons with the actor John Malkovich.

Aaron co-directs the chamber ensemble AGAVE, whose most recent album American Originals: A New World, A New Canon was nominated this year for the 64th Annual GRAMMY® Awards in the Best Classical Compendium category. AGAVE regularly performs and records with star singers including soprano Michele Kennedy and countertenor Reginald Mobley, with whom they have three albums. Gramophone Magazine calls American Originals "brilliant and knowing," BBC Music Magazine says it's "wonderfully cheeky," The Whole Note lauds AGAVE's "vivid colors and stylish phrasing," and EMAg notes that it features "a stunning playlist of neglected works by composers of color."

Aaron is also Associate Director of the Live Oak Baroque Orchestra, and violist in the Sylvestris Quartet, which has been in residency at Hawaii Performing Arts Festival since 2018.

Aaron holds degrees from Indiana University's Jacobs School of Music and Wesleyan University. His principal teachers were Stanley Ritchie, Elizabeth Blumenstock, Geraldine Walther, and Alan de Veritch. Aaron has been on the performance faculty at Mills College, and in 2021, he joined the faculty of Sonoma State University. He directs the Santa Rosa Symphony's Young People's Chamber Orchestra, teaches in Italy each summer at the Music Adventure program, and guest taught for three years at CalArts. In his spare time, he is an audio engineer and producer. Aaron and his wife, violinist Anna Washburn, have a one-year-old daughter named Olive.