When:
July 30, 2020 @ 5:00 pm – 6:00 pm
2020-07-30T17:00:00-07:00
2020-07-30T18:00:00-07:00
Where:
San Carlos Cathedral
500 Church St Monterey
CA 93940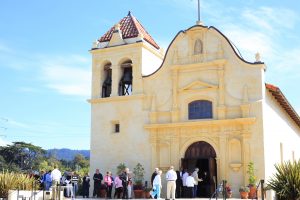 Andrew Arthur, harpsichord and director; Robert Farley, trumpet, Emlyn Ngai, Evan Few, violin;
Sarah Darling viola; Ezra Seltzer, cello; Jordan Frazier, bass;
Monterey's iconic and beautiful San Carlos Cathedral has hosted Bach Festival twilight concerts for many years. The 2020 program presents two Bach harpsichord concerti along with a trumpet suite by Telemann. Enjoy some of the Festival's finest Baroque musicians performing in the magnificent setting of the San Carlos Cathedral, just steps from downtown Monterey.
J.S. Bach, Concerto for Harpsichord, Strings & Continuo in A major, BWV 1055
Georg Philipp Telemann, Suite in D for Trumpet, Strings & Continuo, TWV 55: D8
J.S. Bach, Concerto for Harpsichord, Strings & Continuo in E major, BWV 1053