Tuesdays, October 26 & November 2, 7:30 PM
Sunset Center Theater
Orchestra, Chorale, Chorus and Soloists conducted by Paul Goodwin
Henry Purcell, Dido and Aeneas, Z. 626
Cast:
Dido-Clara Rottsolk
Aeneas-Thomas Cooley
Belinda – Linda Lee Jones
Second Woman – Rebecca Mariman
Sorceress / Spirit – Patricia Thompson
Witches – Angelique Zuluaga, Alyson Harvey
Sailor – Andrew Fuchs
Dido and Aeneas presents an impeccable demonstration of composer Henry Purcell's sophisticated sense of drama and skill in vividly setting words to music.
The opera is based on Book IV of Virgil's epic The Aeneid and is one of the earliest known English operas. Purcell's only true opera is one of the most important and often performed operas written in the Baroque period.
"The moving and tragic tale of the love of Dido and Aeneas, is brought back to Carmel after more than 20 years," said Artistic Director Paul Goodwin. "A sailor, a sorceress, witches and lovers lead us through this poignant tale accompanied by the lively music of Purcell."
The libretto tells the story of Dido, the Queen of Carthage, and her ill-fated love for the Trojan Prince Aeneas, who is destined to leave her to found the city of Rome.
In Act I, they are together, although their relationship is already troubled. In Act II, a sorceress separates them through the conjuring of a storm. A spirit disguised as Mercury then corners Aeneas and insists that he leave Dido to fulfill his destiny. Act III finds an inconsolable Dido alternately mourning and venting her anger on a contrite Aeneas. She then forces him to leave, facing her own inevitable death with the ageless lament "When I am laid in earth," followed by the final chorus of "With drooping wings."  Dido's Lament and the closing chorus are among the most memorable and moving music in the operatic repertoire.
The one-hour opera is able to create intense dramatic effectiveness and emotion. The work is deeply moving and unforgettable.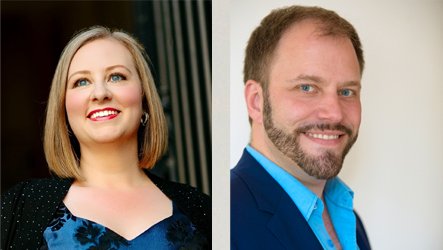 Festival fans will be delighted to hear soprano Clara Rottsolk. Her "clear, appealing voice and expressive conviction" (New York Times) and "opulent tone [with which] every phrase has such a communicative emotional presence" (Philadelphia Inquirer) are the perfect qualities to bring perform the title role of Dido. Tenor Thomas Cooley will sing the role of Aeneas, displaying his talent for versatility, expressiveness, and virtuosity. Thomas is
Minnesota-born and studied at DePauw University, the University of Minnesota and the Richard Strauss Conservatory. He is an Artist in Residence with Chicago's Music of the Baroque. This season marks Thomas' tenth in Carmel.