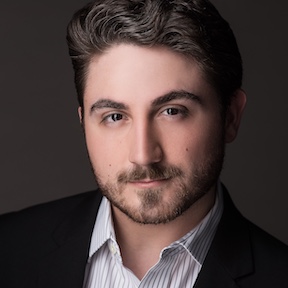 Jacob Perry Jr.
Tenor
Virginia Best Adams Masterclass Participant 2022

Jacob Perry, tenor, has been praised for his "gorgeous and stylish" (clevelandandclassical.com) interpretations of Renaissance and Baroque repertoire. He has been featured as a soloist with Apollo's Fire (Cleveland), Portland Baroque Orchestra (Portland, OR), Tempesta di Mare (Philadelphia), and the Washington Bach Consort (DC). Deeply immersed in vocal chamber music, Jacob enjoys active membership in Les Canards Chantants, a soloist-ensemble based in Philadelphia, as well as engagements with ensembles such as ARTEK (New York City), TENET Vocal Artists (New York City), and Yale Choral Artists (New Haven). Since 2013, Jacob has served as a cantor and member of the choir of the Basilica of the National Shrine of the Immaculate Conception (Washington, D.C.).

As Co-Artistic Director of Bridge, a genre-defying vocal ensemble based in Washington, he draws on his instincts for theatricality and story-telling, as the group explores the connections between early masterpieces and ground- breaking new works.

Career highlights include multiple tours performing in Roman Basilicas with the choir of the National Shrine, headlining the inaugural festival of Western Early Music at the Beijing Central Conservatory of Music with Les Canards Chantants, his Kennedy Center debut as a featured soloist in Monteverdi's Vespro della Beata Vergine with The Thirteen, and "English Orpheus"—a tour de force exploration of love songs and poems from the Elizabethan, Restoration, and early 18th-century periods he performed with Tempesta di Mare.