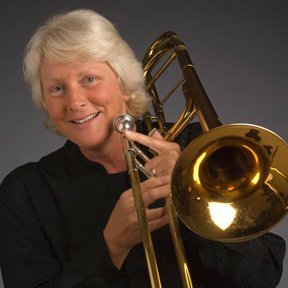 Suzanne Mudge
Tower Music Director; Trombone
Suzanne Mudge is a Trombonist, Educator, and Arts Administrator who has performed with the festival for a long time! She held Principal Trombone positions with the Women's Philharmonic, Central Oregon Symphony, and Modesto Symphony and freelanced with most of the orchestras in the SF Bay Area for 22 years.

She studied trombone with Byron Peebles and Tom Ervin. She has taught at the middle/high school/college levels and has a private teaching studio. Her students have won top solo and ensemble honors at state levels. Currently Executive Director of Youth Music Monterey, Sue is determined to inspire and motivate kids to play music and develop a life-long love for music. She created and writes the Family Concert series, The Adventures of Leonard & Rasmus, which began in 2014, and directs Tower Music.

She holds a BM from the UOP Conservatory of Music, MM from University of Arizona, and California Teaching Credential in Music and Math. Sue loves the beach, her family (husband, dog, and two cats), reading, hiking, and swimming.