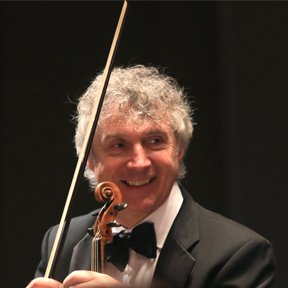 Peter Hanson
Concertmaster and Director of Monday Main Concert
As a young violinist in the 1980s, Peter played with the Academy of St. Martin's-in-the-Fields, The London Chamber Orchestra, The London Sinfonietta and other London orchestras. He also formed the Hanson String Quartet. Later, in 1989, he was invited to be concertmaster for the English Concert by Trevor Pinnock, and a year later he was travelling the world playing the baroque repertoire. He also led for Roger Norrington and the Orchestra of the Age of Enlightenment, playing romantic repertoire. Soon a vision of a new type of quartet emerged; the Eroica Quartet was formed with colleagues from the world of period instrument performance.

With the Eroica Quartet, Harmonia Mundi released their recordings of all the Mendelssohn quartets, all the Schumann quartets and some Beethovens. The Eroica Quartet have just made the first ever recording of the young Mendelssohn's original string octet, the score is in the Library of Congress, and they performed it there in November 2009. This recording was launched as down-load only by the new recording company, Resonus Classics. In February 2012, their recordings of the Ravel and Debussy quartets followed. These can be down-loaded from most popular websites, but at a special high quality from www.resonusclassic.com

He has played as guest-leader with the Hallé Orchestra, the Scottish Chamber Orchestra, and the Philharmonia Orchestra conducted by Rostropovich. He has travelled abroad with the Mahler Chamber Orchestra with Daniel Harding, Les Musiciens du Louvre with Marc Minkowski, L'Orchestre des Champs-Elysées and La Chambre Philharmonique. In April 2005, he completed a tour of Europe as guest-leader of the London Symphony Orchestra.

Hanson has been the concertmaster for Sir John Eliot Gardiner's Orchestre Revolutionaire et Romantique for over 20 years now. This is a ground-breaking period instrument orchestra that has a powerful following all over the world. The orchestra was used in the BBC film called 'Eroica'; he both played in the orchestra and acted in the film.

Last November, 2012, Hanson was the concertmaster soloist with John Eliot Gardiner for a European tour playing Beethoven's Missa Solemnis, which was also went to the USA, where they played the Carnegie Hall, NY and Orange County, CA. In October 2013 they have a tour of Switzerland and neighbouring countries

This May he was invited by the Singapore Symphony Orchestra to direct from the violin in two baroque programmes and has also toured Taiwan and Japan.