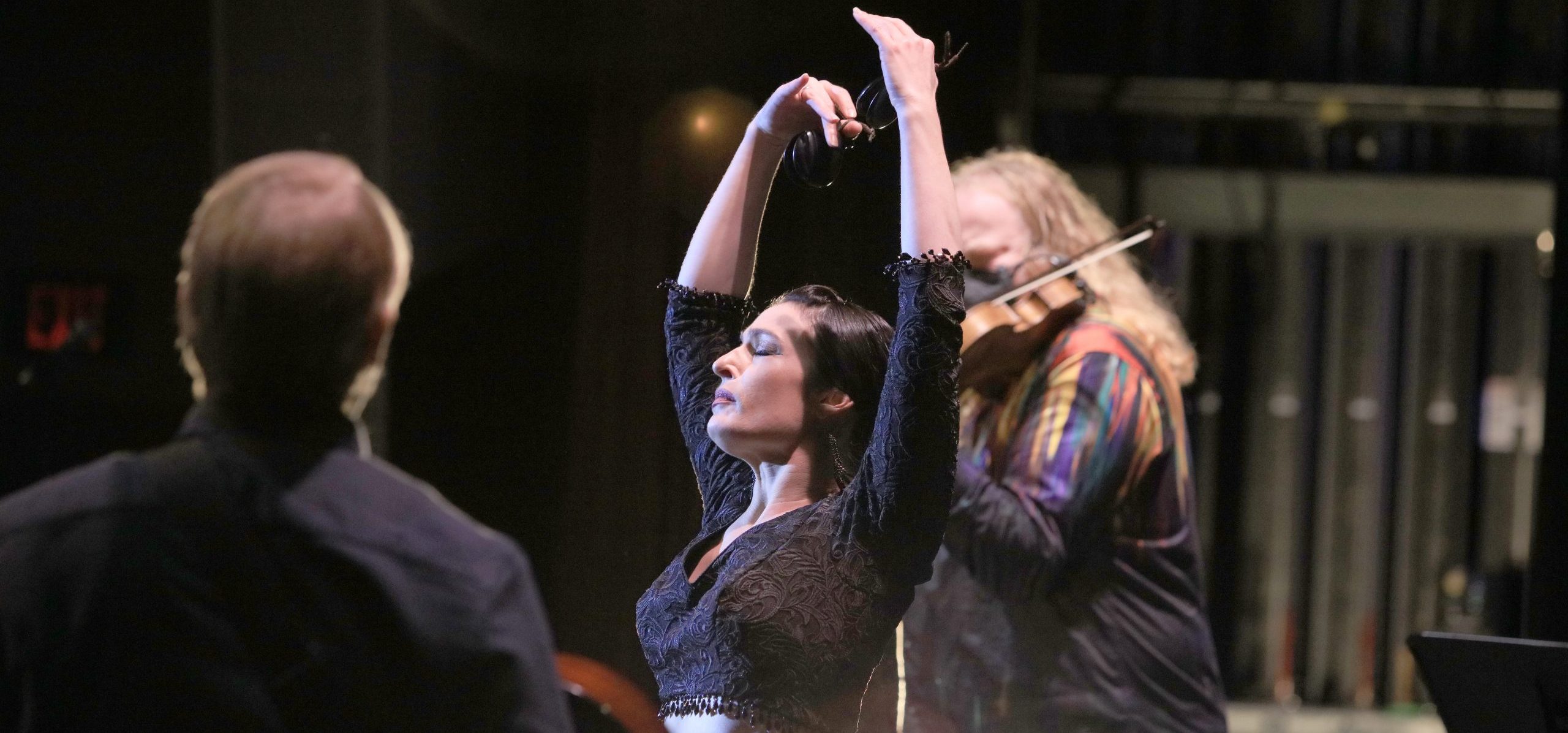 Pangaea: One World
Fridays, July 22 & 29, 7:30 PM
Edwin Huizinga, violin, and William Coulter, guitar, (Fire & Grace) return with special guest artists from their musical family, continuing their tradition of wildly popular, sold-out concerts with a program entitled "Pangaea: One World." This unique duo explores the connective musical elements of classical, folk, and contemporary traditions from around the world. Fire & Grace's repertoire is vast, ranging from Bach to Vivaldi, tango to Celtic tunes, traditional Bulgarian to American fiddle tunes and waltzes, all played with a sense of discovery and commitment to the elements of passion and virtuosity — fire and grace — found in these diverse traditions.
Traditional/J.S. Bach                                        Port na bPucai – Air on the G (D) String – Cuckoo's Nest
Arranged by Ashley Hoyer                               BlueThrash – Medley of Bluegrass Tunes
Pete Seegar                                                     Where Have All the Flowers Gone
Astor Piazzolla                                                 Libertango
Oblivion
Swedish Set
Trad. Swedish                                                 Long Dance
Väsen                                                               IPA
Celtic Set
Traditional                                                       Don Oiche
Traditional                                                       Honeybee
Brian Finnigan                                                  Marga's Moment
Trad. Irishy                                                       Macleod's Farewell
Silk Road Set
Traditional Iran                                                 Sarzamine Man
Traditional Turkey                                            La Comida
Romanian Gypsy                                             Tutti Frutti
Traditional Iran                                                 Pish Kesh
Spanish Set
Traditional Flamenco                                       Malgueña Abandalao
Traditional                                                       Malagueña
J.S. Bach                                                         Menuet 1 & 2
Traditional Galician                                          Muñiera de Chantada
J.S. Bach                                                         Gigue
Anxo Pintos                                                     Cancro Cru
Artists: Edwin Huizinga, violin and William Coulter, Guitar
Tamar Ilana, vocals, percussion, dance; Samantha Harvey accordion, dance; Fanny Ara, dance;
Brian Bigley, illian pipes, flute, dance; Eva Scow, mandolin
Fire & Grace began performing at the Carmel Bach Festival in 2017 with a program that blended the music of Bach with traditional Irish music, highlighting and celebrating the common elements of these two styles of music. The program featured The Liquid Gold Suite, a unique blending of the solo violin Partita #2, accompanied by guitar, with Irish dance music. The concert also included guest musicians from the festival orchestra and chorus.
Huizinga and Coulter returned in 2018 with a program called Amazing Grace – blending Bach with American dance music and songs. This time featuring the mandolin playing of Ashley Hoyer, and featuring Partita Americana, a suite which blends the Violin Partita #3 with American fiddle music both old and new.
In 2019 Fire & Grace headed north for a program called The Frozen North, which included Olov Johansson from Sweden, one of the finest nyckelharpa players in the world, and of course festival singers and musicians.
In October of 2021, the duo returned with The Spirit of Spain, a program celebrating classical and folk music, both old and new, from Spain. And for a unique twist they brought dance to the Sunset Center stage in the form of the incomparable flamenco dancer Fanny Ara. The centerpiece of this program was Suite Español – a blending of the Bach Cello Suite #1 with music from various regions of Spain, interweaving Spanish songs, and fiery flamenco dance and rhythms.
This series of concerts has been a profoundly inspiring and deeply moving element in the musical evolution of Fire & Grace. It has been an amazing opportunity to explore a variety of music from around the world, make music with festival musicians and singers and feature amazing special guest artists from near and far.
Here now in 2022 Fire & Grace present Pangaea – One World. You might call this a retrospective of the previous four concerts – touching on music we have presented before – and exploring some new territory. Bringing back special guest artists we have had the privilege to make music with and meeting new artists as well.
Port na bPucai, The Tune of the Fairies, is an old Irish air that comes from the Blasket Islands off the coast of County Kerry, Ireland. Fishermen heard the tune drifting in the wind and the waves, perhaps emanating from a selkie, and when they returned to their island home, the tune magically came through their instruments. Air on the G String is of course one of the most well loved airs by JS Bach and perhaps magically came through the genius of the great composer from the same ancient realm as the Port na bPucai. And to lift the spirits even higher we carry on with The Cuckoo's Nest a well known dance tune that originated in Ireland as a hornpipe, played here as an old-time American reel.
Where Have All the Flowers Gone was composed by Pete Seeger (1919 – 2014). In an interview with the great Irish songwriter Tommy Sands, Seeger recounts that he found the core of the lyrics in a Russian poem in a novel he was reading.
Where are the flowers? The girls have plucked them. Where are the girls? They are all married.
Where are the men? They are all in the army.
The melody of the song is based on an Irish lumberjack song. Indeed this song has become an anthem for those who seek peace in all corners of the world, and a powerful anti-war message.
BlueThrash is a playful medley of Cluck Old Hen, Farewell to Longhollow and Glory in the Meetinghouse, three American fiddle tunes arranged by Ashley Hoyer. These tunes are well-known and played by old time and bluegrass musicians alike. The title, BlueThrash refers to some of the rhythms and chord progressions which evoke a modern 'thrash' music sound.
Astor Piazzolla was an Argentine tango composer, bandoneon player, and arranger. His compositions revolutionized the traditional tango into a new style termed nuevo tango, incorporating elements from jazz and classical music. Libertango was published in 1974. The title refers to Piazzolla's break from classical tango to tango nuevo. Oblivion was recorded in 1982 as part of the soundtrack to the film Henry IV directed by Marco Bellocchio. Fire & Grace recorded Libertango on their latest CD called Alma. Oblivion was recorded on their first CD called Fire & Grace and it was one of the first pieces they performed together.
Long Dance, Bingsjö Långdans in Swedish, was learned at a music camp from Roger Talroth, guitarist in the group Väsen. Since then this beautiful melody has been heard in many different musical situations. IPA-Gubben was composed by Olov Johansson for Mikael Marin, violist in the group Väsen, for the celebration of his 50th birthday.
Celtic Set
Don Oíche Úd i mBeithil, I sing of that night in Bethlehem, is a very old Irish Christmas air. The Honeybee is a traditional Irish slip jig, and inspires a most gentle and elegant form of Irish dancing.Marga's Moment is a modern Irish tune composed by the great flute player Brian Finnegan who hails from Northern Ireland. Macleod's Farewell is another new tune, composed by Donald Shaw and made famous by the Irish supergroup Lúnasa.
Silk Road Set
Just like silk and people, music has traveled a lot over the centuries. In every land and with every culture it interacts with, music adapts to and incorporates local elements such as language, rhythm and melody. It also brings those elements to that land from other places. In our Silk Road Set, we follow some of the music along the silk road, from Iran to Romania to Turkey, and back.
Sarzamine Man, My Homeland, is an Iranian song sung in the Farsi language. I have become homeless, I have moved from one home to another. Without you, I have always been with sorrow shoulder to shoulder
La Comida la Mañana, is a ladino/judeoespañol love song of Turkish origin. The morning meal. In the afternoon
I'll bring it back. So that my mother will know
That I wish to marry you.
Tutti Frutti is a Romanian Gypsy song.
With tutti frutti soft drink, we're dancing and singing. And living it up, we'll smash the bottles.
I had a lover, what can I do about it? For her I would die!
Pish Kesh, Offering is an Iranian song popularized by the legendary pop singer and actress Googoosh.
Spanish Set
Malagueña Abandalao is a Flamenco song from Andalusia in the South of Spain. Each of the provinces, and in fact, each of the towns in Andalusia have their own sub genres. Here we will explore some of the styles from the province of Málaga, both in free time and in rhythm.
Looking for the flower, I entered into the garden of Venus. Looking for the flower,I found the dark lily.
That was the one I was looking for. To alleviate my pain.
Staying in Andalusia we offer our version of the popular Spanish melody Malagueña. Well known as a beginning classical guitar piece our arrangement pulls from various arrangements that we have heard over the years. Following we return to Bach for the Menuet 1 & 2 and then on Muñiera de Chantada, a well-known traditional Galician tune in 6/8 time signature, a Galician jig if you will. This version comes from the recording by the Galician supergroup Milladoiro. Following the 'Galician jig' we offer the Gigue by Bach. And finally a new composition from the Galician musician Anxo Pintos called Canro Cru.
Fire & Grace is an eclectic collaboration between guitarist William Coulter and violinist Edwin Huizinga. This unique duo explores the connective musical elements of classical, folk, and contemporary traditions from around the world. Fire & Grace's repertoire is vast, ranging from Bach to Vivaldi, tango to Celtic tunes, traditional Bulgarian to American fiddle tunes and waltzes, all played with a sense of discovery and commitment to the elements of passion and virtuosity — fire and grace — found in these diverse traditions. Recent and upcoming performances have included engagements at the Carmel Bach Festival, the Mozaic Festival, the Santa Cruz Baroque Festival, the Electric Earth Concerts, the Monterey Museum of Art, and with Tomaseen Foley's A Celtic Christmas. In March and April 2017, Fire & Grace toured to New Zealand with appearances at the UPSURGE Festival, the Festival of Colour, and the New Zealand School of Music. The group's self-titled debut album combines melodies from Argentina, Bulgaria, and Western Europe with dance elements from baroque and folk musical traditions.
Fanny Ara: Flamenco Dancer
Fanny Ara began her dance studies at age 3, studying ballet and Contemporary dance at the Irene Popard School in St. Jean de Luz. After earning a BA in Literature with a specialty in Music from The Bayonne School of Art, she relocated to Spain. A two-year intensive in flamenco studies in both Sevilla and Madrid followed with Juana Amaya, El Torombo, Manolo Soler, and Hiniesta Cortes. Over the past decade, Fanny has is recognized and celebrated by flamenco enthusiasts around the world. Now residing in the Bay Area, she is a company member of Caminos Flamencos, sharing the theater stage with artists such as Antonio de la Malena, Manuel de la Malena, Juan Ogalla, Domingo Ortega, David Paniagua and Juñares.
Brian Bigley: Irish Musician, Dancer and Uilleann Pipe Maker
Brian Bigley comes from a musical family on the west side of Cleveland, Ohio where he first heard the ethereal sound of the Uilleann Pipes at the West Side Irish American Club. He began study with Achill Island piper Michael Kilbane. His interest in maintaining that ethereal sound led Brian to study the art of pipe making with the pipe maker Seth Gallagher in New York and the master flute maker Patrick Olwell in Virginia. He is currently making pipes in the style of the late Dave Williams and has a waiting list. Brian is also a world-class Irish step dancer. Studying with Bob Masterson and Catherine Leneghan from age 7, he went on to compete with distinction at the World Championships in Glasgow and Killarney.
Samantha Harvey: Step Dancer, Accordion
Samantha Harvey is an award-winning step dancer, pianist and accordionist. She has performed throughout the world with groups Téada, IRELAND – the show, Irish Christmas in America, Atlantic Steps, Cosa, and Tomáseen Foley's Irish Times. Samantha also enjoys the more intimate performance setting with her accordion and mandolin duo – Sam 'n Ash.  Samantha is an Open Champion Irish dancer and An Coimisiún Le Rincí Gaelacha certified T.C.R.G. She performs around the world with her unique blend of Sean-Nós, Irish and Ottawa Valley step dancing.
Tamar Ilana: Singer and Flamenco Dancer
Tamar Ilana is a powerful and versatile Canadian singer and flamenco dancer of mixed descent, renowned for her ability to sing in multiple languages and collaborate with artistic communities from around the world. Tamar has recorded three CFMA-nominated albums with her world music fusion project Ventanas, is the lead singer of Jaffa Road, and dances with Sultans of String. Most recently, Tamar co-founded the presenting arts organization FabCollab, which focuses on BIPOC, female-identifying, and minority voices.
Eva Scow: Mandolin
Eva Scow was born in Fresno, California, to a Oaxacan mother and an American father. She began playing music at a young age, starting on the piano at age 4. Soon after, she began studying mandolin with Evo Bluestein and classical violin. In 2007 she released her debut CD as a co-leader with guitarist Dusty Brough "Sharon By the Sea." Eva is also a member of the contemporary jazz quartet Espacio, and the group Lyquid Amber with Hans York and Evo Bluestein. Eva has recorded with the Anthony Wilson Nonet, and can be heard on their CD "The Power of Nine" which also features Diana Krall.