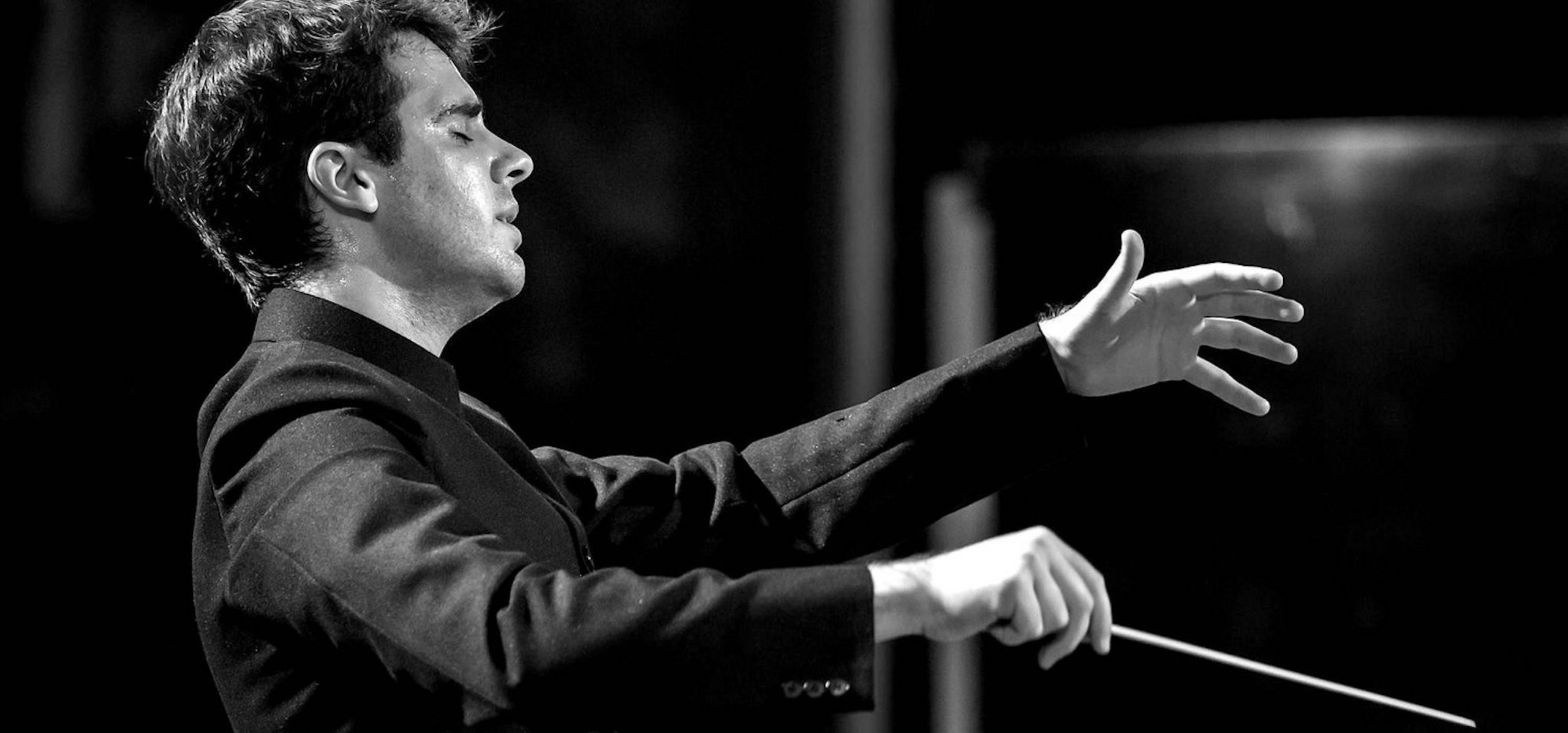 Baroque Masters
Thursday, July 14, 7:30 PM
Orchestra conducted by Dinis Sousa
Henry Purcell, Suite of Dances – Fairy Queen
Act 1: Overture
Act 1: Prelude – Hornpipe – Air – Rondeau
Act 3: Overture
Act 3: Song: If love's a sweet passion
Act 3: Dance for the Fairies
Act 3: Dance for the Green Men
Act 3: Dance for the Haymakers
Act 5: Monkey Dance
Act 5: Chaconne
George Frideric Handel, Concerto Grosso Op. 6, No. 6, HWV 324
J.S. Bach, Orchestral Suite No. 3 in D Major, BWV 1068
Handel's Concerto Grosso Op. 6, No. 6 features two violin soloists and belongs to a set of 12 concerti. The charming third movement, titled "Musette," refers to the French bagpipes which were popular during Handel's time. In this movement, the low strings echo the drone of bagpipe reeds beneath the smooth melodic lines in the violin section. The two soloists shine in a lyrical duet, floating above the other voices in the orchestra, before bounding into the energetic dances of the third and fourth movements.
Around 1730, Bach composed and performed his Orchestral Suite No. 3 in D Major at Café Zimmermann, a shop in Leipzig that he frequented as an avid coffee drinker. The work opens in a bold declaration–activating the full Baroque orchestra with oboes, trumpets, and timpani–foreshadowing the boisterous spirit of later movements. The second movement, one of Bach's most popular compositions, is known as the "Air on the G String" and serves as a peaceful respite, featuring strings and continuo. Lilting melodic lines juxtapose soaring leaps in the violins while the low strings maintain a simple walking bass line. The closing movements exude the ebullient joy of a child, powerful and infectious.
Listening to this work with the incredible number of voices swirling around in animated dialogue, it's easy to recognize J.S. Bach's genius. The Orchestral Suite No. 3 serves as a prime example of how generously Bach gave of his spirit in service of his craft.
Dinis Sousa has worked closely with Sir John Eliot Gardiner and his ensembles — the English Baroque Soloists, Orchestre Révolutionnaire et Romantique, and the Monteverdi Choir — culminating in Sousa's appointment as the Monteverdi Choir & Orchestra's Assistant Conductor.
He was appointed Principal Conductor of the Royal Northern Sinfonia in March 2021. Sousa is also the Founder and Artistic Director of Orquestra XXI, an award-winning orchestra which brings together the best young Portuguese musicians. Orquestra XXI has established itself as a leading performing ensemble in Portugal, appearing regularly at its main concert halls and events. In recognition of this work, Dinis was awarded the title of Knight of the Order of Prince Henry, by the President of the Portuguese Republic.
As a guest conductor, recent and forthcoming appearances include the Orchestre Symphonique de Mulhouse, Orquesta Sinfonica de Tenerife, BBC Philharmonic, and the Portuguese Symphony Orchestra.
Sousa studied conducting with Sian Edwards and Timothy Redmond, and piano with Philip Jenkins and Martin Roscoe at the Guildhall School of Music and Drama. As a pianist he studied with Yekaterina Lebedeva, András Keller, Angela Hewitt, Richard Egarr, Ralf Gothóni, among others. He plays as a duo with violinist Maria Włoszczowska.