Carmel-by-the-Sea, Calif. – The Carmel Bach Festival presents its 82nd performance season, July 13 – July 27, 2019 in venues throughout Carmel, Carmel Valley, Monterey, and Pebble Beach, California. This year's schedule features more than 40 events including main concerts, recitals, and a "Music and Ideas" series.
"The 2019 Carmel Bach Festival celebrates the spirit of creativity with two weeks of concerts centered on artistic and spiritual enrichment, creation and joy!" said Paul Goodwin, artistic director and principal conductor.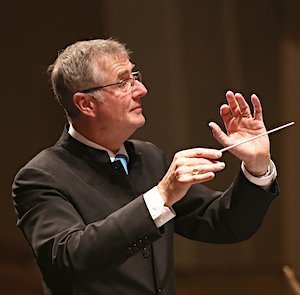 Highlights of the 2019 Festival include:
Haydn's masterpiece, The Creation on Saturday night. The performances feature the Festival's entire company of musicians and will be sung in a Haydn-approved English translation. The work is part of the grand orchestral/choral tradition of the Festival, as represented by such audience favorites as Beethoven's 9th Symphony, the Bach Passions, and Carmina Burana.

Two titans of Western culture—J.S. Bach and William Shakespeare—are paired in the Sunday afternoon main concerts. The first two cantatas of S. Bach's Christmas Oratorio open the celebratory performances. This program kicks off a complete presentation of the Christmas Oratorio throughout the week, with two of the remaining cantatas scheduled for Monday at All Saints' directed by Andrew Arthur, and the remaining two cantatas Wednesday night at the Carmel Mission Basilica with Andrew Megill, conductor.The second half of the program is Mendelssohn's Incidental Music to Shakespeare's A Midsummer Night's Dream, with actress Francesca Faridany providing Shakespeare's narration. Faridany is an international film, TV and theater actor. "This concert places Bach's most colorful and pastoral cantatas alongside Mendelssohn's magical masterpiece, a Midsummer Night's Dream," said Paul Goodwin. "A concert that encapsulates the beauty of Carmel-by-the-Sea, looking both to the spirit and to nature."
Concertmaster Peter Hanson presents Psycho! on Monday nights. The program highlights classical music used in movies and includes classics such as Psycho!, Schindler's List, Nimrod (heard in Dunkirk), and Mancini's Moon River. The first half features Edvard Grieg's neo-Baroque Holberg Suite, and John Adams' Shaker Loops, the first music ever performed in the Festival by the American minimalist master.
Tuesday night concerts, entitled "Saints and Sinners," depict the saint and sinner characters via operas by four major composers—Handel. Stravinsky, Mozart and Bizet. Excerpts from Acis and Galatea, The Rake's Progress, The Marriage of Figaro, and Carmen are featured, concluding with Carmen's famous "Toreador Song." "All opera is about saints, sinners, seducers, victims and death! In this evening of drama and excitement we present four contrasting operas that show elements of all these traits that make opera so compelling," said Paul Goodwin.
The Christmas Oratorio's third and final cantatas comprise the major portion of the annual Wednesday evening Carmel Mission Basilica concerts. "This concert is the final chapter of the Christmas Oratorio journey, coupled with a set of beautiful a cappella works by Arvo Pärt, the great Estonian spiritual minimalist," said associate conductor Andrew Megill. "His Seven Magnificat Antiphons, sprinkled throughout the program, are meditative, trance-like, and transcendent."
Guitarist Jason Vieaux will premiere Hollywood film composer and Carmel resident Mark Mancina's new Suite in Three Movements based on his film scores and perform Rodrigo's Concierto de Aranjuez on Friday nights. The guitar works are bookended by Rossini's famous William Tell Overture and Beethoven's 4th "I view introducing new compositions as an essential part of an artistic director's job," said Paul Goodwin. "I am thrilled that Mark Mancina has written such a beautiful piece. My other main goal for this concert was to surround it with sympathetic sounds and compositions and to leave our Festival audience breathless with Beethoven's most thrilling finale!"
Different programs on Thursdays during the Festival:– "Frozen North." Violinist Edwin Huizinga and guitarist William Coulter (known as Fire & Grace) return after sold-out concerts in 2017 and 2018. The duo is joined by renown Swedish virtuoso Olov Johansson, foremost performer on the traditional Swedish instrument called the NyckelHarpa. Other Festival musicians join the trio for a concert of Folk and Baroque music from Scandinavia on July 18.– Signs and Seasons" presents the Bach Festival Chorale performing music inspired by the seasons on July 25. "The program is related to Saturday night's Creation concert," said Andrew Megill, associate conductor and director of the Festival Chorale. "The music is about the creation story in Genesis, especially the markers of time (sun, moon, and stars, and the seasons of the year). It is a varied program from Medieval secular song (as an audience sing-along!) to Brahms to an avant-garde piece about the sun, with Copland's choral masterpiece ("In the beginning") as a centerpiece."
A pre-fest chamber concert featuring principal keyboardist Andrew Arthur and principal trumpet Robert Farley at St. Dunstan's Church in Carmel Valley July 8. The duo will present "The King's Trumpeter" including works from their new CD.
More than 20 chamber performances including Bach foyer concerts every weekday at the Sunset Center, and concerts presenting a range of repertoire at All Saints' Church on Dolores Street, the San Carlos Cathedral in Monterey, the Carmel Mission Basilica, and the Church in the Forest.
World renowned musicians and vocal soloists, including soprano Mhairi Lawson, mezzo-soprano Meg Bragle, tenor Thomas Cooley, and bass/baritone Dashon Burton.
For the sixth year, a special family concert Saturday, July 20 at 11 AM at Sunset Center featuring the popular The Epic Adventures of Leonard and Rasmus: Flying Off the Handel!
A Young Artists Competition Showcase July 20 on the main stage of the Sunset Center which presents outstanding student musicians from the Central Coast Section of the California Music Education Association. Young Artists chosen to perform during the Festival will be selected from a competitive audition. Barbara Priest, instrumental music teacher at Pacific Grove Middle School, directs the competition.
Discounted ticket prices for students, active and retired military, and families
A fundraising gala at Monterey Peninsula Country Club on Friday, July 12 featuring entertainment by Bach Festival musicians.

Tickets go on sale to the general public on March 1, 2019. Concert tickets range from $10 – $128.

Business partners for 2019 include: Artisana Gallery and Bookmark Music, California State University of Monterey Bay (CSUMB), Carmel Insurance Agency, Charles Schwab, Hesselbein's, J. Lohr Vineyards, Lexus of Monterey, Mark Areias Jewelers, Monterey Herald, Monterey Private Wealth, Noland Hamerly Etienne and Hoss, Porsche of Monterey, Scudder Roofing, Valley Hearing Systems, WeatherTech, and Western Digital.